NFL: Why Carson Palmer is a Legitimate MVP Candidate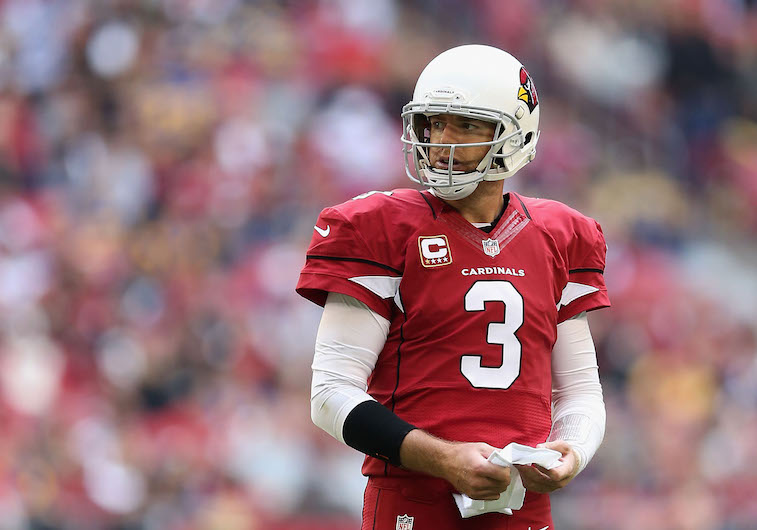 When the Arizona Cardinals acquired Carson Palmer three years ago in exchange for a sixth-round draft pick from the Oakland Raiders, new head coach Bruce Arians hoped he could help the once-promising quarterback return to being a viable starter in the league.
Palmer has surpassed this expectation and experienced a career rebirth since joining the Cardinals under Arians' high-octane offense, with the team making the playoffs in each of the last three seasons. Remarkably, the 35-year-old has taken his game to another level in his 13th year in the NFL. Palmer is second in the league passing yards (4,003), touchdown passes (31), and passer rating (107.2), as well as first in yards per completion (8.84). With the two-time Pro Bowler under center, Arizona leads the NFL in total yards and is the second-highest scoring offense at 31.2 points per game.
Palmer has also surpassed Kurt Warner for the franchise record of 30 touchdown passes, and he already holds the franchise mark for 300-yard passing games in a season with eight. He has nine games of a passer rating of at least 100, has thrown three or more touchdown passes six times, and has completed 60% or more of his passes in all but one game. Palmer is also on pace to set a career-high 4,927 yards and 38 touchdowns. What's most impressive about his productive year is that he's accomplishing this after suffering a torn ACL last November against the St. Louis Rams. Palmer was able to make a full recovery in just 10 months while taking his play up another notch.
He's arguably a better quarterback now than he was prior to his first ACL tear during his second season with the Cincinnati Bengals. With the Cardinals, he's shown more poise and control of the offense while becoming a much better decision-maker. That said, it also helps that Palmer has a talented receiving group led by Larry Fitzgerald, who is having a huge bounce-back year after a disappointing 2014 campaign. Palmer also receives aid from Michael Floyd, John Brown, and Chris Johnson (the latter before his season-ending leg injury).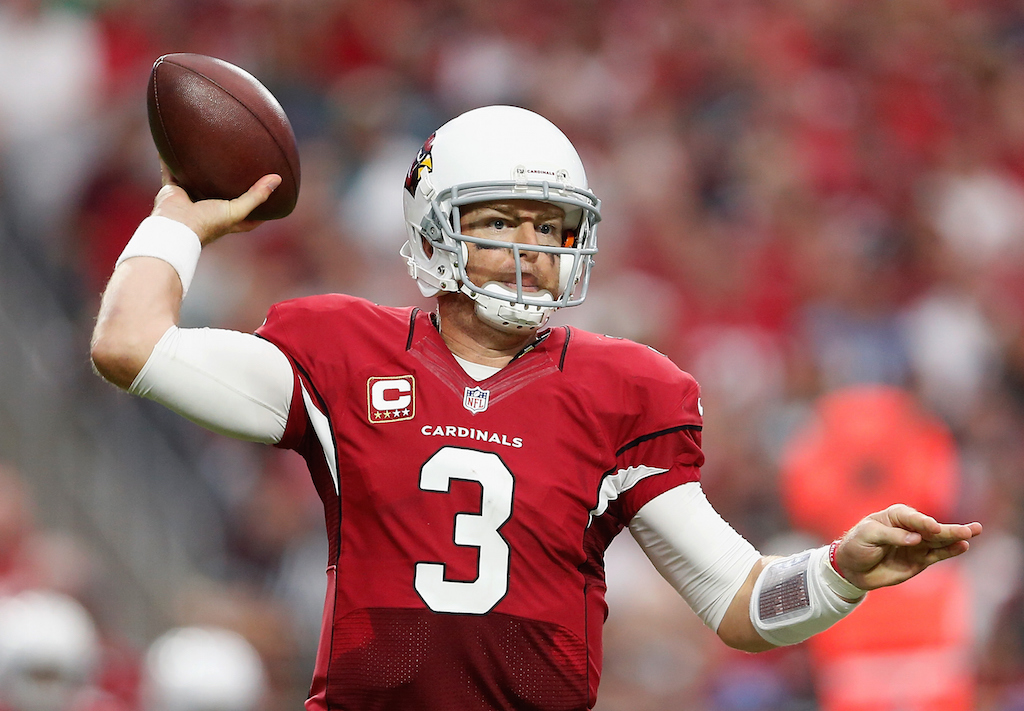 Palmer is a more confident passer than he once was, throwing more deep balls at a higher frequency, which results in larger yardage gains per attempt. He has made a league-leading 114 throws on attempts that travel 16 yards or more down the field. What does this mean? Palmer is taking more chances down the field, but they are more calculated throws than in years past. The fact that he's posting these types of numbers at his age makes it all the more extraordinary.
It has been quite a turnaround from the player he was prior to joining the Cardinals. He had been shipped away by two teams that saw him as a quarterback with his best days behind him. Along with his struggles on the field, he had trouble staying healthy, dealing with injuries such as a torn ligament in his throwing elbow and an ACL tear. Now, Palmer is playing like an elite-level quarterback, and his overall performance this season has justly put him in the MVP conversation with the likes of Carolina Panthers quarterback Cam Newton and New England Patriots quarterback Tom Brady.
He's also a strong candidate for the Comeback Player of the Year, especially after returning from a devastating injury that few players return from. Palmer is the orchestrator of one of the league's most explosive offenses — on a legitimate Super Bowl contending team. Although the MVP award will likely go to Newton for what he's accomplished with the Panthers as they hold an undefeated record as of right now, it's worth giving Palmer well-deserved recognition for the season that he's strung together.
All statistics courtesy of Pro-Football-Reference.com, ESPN.com, and NFL.com.