NFL: Why Eagles Fans Are Going to Love Miles Sanders
After winning the Super Bowl two seasons ago, the Philadelphia Eagles had another impressive playoff run in 2018. One area they didn't perform very well, however, was in the running game. One person who may help change that? One of their draft picks, a running back out of Penn State named Miles Sanders. Here's why Eagles fans are going to love him.

Miles Sanders' college career
Playing at Penn State is no easy feat for a rusher, as it's a school known for its great running backs, which gives new running backs quite a legacy to live up to. Making the task doubly difficult for Sanders was the fact that he was following in the footsteps of the great Saquon Barkley. When Sanders assumed starting duties, it was fresh off Barkley's banner season.

Miles Sanders performed admirably, however. He saw limited opportunities behind Barkley during his freshman and sophomore years, though he did have 688 yards in his first season. Once he took the reins from Barkley during his junior year, Sanders rushed for 1,274 yards on 220 carries for an average of 5.8 yards per rush. He also added nine rushing touchdowns.
Sanders best performance? A 200-yard, three-touchdown virtuoso performance against Illinois on September 21, 2018. What made Sanders an even more attractive option for teams was his versatility as a pass-catcher. He caught 24 passes for 139 yards.
Where did the Eagles draft Sanders?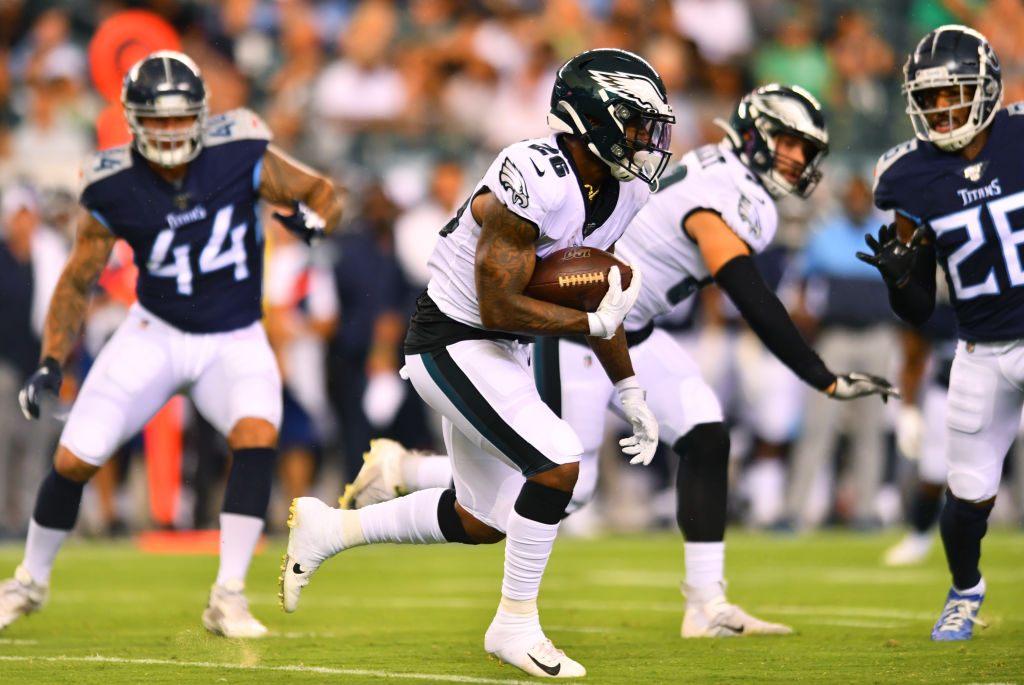 At the 2019 NFL Combine, Sanders put up the following measurements:
40-yard dash: 4.49 seconds
Broad jump: 124 inches
Shuttle drill: 4.19 seconds
Three-cone drill: 6.89 seconds
Vertical jump: 36 inches
Sanders earned a prospect rating of 5.80, which is referred to as a "good chance" to become an NFL starter. The Eagles selected Sanders with their second-round pick at No. 53 overall. In their post-draft analysis, ESPN pointed out that this was the first time Philly had used a second-round pick on a running back since taking LeSean McCoy in 2009.

The Eagles' current running back situation
The Eagles' running game wasn't very strong in 2018. They had only 1,570 yards on the ground. Josh Adams led the way with 511 yards rushing.
Right now, Sanders sits second on the Eagles' depth chart behind Jordan Howard and ahead of veteran third-string running back Darren Sproles. Philly acquired Howard from the Chicago Bears in the offseason. Last season the three-year veteran rushed for 935 yards, so they will probably look to him to be the featured back to start the season. The Eagles' team website also has the following options listed at running back in Eagles camp:
Corey Clement
Wendell Smallwood
Josh Adams
Boston Scott
Donnel Pumphrey
The sheer number of running backs they have available, while not uncommon for training camp, indicates the Eagles are searching for answers at the position. Howard and Sanders could be the one-two punch the team needs to reestablish its running game.

For a potential forecast of how the Eagles might plan to use Miles Sanders, one needs to look no further than McCoy. The Eagles used a high draft pick on McCoy in 2009 and gave him a featured role in the offense. If Sanders can stay healthy, it would seem like the team would do the same for Sanders, mixing him in with Howard to keep teams on their toes.

The difference is that McCoy already has a proven track record and Sanders has yet to play. Obviously, he'll need to produce, but based on his college performances and the positive things that people have said about him so far in camp, it's a solid bet that Sanders will get a lot of touches.