NFL: Why No One Likes Russell Wilson Anymore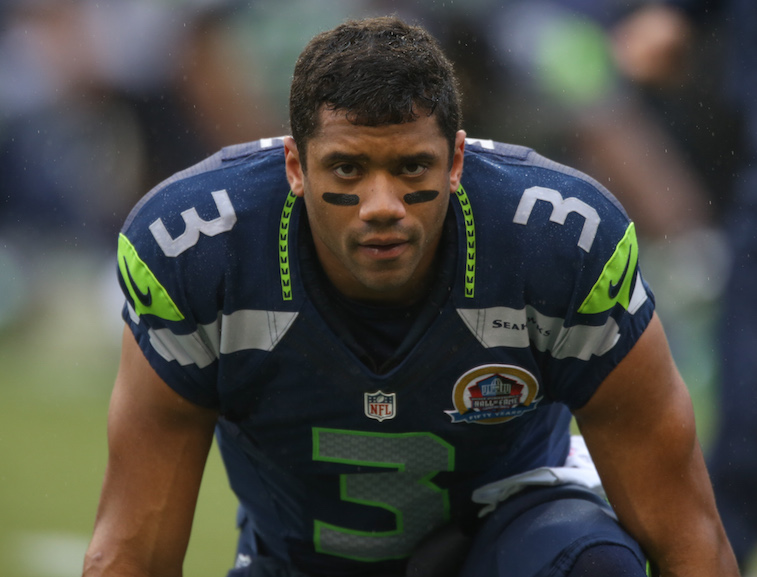 As recently as last month, Seattle Seahawks quarterback Russell Wilson was considered by many to be the most popular player in the National Football League. For starters, the results of a May survey conducted by Public Policy Polling showed that Wilson had a near-perfect favorability rating in the state of Washington. Keep in mind that it was merely a few months ago that Wilson threw an interception in the waning minutes of Super Bowl XLIX and kept the Seahawks from repeating as world champions. While that statistic alone is impressive, what could be the most noteworthy indicator in regards to Wilson's popularity is the fact that the 5-foot-11 signal-caller's jersey and ugly sweater outsold every other player in the league for the second-straight season according to a press release from the NFL Player's Association. Knowing this, you may find the headline of this article to be completely asinine and way off base. Well, we're here to remind you that things can change rather abruptly in the NFL.
In today's media-driven society, it's nearly impossible for a news story to fly under the radar – especially when it involves anything related to the NFL. Within the last week, reports have surfaced that Wilson wants a contract that would make him the highest-paid player in league. That story came on the heels of another report in which Wilson had reportedly turned down an offer from the Seahawks that was very similar to the deal just signed by Carolina Panthers quarterback Cam Newton. If that weren't enough, in an interview last week with 99.9 The Fan in Raleigh, North Carolina, Wilson had the following to say:
"I know God's going to take me and put me where he wants to have me. I hope that's Seattle. I love it there. It's a great place. But I've gone through the ups and downs and been moved around before. I loved NC State and loved playing there and then having to go somewhere else and start new."
If you are unfamiliar with Wilson and how he interacts with the media, that statement was pretty much par for the course. Knowing this, you can count us among those with growing skepticism about just how genuine Wilson's "golden boy" image really is.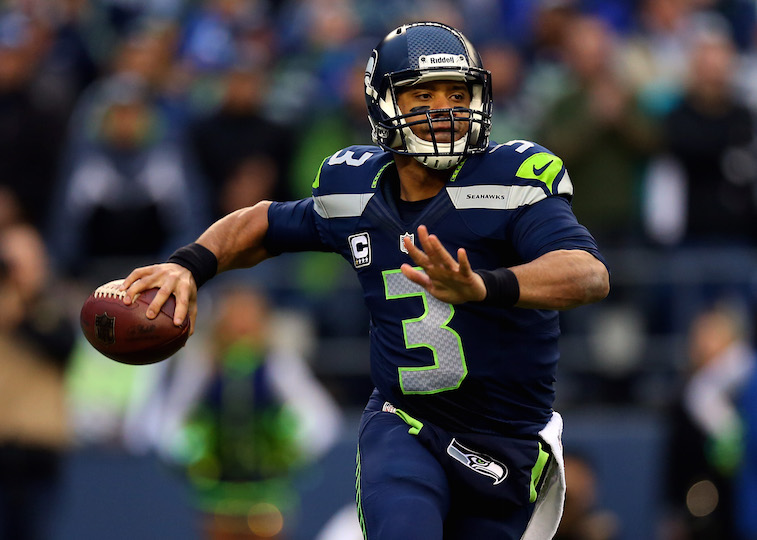 Nearly everyone has a horrendous story to tell about an annoying brown-noser or pretentious do-gooder. Wilson is starting to provide plenty of those types of stories. Our views may be slightly under the influence of the Tim Tebow-effect, but there is just something that seems incredibly phony about a guy who is a master of the sports cliché and who sounds rehearsed or scripted during every interview or public appearances he takes part in. As of late, it's beginning to look like Wilson is turning into the NFL's next too-good-to-be-true story.
We haven't even touched on what irks us most about the three-year NFL veteran. That would be the notion that Wilson believes in his heart of hearts that he should be the highest-paid player in the league. In Wilson's defense, there is no arguing that he is a proven winner. He has compiled a 36-12 regular season record, has led the Seahawks to two-straight NFC Championships, and most importantly, he led Seattle to the Super Bowl XLVIII title. With that being said, only a fool would argue that Wilson has been the main reason for the Seahawks' dominance as of late. Likewise, only a player with an over-inflated ego would believe that he deserves to be the highest-paid player in the game when he clearly doesn't have the resume to back it up. In 2014, Seattle had the No. 1 ranked rushing attack in the league, and their defense has historically been excellent over the last three seasons. Furthermore, Wilson has yet to post a 4,000-yard or 30 touchdown pass season as a pro – something that does not bode well for the two-time Pro Bowler in his quest for a record-breaking contract.
If things work out for Wilson in Seattle, his massive salary will likely result in the Seahawks being forced into breaking up their core nucleus of young superstars. If not, some other team will more than likely give him the contract he is looking for. Nonetheless, Wilson's nice-guy act is losing traction, and it appears as though the 26-year-old quarterback is another massively egotistical professional athlete.
All statistics courtesy of Pro-Football-Reference.