NFL: Why Raiders QB Derek Carr is the Real Deal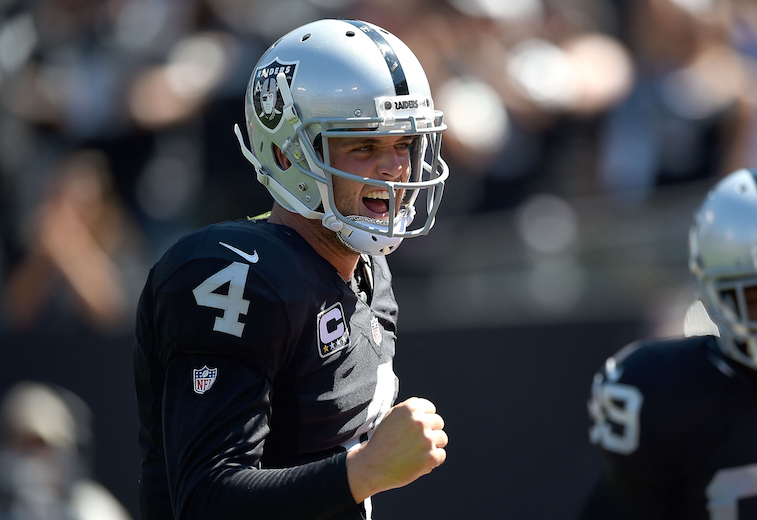 When the Oakland Raiders took a chance on former Fresno State quarterback Derek Carr with the 36th overall pick, there were plenty of concerns. Although he had emerged as one of the top college quarterbacks during his senior season, there were several questions involving whether or not he could adapt to playing in the NFL. He was largely inaccurate on throws made down the field, had inconsistent throwing mechanics, and played in an offense that was anything but "pro style." He made half-field reads and operated primarily from the shotgun or pistol formation with many of his throws being short/lateral passes.
Through his rookie season with the Raiders, he struggled to adjust to playing in the NFL. Among qualified starters, Carr ranked 30th in completion percentage (58.1), last in yards per throw (5.46), 30th in passer rating (76.6), and 28th in passing yards per game (204.0). This equated to much of the inefficiency that had many wondering if he was headed down the same path as his older brother, David Carr, who was drafted first.
Then things drastically changed this past offseason for Carr, who saw vast improvements in his game. He has become much more accurate on his deep throws and has had a significant rise in his numbers through the first half of the season. His completion percentage jumped up to 63.7%; yards per completion are at 7.67; and he holds the sixth-highest passer rating at 104.3. This includes four games of at least 300 passing yards, six games of multiple touchdown passes (four with at least three), and four performances with a 100-plus passer rating.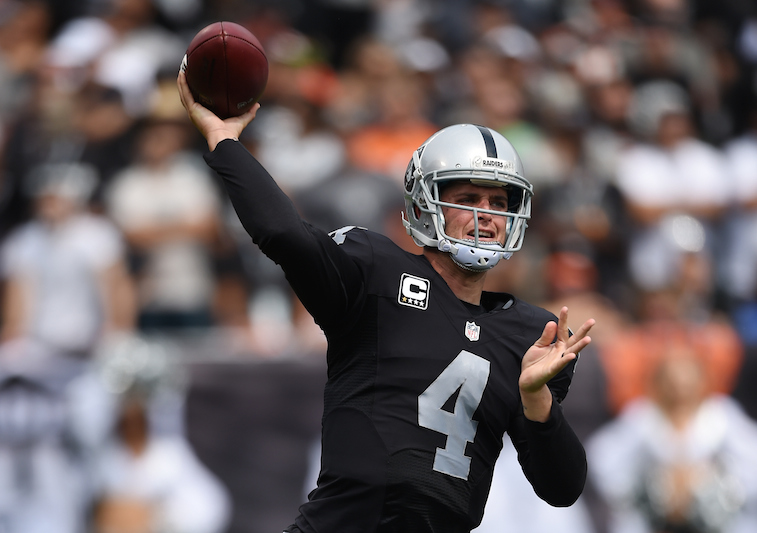 Carr's improvement in his second season has thrust him into the conversation of the league's young, rising stars, making the once lowly Raiders into a playoff contender. At this time last season, Oakland was sitting at 0-8 through the first half of last season, with Carr ranking among the bottom of the league in several passing categories.
That said, his improvement could also be accredited to help from the organization through key additions this past offseason. They hired the right head coach, Jack Del Rio, who placed trust in the young quarterback. Del Rio's new offensive coordinator, Bill Musgrave (formerly the Philadelphia Eagles' quarterbacks coach), implemented a system that helped Carr improve.
The team also added a couple of proven veterans, such as center Rodney Hudson and wide receiver Michael Crabtree, in free agency. They capped it off by nabbing the top collegiate wideout in Amari Cooper. The presence of a running game led by a legitimate workhorse running back in Latavius Murray also balanced the offense and eased some of the pressure off Carr. All of this gives the young Raiders quarterback a plethora of offensive weapons at Carr's disposal.
After years of instability at the quarterback position, with the likes of Terrelle Pryor, Jason Campbell, Carson Palmer, and JaMarcus Russell, it appears that the Raiders have finally found a solution. Carr has put them in the position of a legitimate playoff team with a bright future ahead, which is something that hasn't been said about Oakland in over a decade.
There are still many areas of improvement for the 24-year-old, such as his bad habit of throwing passes while fading away. He's still in the middle of the pack in the terms of accuracy, which is something that he will always need to work to improve. As for the habit of making those types of bad throws, this could dwindle with more repetition and experience in the league. All in all, Carr's significant improvement through the first half of his second season has given the Raiders a promising future and a quarterback who can be the face of the franchise for the next decade.
All statistics courtesy of Pro-Football-Reference.