NFL: Why the Browns Need to Stick With Johnny Manziel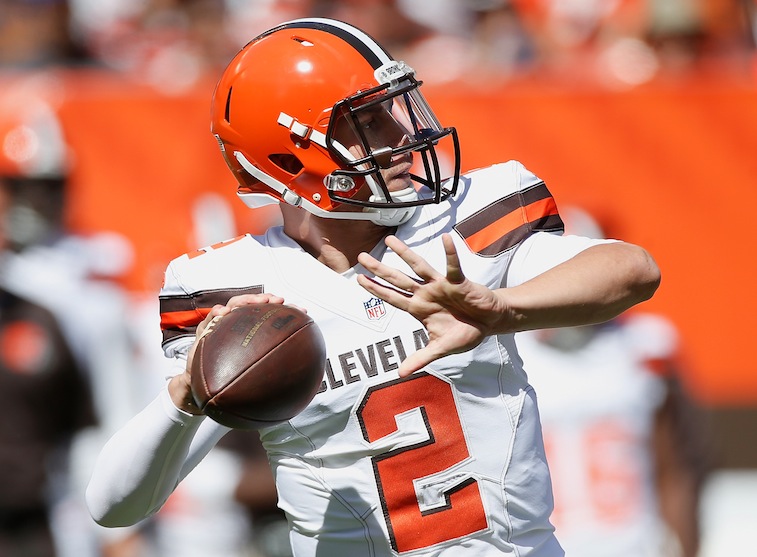 Despite leading the Cleveland Browns to a 28-14 victory over the Tennessee Titans this past Sunday, coach Mike Pettine is not quite ready to call Johnny Manziel the team's starting quarterback. He did say, however, that the former Heisman Trophy winner's recent play has at least made it a conversation worth having.
"We're going to put it all on the table and talk about it and we'll see where it takes us," said Pettine. "As I already mentioned, to me it's a positive conversation because you have a young quarterback that's been through a lot that has gone out and led his team to a win.
"I'm proud of him, because if you would have said back early in the offseason if this was going to happen I think a lot of people would have said it's a pretty slim chance."
Pettine isn't wrong. Manziel's rookie season was a flat-out bust. It didn't take long for the kid to prove he wasn't prepared to handle the demands of the NFL game. Manziel lacked humility and grace and couldn't stay out of the spotlight. He didn't realize that playing in the National Football League required one to treat it like a job. Johnny was not ready to play pro football. Anyone paying attention could see that.
But a funny thing happened this past weekend. The former Texas A&M standout didn't look like the kid we saw in 2014. He looked like a starting quarterback in the National Football League. And if the Browns knew what was good for them, they'd keep it that way.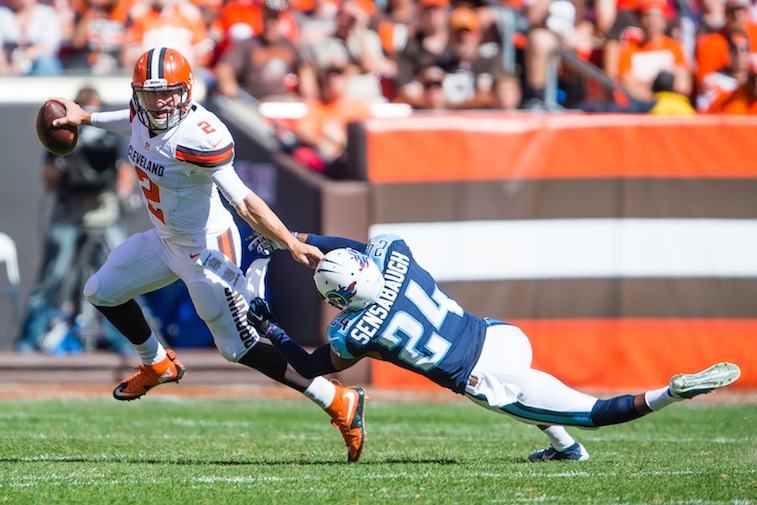 No one's going to look at Manziel's Week 2 performance and mistake it for the sensational stuff he did during his college days. Then again, he doesn't have to be that same player — he just has to be a guy who remains effective on the field and helps his team get the W. This past Sunday, that's exactly what Manziel did.
In just his third career start, the second-year QB completed 8 of 15 passes for 172 yards, two touchdowns, and zero interceptions. On top of that, he managed a quarterback rating of 133.9. Whether or not you believe the 22-year-old has a future in the National Football League, it's hard to argue with his latest outing. Manziel showed he belonged. And that's more than anyone can say from the last time he started.
"I've come a long way from that point on January 17," Manziel said. "To be sitting here today and just have the ultimate turnaround from what was the first two starts I had last year, personally, it feels awesome."
If you ask us, there's nothing better than a quarterback with a bit of confidence. Especially one who as the the potential to be something special. Make no mistake about it, Johnny Manziel fits the bill.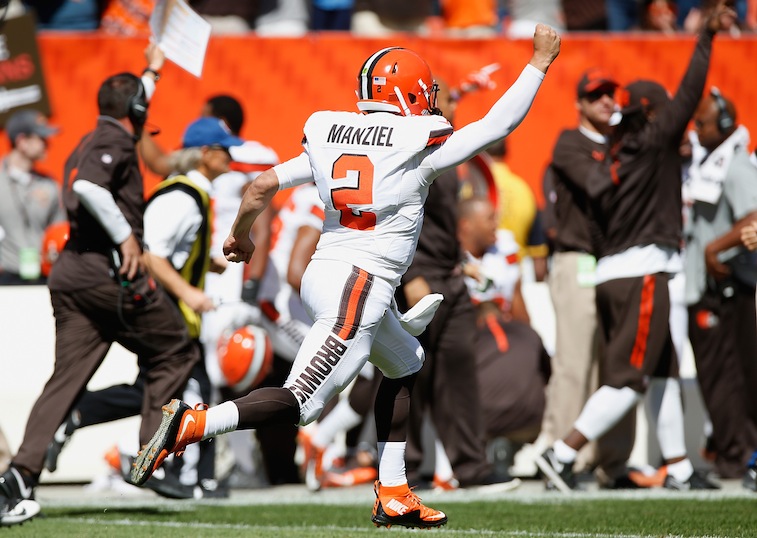 If Manziel hopes to remain the starting quarterback in Cleveland, he'll need to fix his fumbling issues. The Browns may not have lost the ball on either of the occasions that No. 2 coughed it up, but they're not always going to be so lucky. Manziel is well aware of this. And he's ready to put in the work. Of course, even with his latest victory, the Cleveland may not be ready to give him the keys to the kingdom.
"We're tasked with winning football games, and the decisions we make are what gives us the best opportunity to win this Sunday," Pettine said. "I know that on the outside that those things get brought into it.
"We've already seen circumstances have come about him for us to get an evaluation of [Manziel]. We're not going to use a season and look at it that way, say, 'Hey we need to know.' We think over the natural course of events that we'll find out."
The Browns brought in Josh McCown to be the team's starting quarterback. However, his concussion during Week 1 opened the door for Johnny Manziel to show the team what he was made of. And while it may have only been one performance, it was enough to open some eyes. You know what you're going to get out of McCown. It's took early to know what Johnny Football can bring to the table. We think it's time the Cleveland Browns found out.
All statistics are courtesy of Pro-Football-Reference.com and ESPN.go.com.