NFL: Why the Cleveland Browns Need to Start Johnny Manziel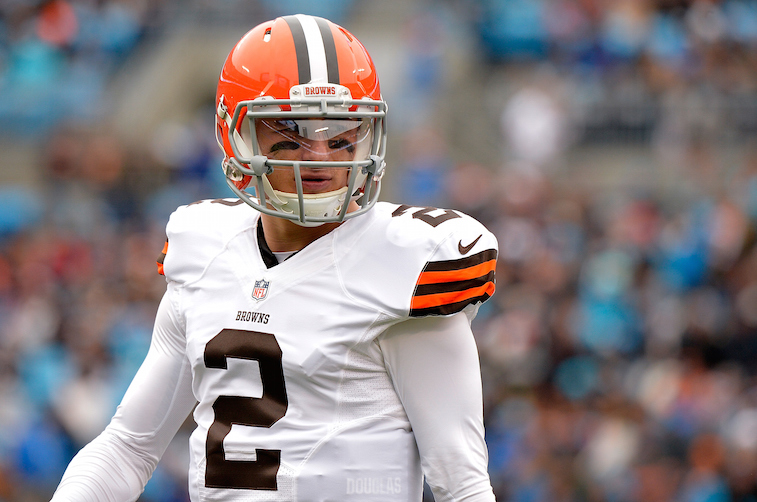 Through the first half of the 2015 NFL season the Cleveland Browns have floundered to a 2-7 record, placing them firmly in a tie with the San Diego Chargers as the worst team in the AFC. Beyond the fact that Cleveland's gonna Cleveland, the Browns have struggled to play with any level of consistency on both sides of the ball, and there have also been numerous injuries at key positions, including quarterback. To wit: Offseason addition Josh McCown has missed some playing time due to injuries to his rib and right shoulder, while Johnny Manziel is also dealing with a right elbow injury.
Needless to say, this puts Cleveland in a precarious position with the opportunity to see what they have in young players by putting them in more prominent roles on the team for the remainder of the year. This includes players like rookie running back Duke Johnson Jr. and wide receiver Taylor Gabriel. Generally, wins should be sacrificed in the name of player development — even if the team would never admit it on the record — since the Browns aren't setting their sights on the postseason this year.
This should also create a stronger focus on the future, which may include Manziel, who has yet to receive any significant play through his first two seasons in the league (playing sparingly as a fill-in starter for Brian Hoyer last season and McCown this year). While McCown has had a few productive games this season — throwing for more than 330 yards and at least two touchdowns in three starts — it has equated to just one win in his seven starts in 2015. It's true that much of this could be blamed on their league-worst defense, but some lack of success must ultimately fall on the quarterback's shoulders.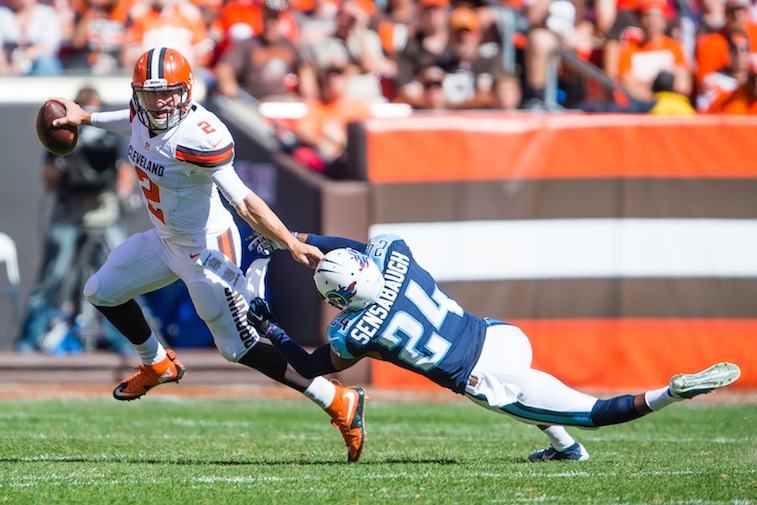 With the season going nowhere fast, it provides the team with the perfect opportunity to see what they truly have in Manziel. It's a chance to give him significant playing time in the second half of the season, with an ample amount of games left on the slate. Sure, it hasn't been pretty in the limited time that Manziel has been under center, but the Browns don't have a solid answer to whether or not he is the long-term answer at quarterback. If they didn't believe that he could possibly be the solution, then they wouldn't have taken him in the first round of the 2014 NFL draft.
Yes, Manziel had his fair share of off-the-field issues over the first couple of seasons, but with his improving behavior it should warrant some trust by the organization. The backing of the coaches and management could provide him with much-needed confidence to play to his full capabilities. Either way, the Browns don't have much to lose this season, and with one eye on the future, there is a major question facing the franchise: Can Johnny Football handle the full-time duties, and adjust his game accordingly to the NFL level?
What he shows so far is that he struggles to play within the pocket and works best when he is on the move, sort of a (very bad version of) rookie R.G. III, but with physical abilities akin to Russell Wilson. So, if Manziel can adopt a more precise, calculated approach to when he decides to run, it could become an asset for him — rather than a last resort option. Assuming he shows progress, he should be given more playing time. If not, well, Cleveland's no stranger to disappointments. What's one more risk that never pans out?
All statistics are courtesy of ESPN.go.com.
Want more great content like this? Sign up here to receive the best of Cheat Sheet delivered daily. No spam; just tailored content straight to your inbox.