NFL: Why the Giants Really Need Victor Cruz to Take a Pay Cut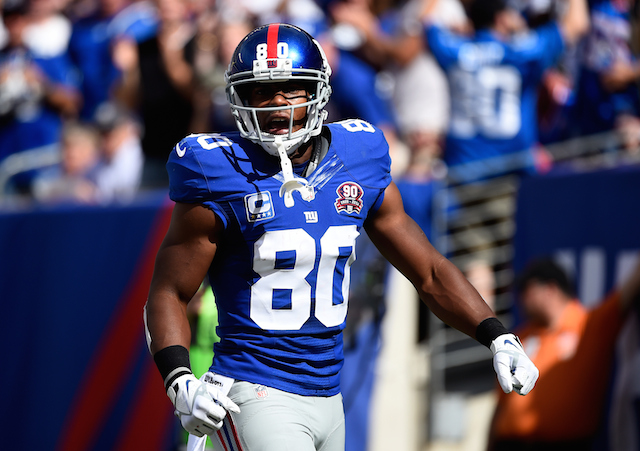 It has been quite some time since we saw Victor Cruz in a New York Giants uniform, as the flamboyant wide receiver has been sidelined since tearing his right patellar tendon in Week 6 of the 2014 season. Cruz was hoping to play at some point last year, but he suffered multiple setbacks that have left everyone wondering what sort of player he will be once his returns. With that in mind, the Giants, trying to push for the postseason next season, have the possibility of reducing Cruz's salary on the table.
Cruz currently has three years left on his five-year, $43 million contract that he's scheduled to make $7.9 million and cost $9.9 million against the salary cap in 2016. This would be the second-highest amount on the team, behind only Eli Manning. That the Giants are trying to restructure his deal shows at least a degree of uncertainty in New York about whether the 29-year-old can once again play at a high level after suffering such a serious injury. There are reports suggesting that the organization may decide to release its veteran wideout if he's unwilling to reduce his base salary for the upcoming season.
However, that doesn't appear that it will be an issue as Cruz stated prior to Super Bowl 50 that he would be willing to rework his contract if that meant he would remain with the team.
"I don't care about that stuff," he said on Radio Row at the Super Bowl. "I realize the way I came into this game was on a humble opportunity, and wherever this goes, I just want to play. It's been two years of not playing. I just want to go out there and play, and whatever happens after that happens."
The Giants have already met with Cruz's representatives, but there doesn't appear to be any urgency for the decision because the team will already have a surplus of salary space once the free agency period begins on Wednesday afternoon. In fact, this potential move is based solely on his value at this point in his career: He hasn't taken the field in over 16 months, and no one can tell if he'll be worth anything when he returns. Beyond that, his absence on the field has hurt New York's offense, which has had to rely heavily on its lone offensive weapon in the passing game in Odell Beckham Jr., who has put up historic numbers through his first two seasons in the league.
If nothing else, the Giants have been patient — giving Cruz time to heal from the injury, rather than pushing the issue, as well as shutting him down for 10 days in October after he suffered a setback and ultimately watching as a calf surgery ended his season in November. The organization has stuck by his side throughout this troubling time in his career, which isn't something that most teams would do. At this point, he is viewed as damaged goods (or, if you want to be nice, a player who has seen his best days come and go).
Because the NFL doesn't guarantee contracts, this sort of thing can be a touchy issue, particularly given that the league's 100% injury rate is more fact than fiction. In Cruz's case, his recovery has seen multiple setbacks, and that's before you get to the gravity of the injury itself. It's not unreasonable for the Giants to make this move, even though it (obviously) would be a financial disadvantage for the wideout. Of course, it's also possible that the team could add incentives in the new contract that would allow him some if not all the money back if he can prove that he's healthy and playing well. In the best case scenario, it's easy to believe he could earn another long-term NFL deal at a higher pay rate.
If they can come to an agreement, this is a move that could be mutually beneficial for both sides, as the Giants desperately need another receiver to pair alongside Beckham Jr., and a Cruz who can be even 80% of what he was prior to the injury would give New York one of the best wide receiver tandems in the league. If Cruz can come back happy, and motivated, it's easy to see the team snapping their four-year hiatus from the playoffs and potentially even competing for the Lombardi trophy next year.