NFL: Why the Jets Should Bring Back Ryan Fitzpatrick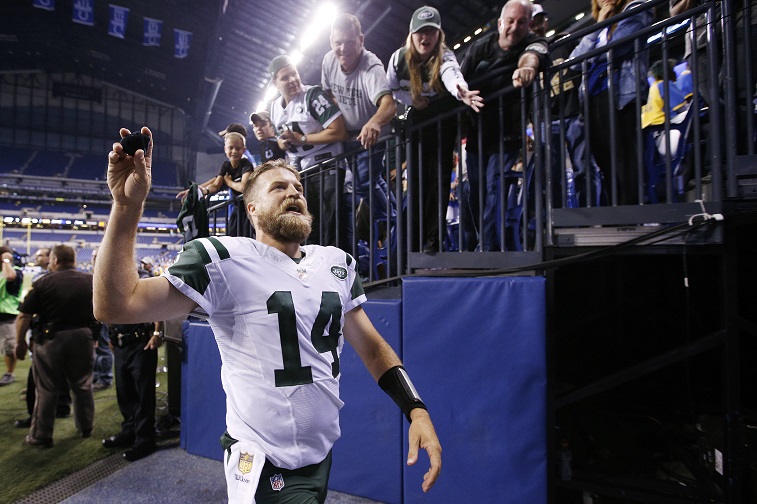 The New York Jets narrowly missed the playoffs for the first time in the last five seasons, finishing the year with a surprising 10-6 record, which is even more astonishing when you realize that they did it on the shoulders of journeyman quarterback, Ryan Fitzpatrick. It marked the first time in the 33-year-old's career that he's led a team to a winning record in his 11 seasons in the NFL. Fitzpatrick put together his most productive campaign, posting career-highs in passing yards (3,905) and touchdown passes (31). More importantly, he became a dependable quarterback, which is something that couldn't be said of him prior to this season.
Fitzpatrick helped bring stability to the offense, which neither Geno Smith nor Mark Sanchez provided with their arms. He quickly developed a strong chemistry with his receivers, (in particular, Eric Decker and offseason acquisition Brandon Marshall), which created a potent offense that ranked 11th in the league in scoring at 24.2 points per game. In many ways, his emergence created a positive ripple effect throughout the team. Chris Ivory finished the season as the AFC rushing yard leader with 1,070 yards, which was fifth overall in the league and the first 1,000-yard season in his six-year career.
Marshall earned his sixth career Pro Bowl selection, setting career-highs in receptions (109) and receiving touchdowns (14) and placing fourth in the NFL with 1,502 receiving yards. He also tied for the league lead in touchdown receptions, tied for fifth in catches, had the seventh-most 20-plus yard receptions (19), and was fourth in catches for first downs (76). Marshall reclaimed his status as one of the league's best receivers. Decker also put together an impressive campaign, hauling 80 receptions for 1,027 yards and 12 receiving touchdowns. This placed him in the top 25 in the league for receiving yards and receptions while ranking sixth in touchdown catches.
The duo became the first pair of Jets wide receivers to record 1,000 receiving yards each in the same season since the 1998 season when Keyshawn Johnson and Wayne Chrebet accomplished that feat. It's clear that Fitzpatrick established something special with his dynamic receiver duo as he tossed 13 touchdown passes with just 1 interception during the team's five-game winning streak — prior to Sunday's disappointing 22-17 loss to the Buffalo Bills.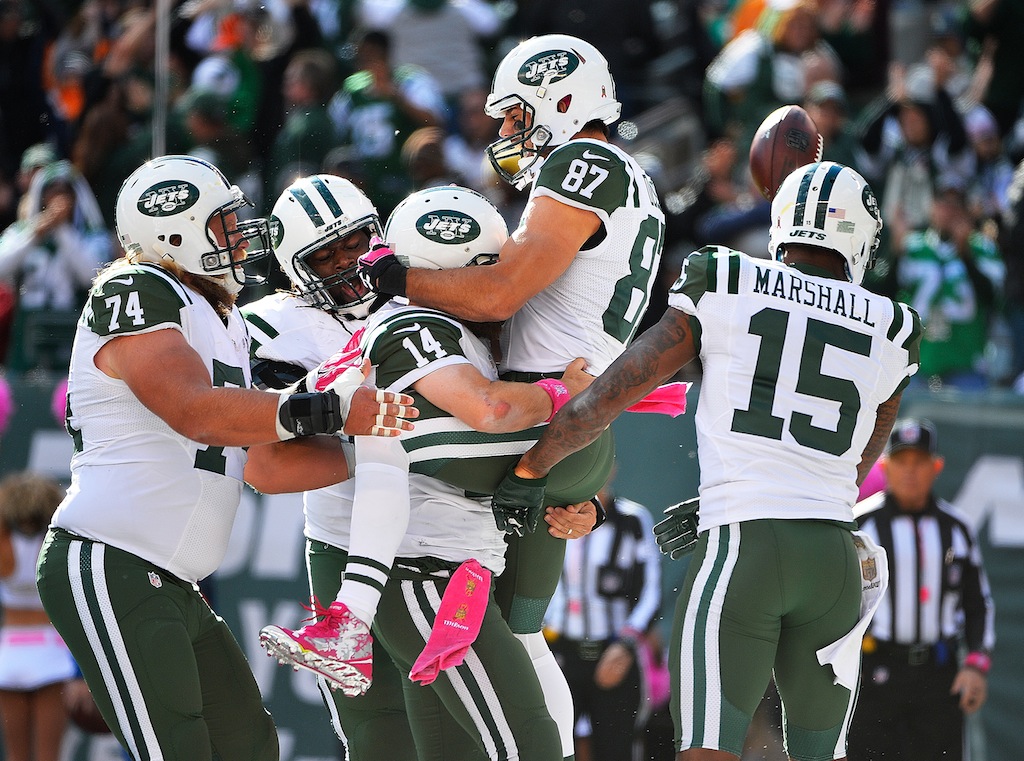 Yes, Fitzpatrick made a few costly mistakes in the season finale against the Bills, but it shouldn't take away from the Jets' remarkable season. If it wasn't for his play during the second half of the season, New York would have more than likely not been in a position to get into the playoffs. If the team had relied on Smith as the starter, their season could have gone south. The 25-year-old struggled mightily in his first two years with the Jets, failing to play with any consistency.
The team didn't think that Smith was the long-term answer, which made the acquisition of Fitzpatrick more of an "insurance policy" move. Fitzpatrick made a gigantic leap in play this past season, which should make re-signing him a must. This is something that head coach Todd Bowles addressed as one of the team's major concerns. "Obviously, it's a pretty high priority," Bowles said of Fitzpatrick's pending free agency. "He's the quarterback. He had a great year for us. We want him back. If he comes back, he'll be the starter." Bowles added that their poor finish "can't tarnish" what Fitzpatrick accomplished.
Fitzpatrick has acknowledged that he desires a return to the Jets next season and also believes that he's a better quarterback now than at any other point in his career. He has much reason to believe this thanks to the level of success he experienced in 2015, which more than anything makes bringing him back next season the right move for New York.
Statistics courtesy of Pro-Football-Reference.com, ESPN.com, and NFL.com.