NFL: Why the Minnesota Vikings Are Stuck With Adrian Peterson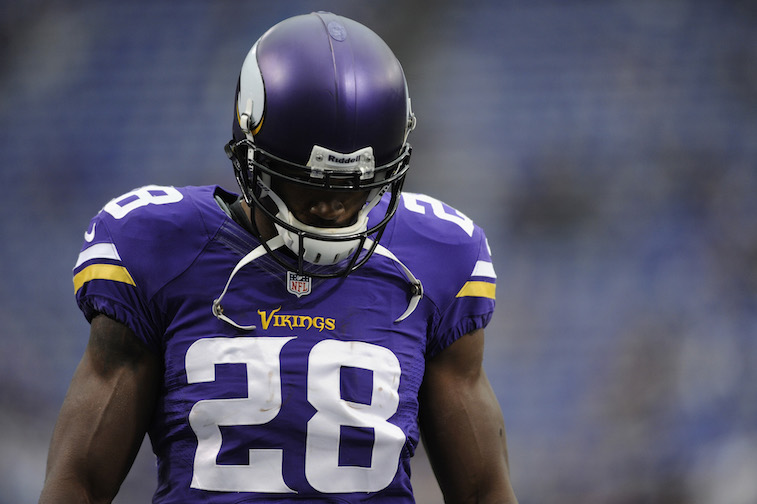 The NFL has officially reinstated Minnesota Vikings running back Adrian Peterson. However, his decision to skip the Vikings' offseason workouts has led to elevated discussions as to where the 2012 NFL MVP will be playing in 2015. Peterson, through his agent, has made it clear that he would prefer to continue his career outside of Minnesota.
Meanwhile, the Vikings have made it clear that they are fully expecting Peterson, the franchise's all-time rushing yardage leader, to be in a Vikings uniform in 2015. According to a recent report from ESPN's Adam Caplan, the Vikings are maintaining their disinterest in trading or releasing Peterson, but the team has made it clear that any franchise interested in discussing Peterson will need to be prepared to offer it at the very least a first-round draft pick plus other compensation.
Peterson's current contract has three years remaining and will pay the 30-year-old running back $12.75 million in 2015. The former Oklahoma Sooner has been linked to the Dallas Cowboys since June, when reports of a phone call between him and Cowboys owner Jerry Jones became public news. At this point in time, the Cowboys, despite having a glaring hole at the running back position, will have a lot of work to do to create enough cap space to take on Peterson's salary for the 2015 season.
They currently have $12.68 million in cap space, but due to the game-by-game structure of defensive end Greg Hardy's contract, the Cowboys will need to reserve room under the cap to prepare for the possibility that Hardy plays in the majority of the team's games this season. On top of that, the team has expressed confidence in the idea that it will receive solid production out of free agent acquisitions Darren McFadden and Ryan Williams, as well as incumbents Joseph Randle and Lance Dunbar.
While a Peterson-Cowboys pairing is a bit of a long shot at this point in time, which we believe is a good thing for the NFL, the idea of adding a player of Peterson's caliber will surely be enticing to several other teams around the league. Still, that doesn't change the fact that Peterson is likely going to be a Viking in 2015.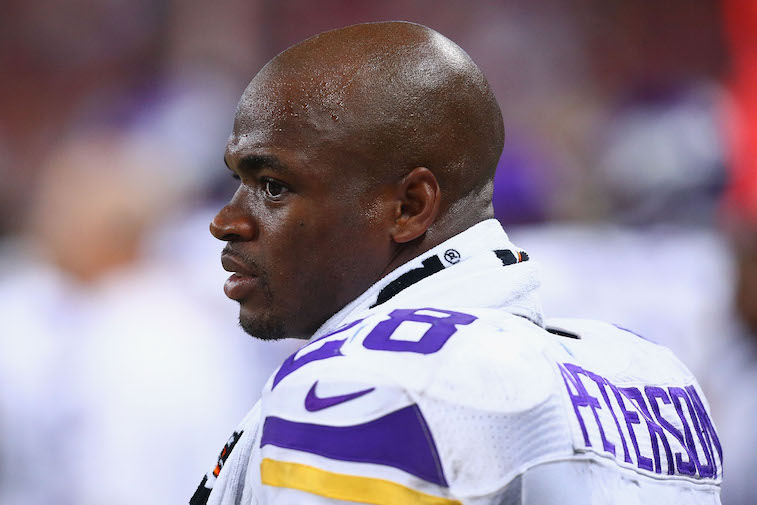 There is no questioning that Peterson has been the best running back in the league during his eight-year career. However, the problem remains that Peterson's trade value at this point in time doesn't really match up with what the Vikings are reportedly asking for in exchange for their star runner.
Peterson is not your typical NFL running back, but the simple truth of the matter is that the league does not place a premium on running backs who have already celebrated their 30th birthdays. Additionally, Peterson has been a workhorse back for seven of his eight NFL seasons. When it comes down to it, his age, combined with more than 2,000 career carries, will have teams wary about giving up valuable assets to bring him into the fold.
There is also the idea that Peterson could attempt to force the Vikings' hand by holding out and refusing to play for Minnesota in 2015. Many executives around the league believe a move like this could be career suicide for the six-time All-Pro back. After he missed all but one game in 2014 after being suspended following his child abuse indictment, Peterson needs to play in 2015.
If he did choose to hold out, he would still have to convince the Vikings to eventually trade or release him, as he is under contract with the team through the 2017 season. It's safe to say that Peterson would be surprised to find that interest around the league in a 31-year-old running back with his price tag who has missed the past two seasons would be fairly minimal.
The best option for everyone involved would be for Peterson to play out the season with the Vikings and attempt to prove that he is still one of the most explosive running backs in football. If he has a season that is on par with what he has done in the past and still wants out at the end of the year, his trade value for the Vikings would be substantially higher than it is currently.
The Vikings have made it abundantly clear that they will not give Peterson away without receiving substantial value in return, which, for better or for worse, means Peterson and the Vikings are likely stuck with each other for at least one more year.