NFL: Will 2015 Make or Break RGIII?
The Washington Redskins may have officially reached a breaking point, which means that Robert Griffin III may have hit a breaking point as well. Unfortunately, if the Redskins are unable to turn the corner in 2015, it very well may be the end of Griffin's time as the starting quarterback in Washington. On top of that, it could be the end of his run as a starter in the NFL — whether he thinks he's the best quarterback in the NFL or not.
While we've seen plenty of quarterbacks get second and even third chances, Griffin's recent struggles seem to be a bit too much to overcome. Ever since Griffin burst onto the scene in 2012, throwing 20 touchdowns against only five interceptions, his injury in the postseason against the Seattle Seahawks seems to have changed him in a very negative way.
Make-or-break for Robert Griffin III in 2015? You bet, but it goes way beyond just the team's recent struggles, as it comes down to Griffin's obvious personal struggles on the field.
Griffin's Personal On-Field Struggles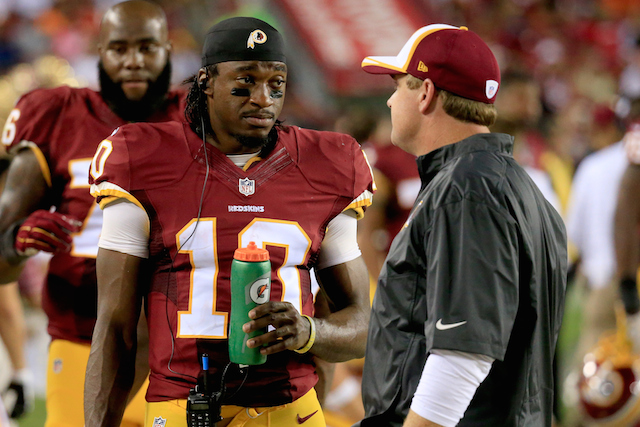 When a team drafts a rookie quarterback, they don't even hope for the kind of numbers that Griffin put up in 2012. he finished up the year throwing for 3,200 yards, 20 touchdowns and only five interceptions. On top of that though, he rushed for 815 yards and seven additional scores, according to NFL.com's statistics.
While fumbles have always been an issue for Griffin, his grand total of nine during his rookie season was largely overshadowed due to the fact that he led Washington to a postseason berth. When the 2013 season rolled around? It turned into a whole different ball game.
Not only did Griffin miss three games due to injury, but he saw his touchdowns decrease from a total of 27 in 2012 to only 16 the next season. Worst of all, he turned the ball over 17 times, which was the beginning of the end for Griffin. Even with the decline, though, fans and the front office held out some hope that Griffin could turn it around in 2014.
That, of course, didn't happen. Griffin played a total of nine games last season, scoring five total touchdowns (four passing, one rushing) to pair with six interceptions and four fumbles. Griffin was also sacked 33 times, an average of more than 3.6 sacks per game. The  biggest problem with Griffin's post-injury was his lack of running ability — he saw his yards per rushing attempt drop from 6.8 in 2012, to 5.7 in 2013, all the way down to 4.6 in 2014.
If RGIII is unable to get his legs back under him, then we're not sure he'll ever be the same player that we saw during his rookie year. Without the threat of him taking off and running, defenses will be able to simply lock in on him as a passer, and it seems unlikely he'll be able to excel if that happens.
Washington's Decline Under Griffin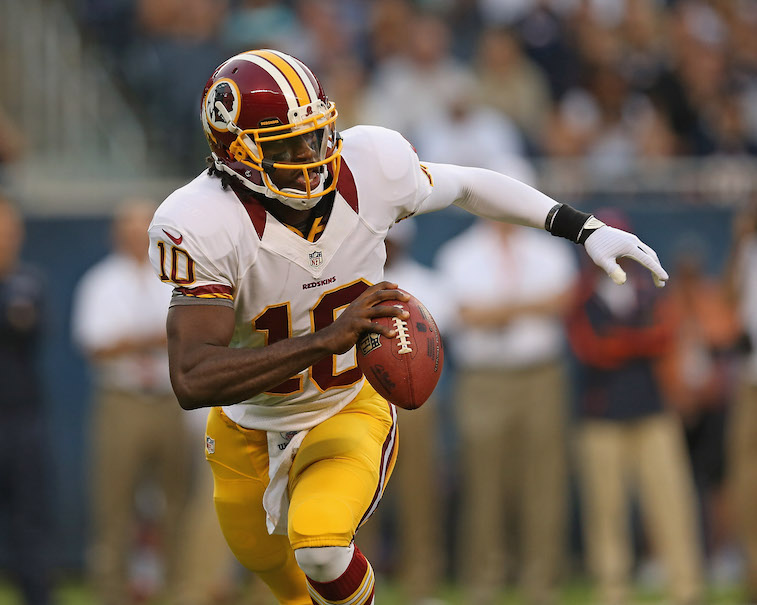 While the Redskins may have made the postseason under Griffin in his first season, it's been a complete 180 since that point. In 2013, the Redskins finished 3-13 and followed that up with a 4-12 record in 2014. With both the Dallas Cowboys and Philadelphia Eagles looking like consistent contenders, and the New York Giants finishing 2014 with a new confidence, it looks like trouble for Washington.
Obviously all of the issues with Washington can't be put on Griffin, but you can truly live or die by quarterback play in the NFL these days. Just as you can tell from RGIII's statistics above, when he struggles, the Redskins struggle as well.
Washington didn't do much in terms of helping themselves this offseason. They grabbed Junior Galette when the New Orleans Saints cut the troubled linebacker, while also signing cornerback Chris Culliver and defensive tackle Terrance Knighton. On top of that, they traded for safety Dashon Goldson, who had been a bit of a letdown in Tampa Bay.
If the Redskins are going to turn the corner and get back to relevance, it's going to come down to the play of Robert Griffin III in 2015. If he can ease the pressure off the running game and Alfred Morris, he may save his career.
How RGIII Can Save His Career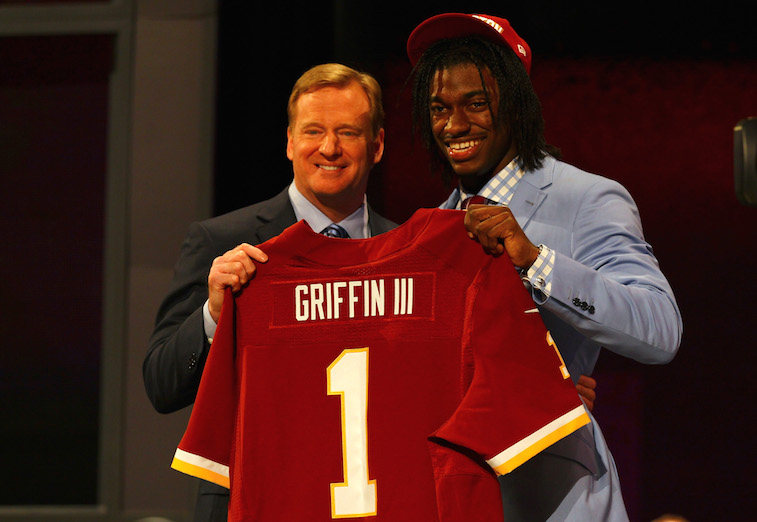 It's pretty simple for Griffin. Win games in 2015, make a push towards the postseason and avoid turning the ball over. That's going to be the name of the game for RGIII this year. Unfortunately,  the jury is out on whether Griffin can help out his defense enough by avoiding turnovers. Worst of all, they play in the brutal NFC East, which will only make things tougher on the Redskins.
If the opening preseason game against the Cleveland Browns was any indication, then Griffin still has a ways to go. After completing just 4-of-8 passes for 36 yards and rushing once for three yards, it just places even more concern around his play.
Can Griffin save his career in 2015? Absolutely. Is it likely? Unfortunately, we can't see it. Griffin has seen his number of games played decrease every season, so injuries are obviously still a concern.
Griffin and the Redskins have offensive playmakers in Morris, DeSean Jackson, Pierre Garcon and Jordan Reed (who needs to stay healthy as well). If Griffin can't utilize these playmakers this year, though, then don't expect to see much of him in Washington moving forward.