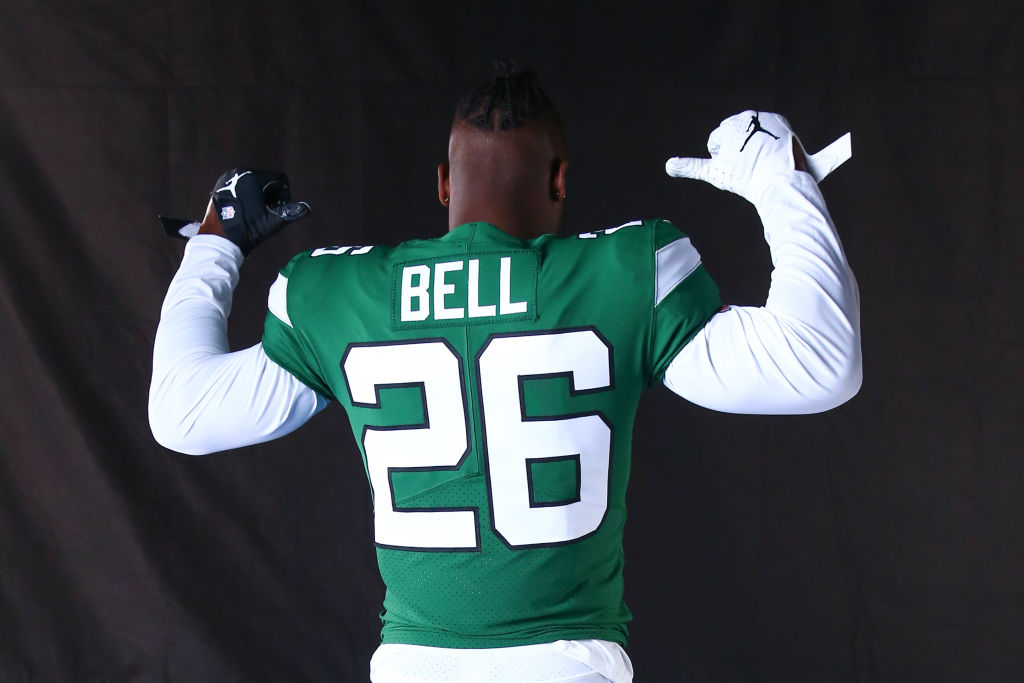 NFL: Will Le'Veon Bell Be an Elite Fantasy Football Running Back in 2019?
Le'Veon Bell was an elite fantasy football running back in 2017. Will Bell return to that form in 2019 with the New York Jets?
On Monday afternoon, Le'Veon Bell issued an apology to the millions of fantasy football owners that drafted him to their NFL fantasy teams last year. Bell was a virtually unanimous top-three pick in fantasy drafts before he announced his intentions to hold out for the 2018 season. That holdout lasted the entire year.
This season, Le'Veon Bell's average draft position is right around pick seven or eight. Here are three reasons why Bell deserves to be drafted in this position and could even work himself back into the top five players in fantasy before the 2019 season comes to a close.
1. His most recent stats match up against the other elite running backs
The NFL is a "what have you done for me lately?" league. While Le'Veon Bell was out for the entire 2018 season, Saquan Barkley, Ezekiel Elliott, Alvin Kamara, and Christian McCaffrey were all having outstanding seasons. These four players are being drafted with the top four picks in most NFL fantasy drafts this season.
These are all reasonable picks. But let's take a look at how Le'Veon Bell's per-game averages from 2014 through 2017 stack up against what this crowd averaged per game in 2018:
Saquon Barkley: 81.7 rushing yards, 5.7 catches, 45 receiving yards
Ezekiel Elliot: 95.6 rushing yards, 5.2 catches, 37.8 receiving yards
Alvin Kamara: 58.9 rushing yards, 5.4 catches, 47.3 receiving yards
Christian McCaffrey: 68.6 rushing yards, 6.7 catches, 54.2 receiving yards
Le'Veon Bell: 91.3 rushing yards, 5.4 catches, 46.1 receiving yards
Bell's four-season averages rank second in rushing yards, tied-for-third in receptions and third in receiving yards per game among this elite group. The only real knock on Le'Veon Bell compared to these four would be his touchdown rate, which would rank fourth ahead of only Ezekiel Elliot; but on the Jets, he won't have Antonio Brown to compete with for red-zone looks.
2. The Jets offense around him could actually be pretty good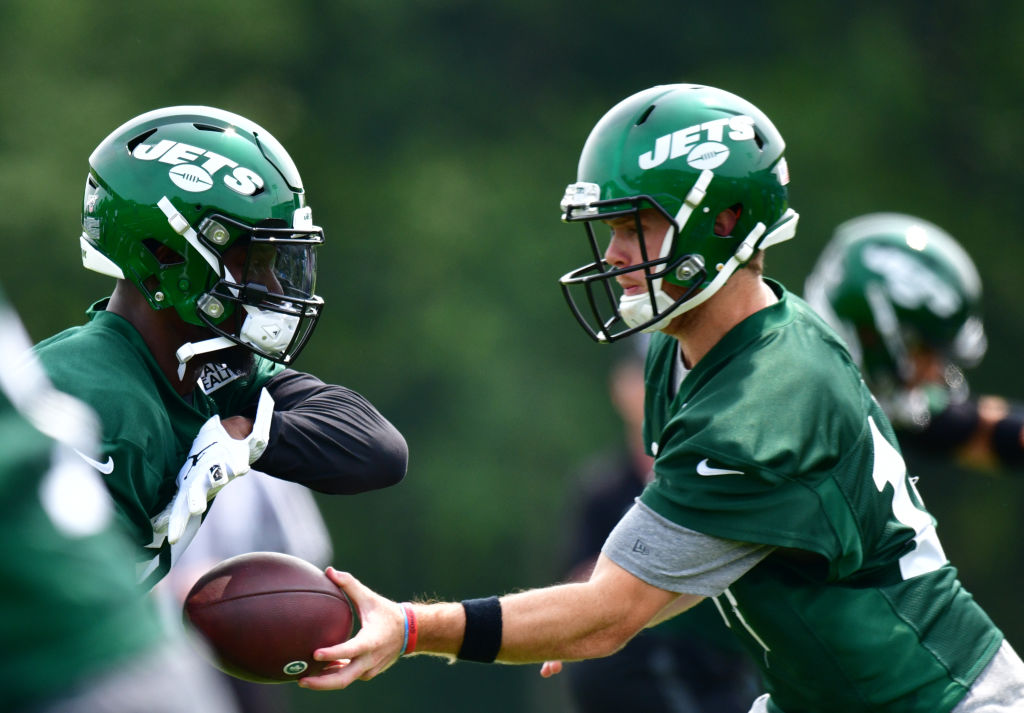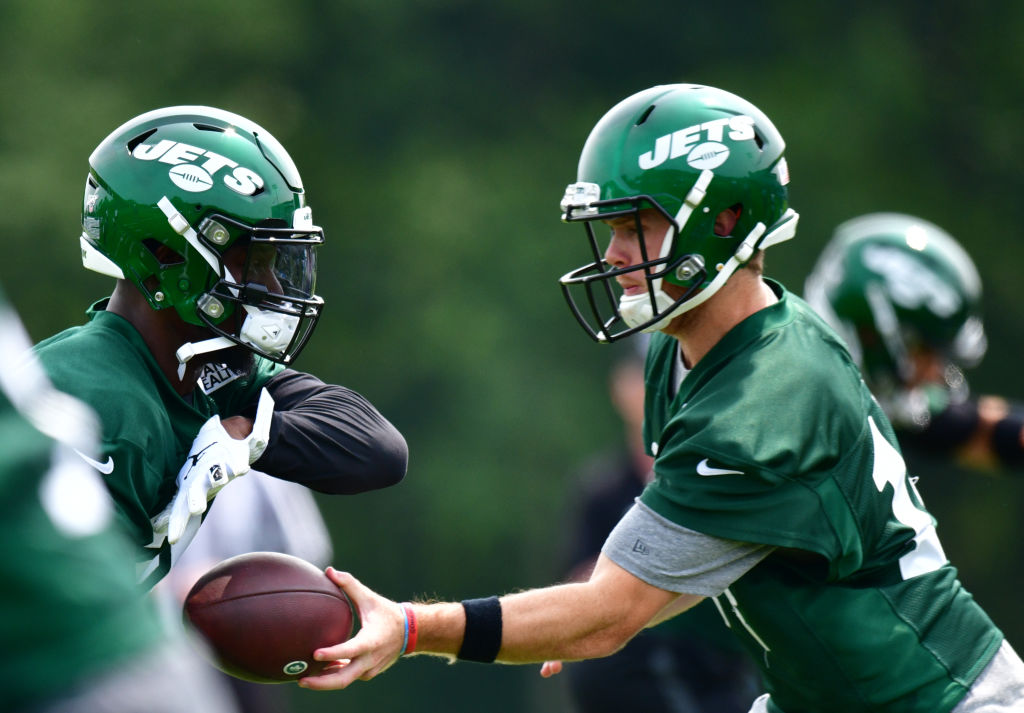 Sam Darnold had an up-and-down season last year, as one might expect from a rookie. But he really came into his own in the month of December. Through the first 12 games of the season, Darnold had an 11-to-14 touchdown-to-interception ratio, a completion percentage of 55%, and an average of 162 passing yards per game. In December, the rookie completed 64% of his passes, had a 6-to-1 TD-to-INT ratio, and averaged 233 passing yards per game.
There is good reason to believe that Darnold can build on his strong December and be a much more consistent performer in 2019. Jamison Crowder was brought in this offseason to join Robby Anderson and Quincy Enunwa in the receiving corps, and new offensive lineman Kelechi Osemele should help shore up the line.
Sure, there are more talented offensive groups to be found around the league. But with a solid receiving core and a young star at quarterback, team's shouldn't be able to focus all of their attention on Le'Veon Bell; and that means he'll have lots of opportunities for big plays.
3. He will be well-rested
The NFL season is a grind. This is especially true for running backs, who take a large number of hits throughout a season and generally have shorter career spans than other positions.
Le'Veon Bell will be the most well-rested player in the NFL this season coming off of his one-year hiatus. With his contract dispute behind him, it's time for us to see what Bell has up his sleeve during the remaining years of his prime.