NFL: Will Marcus Mariota Dominate All Season Long?
The Marcus Mariota hype train is now completely full. After an opening week where Mariota posted a perfect quarterback rating, according to the Tennessee Titans official Twitter account, the rave reviews are flying. NFL fans are gushing, analysts are falling in love and Titans fans, well, they're thankful that he fell to No. 2 overall and that the team didn't trade the draft pick at this point.
This is the second time in franchise history a player has had a perfect passer rating in a game. The other was Chris Chandler on 9/24/95.

— Tennessee Titans (@Titans) September 13, 2015
Mariota was squaring off against the only player selected ahead of him in the 2015 NFL draft, QB Jameis Winston and the Tampa Bay Buccaneers. To say that Mariota won the opening game between these two players would be a massive understatement. Hey, the numbers just don't lie, right?
Final score: Titans- 42 Buccaneers- 14
Mariota: 13-of-16 passing for 209 yards, four touchdowns, zero interceptions
Winston: 16-of-33 passing for 210 yards, two touchdowns, two interceptions
On top of that, Mariota was taken out for backup QB Zach Mettenberger at the start of the fourth quarter, so he could have put up even more impressive numbers. The rout for the Titans was fully on after going up 42-7 in the third, but after the incredible start from Mariota, it poses the question of whether or not this incredible start can continue on throughout the 2015 season.
Poise and Accuracy of a Veteran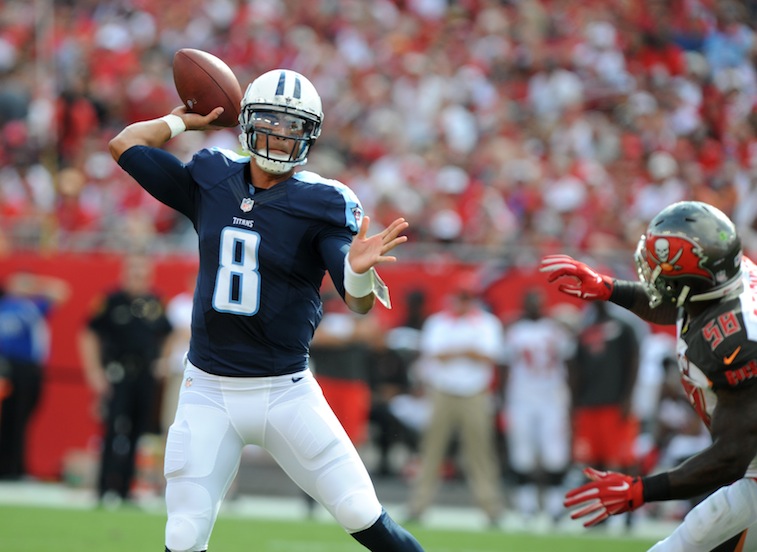 There's a lot of things that you can teach a quarterback throughout their career. One thing that you simply can't teach though, is accuracy and poise. Regardless of what the Buccaneers threw at Mariota, he shrugged it off and continued to make big plays. Mariota didn't force the ball down field, or attempt to "hit home runs" on every play, rather he let the play develop in front of him and found the open receiver, as evidenced by completing 13 of his 16 pass attempts.
Sure, he only threw for 209 yards, but after he had led his team to such a big lead there was no reason for him to remain in the game, let alone throw any more than he did.
Mariota completed over 68 percent of his passes in two of his three years with Oregon, and he started off his NFL career showing no issues at all from an accuracy standpoint. Could Mariota have topped off his stellar Week 1 performance with another touchdown or two if the Titans had left him in the game? Sure — at least, there's no reason to think otherwise.
13 Completions, 6 Different Players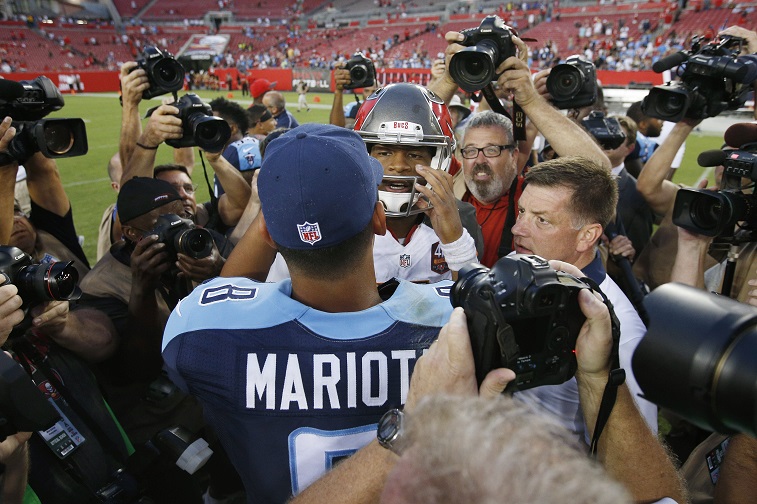 Mariota  doesn't rush anything he does, but he also doesn't lock in on one player. Letting receivers get to their spots is one thing, but it's more important that he's able to get the ball to whoever happens to be open, regardless of where they are on the field. Many teams and quarterbacks have the problem of attempting to force the ball to a specific player too often. For Mariota, that's not a problem, and shouldn't become an issue.
Out of Mariota's 13 completions, he hit six different receivers. Even more impressive is the fact that WR Kendall Wright was still able to top 100 yards on only four receptions. The Titans have some playmakers at wide receiver, such as Wright and Justin Hunter, but they also have some strong safety blankets in the likes of Harry Douglas and tight end Delanie Walker.
This ability to to avoid locking in on one receiver is so crucial when playing in the NFL, and while it may be overlooked in many cases, this is something that many rookie quarterbacks have struggled with in the past.
Consensus: Marcus Mariota Is the Real Deal
No question about it, "Magic Marcus" is all that fans had hoped for and more. While it's far too early to say that he'll have a better NFL career than Winston, it is safe to say that he's going to have a strong 2015. Should we expect to see four touchdown games, with perfect QB ratings on a weekly basis? No, probably not.
What we can expect to see from Mariota is strong, accurate passing coupled with very few mistakes. Mariota is a brilliant football mind, but most importantly, he avoids turning the ball over. Not only should this set him up for a great rookie season, but it will also give the Titans a real chance at turning things around sooner than later.
Tennessee may not be playoff bound in 2015, but don't be shocked if the Titans are back in contention thanks to their new franchise quarterback soon enough.
Follow Jeff Smith on Twitter @JSM8ith