NFL: Will Money Derail Colin Kaepernick's Trade to the Denver Broncos?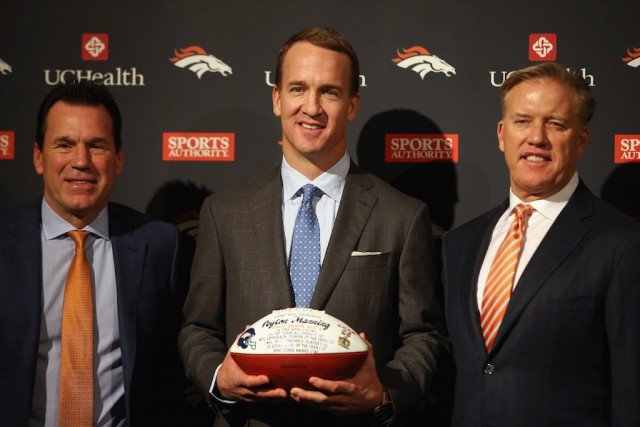 The 2016 calendar year has been a rollercoaster ride for the Denver Broncos. In February, they dominated the Carolina Panthers in Super Bowl 50 to claim the third world championship in franchise history. Then, after celebrating their Super Bowl triumph for a couple weeks, the team watched Peyton Manning, their starting quarterback and a future first ballot Hall of Famer, retire; his heir apparent, Brock Osweiler, sign a $72 million contract with the Houston Texans; defensive end Malik Jackson sign a massive contract with the Jacksonville Jaguars; and linebacker Danny Trevathan ink a deal to continue his career with the Chicago Bears.
Those roster subtractions, coupled with the team's decision to part ways with several notable veteran players (tight end Owen Daniels, offensive linemen Louis Vasquez and Evan Mathis, and special teams standouts Aaron Brewer, Omar Bolden, and David Bruton), makes it clear that the Broncos will look like a dramatically different team in 2016. In reality, we can't think of a defending Super Bowl champion that has had the kind of roster shakeup that the Broncos have experienced this offseason.
This leads us to the biggest question mark of all in regards as Denver attempts to defend their Super Bowl title in 2016: Who will be under center when the NFL regular season kicks off in September? Just when it looked like the Broncos' starting quarterback in 2016 would be Mark Sanchez, Trevor Siemian, or someone they select in the 2016 NFL Draft, General Manager John Elway agreed to the framework for a trade that would bring 28-year-old San Francisco 49ers quarterback Colin Kaepernick to Denver. However, there is still one major holdup, which may ultimately prevent this deal from happening.
The aforementioned holdup in this trade is the same one that prevents most deals: money. At 4 p.m. EST on Thursday, March 31, Kaepernick's 2016 salary of $11.9 million became fully guaranteed. And simply put, given their current salary cap situation, the Broncos cannot afford to take on Kaepernick's contract as it is currently structured (he has a scheduled cap hit of $15,890,753 for the 2016 season).
According to ESPN's Adam Schefter, Kaepernick and Elway have already met twice in an attempt to work out a deal, but have been unsuccessful thus far. The Broncos are willing to pay $7 million of Kaepernick's $11.9 million base salary for 2016, but the former Nevada standout has been unwilling to forfeit the remaining $4.9 million he is owed.
Both sides (the Broncos and Kaepernick) would prefer to have the 49ers eat the $4.9 million, but they made it clear that they are unwilling to pay that chunk of money for a player who they would like to keep on their roster at the end of the day. In fact, Schefter reported that his sources told him "it would take two seconds" and "one phone call" for the teams to finalize the proposed deal if everyone could reach an agreement on the financial side of things. And as of this morning (April 4), an agreement has not been reached.
Kaepernick has since reported to the 49ers' offseason training program. He does, after all, have a $400,000 bonus built into his contract if he attends 90% of his team's offseason workouts. A deal could still happen, but this shows that those involved are still fairly far apart in their efforts to reach a viable solution for all parties.
If you ask us, Kaepernick is foolish for not doing everything in his power to get out of the rebuilding project going on in San Francisco and join the Denver Broncos, a team that would allow him to contend for a Super Bowl. Here's why.
First and foremost, Kaepernick's contract is structured in a way that essentially breaks down to several one-year contracts that include team options at each season's end. If he stays in San Francisco and has a subpar year in 2016, the 49ers could release him next offseason, which would result in Kaepernick missing out on $65,300,000 in base salary from 2017-2020. And as we all know, no player is indispensable in the eyes of new 49ers' head coach Chip Kelly.
Second, the Broncos are a great fit for Kaepernick from a football perspective. Offensively speaking, head coach Gary Kubiak runs an offensive system that is tailor-made for Kaepernick's physical skill set, and for the first time in his career he would have two Pro Bowl-caliber wide receivers to throw to in Emmanuel Sanders and Demaryius Thomas.
More importantly, though, the Broncos have an elite defense capable of singlehandedly winning games (figuratively speaking), which is similar to the Niners teams where Kaepernick experienced success earlier in his career. (Hint: He wasn't expected to carry the team to wins.) Lastly, should he lead the Broncos to a second-straight AFC Championship and/or Super Bowl title, it would be worth far more than $4.9 million in the grand scheme of things. All things considered, this should be an easy decision for Kaepernick.
Statistics courtesy of Pro-Football-Reference.com. Contract and salary cap data courtesy of Spotrac.