NFL: Will the Jets Re-Sign Chris Ivory?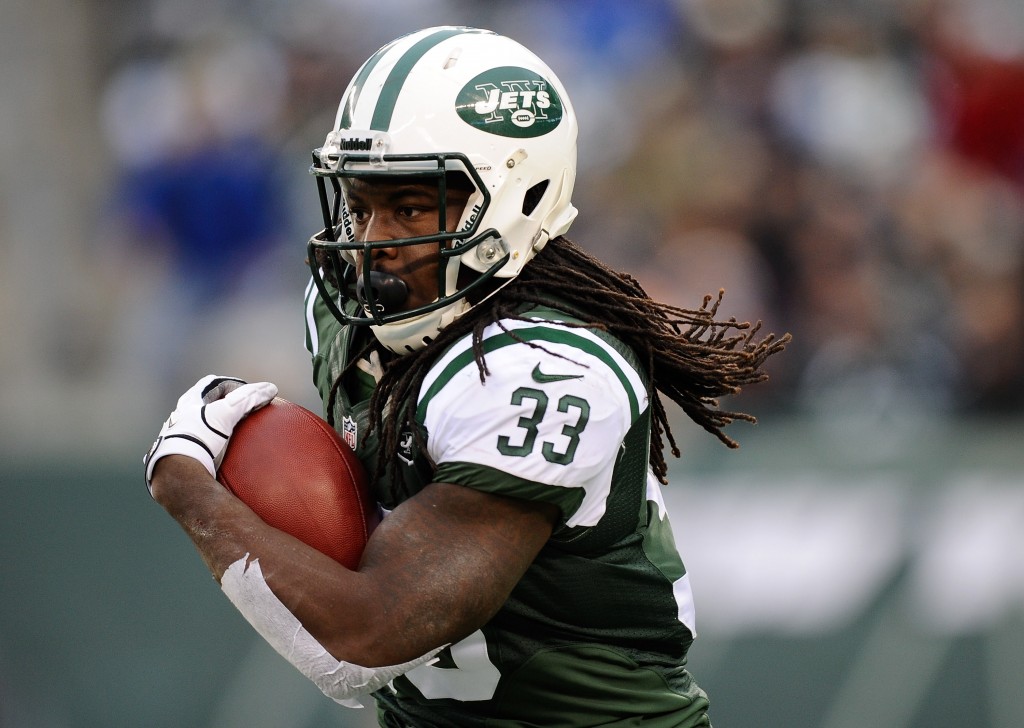 When Chris Ivory was traded to the New York Jets prior to the 2013 season, the team hoped that he could step in as the primary running back who could help take them over the hump in the AFC. He was expected to replace Shonn Greene, who was coming off two consecutive 1,000 rushing yards. Despite two productive campaigns, Greene was seen as a player who peaked rushing for 3.9 yards per carry in his final year with the team, which made his departure an easier pill to swallow.
Ivory went undrafted out of Tiffin University in the 2010 NFL Draft and gained a reputation as an explosive runner who was stuck struggling for playing time behind the likes of Pierre Thomas and Reggie Bush.  After an impressive rookie campaign that saw him rush for 712 yards on a 5.2 yard per carry average, he was relegated to playing in spurts, and played in just 12 games combined in his second and third season with New Orleans but was able to post averages of 4.7 and 5.4 yards per carry, respectively.
All of this led the Jets to pounce on the opportunity to acquire him from the Saints and sign him to a relatively inexpensive deal worth $10 million over three years. Ivory struggled in his first two seasons in his new environs, failing to surpass 840 rushing yards in either year and forcing the team to rely heavily on backups Bilal Powell and Chris Johnson.
Only in his sixth season did Ivory finally put together a breakout season, rushing for a career-best 1,070 yards, a performance that led the AFC in rushing and helped earn him his first Pro Bowl selection. The 2015 season was quite a strange year for Ivory, though, as he went from being one of the league's top running backs through the first six weeks of the season (which included back-to-back games with more than 140 rushing yards and a touchdown in each contest) to being a part-time player.
The last 11 games of the season were a model of inconsistency, as a strong performance with a 100-yard game against the Tennessee Titans in one week bumped up against one of the five games where Ivory couldn't even crack 40. As his role continued to diminish over that stretch, he ultimately recorded a season-low six carries in the must-win season finale game against the Bills, which would have clinched them a playoff berth.
Hindsight is 20/20, but this was a mind-boggling decision by first-year head coach Todd Bowles to bench Ivory for the entire first quarter and instead depend on little-used Stevan Ridley. Following the gut-wrenching 22-17 loss, Bowles provided a puzzling explanation, stating that the "game-plan" didn't allow for him to utilize Ivory in an increased role. It was a decision that may have impacted the outcome of the game that saw the Jets, who were riding a five-game winning streak entering the season finale, miss the playoffs yet again.
When your All Pro running back only sees six carries in the season's most pivotal game, it seems fair to ask questions about whether the Jets truly value Ivory.  On top of that, the 27-year-old will enter the free agency period looking to get a pay raise, which may push New York out of the picture altogether with just $6.4 million in salary space.
Keep in mind, quarterback Ryan Fitzpatrick, who posted career-highs in passing yards (3,905) and touchdown passes (31), is also set to become an unrestricted free agent. This will likely put the team in a tight spot with a tough decision to either keep Fitzpatrick or Ivory. It's fair to assume they would lean toward retaining the former as the NFL has become a quarterback-driven league. The likelihood of him staying becomes even more slim with backups Powell and Ridley slated to become free agents on Wednesday afternoon as well.
If the Jets aren't interested in that route they may look to the draft to fill their running back need, taking Ezekiel Elliott, Derrick Henry, or Devontae Booker. In truth, this would be the more likely scenario given that these rookies would be under control over a long-term contract with a significantly lower base salary.
All in all, what this points to is that Ivory may have likely played his last snap in a Jets uniform. New York has limited financial flexibility, with their current salary cap space, and has other bigger priorities such as re-signing Fitzpatrick. Both sides may have had a strong interest in getting a deal done, but there appears to be too many variables in the way to see that come to fruition.