NFL: With Andrew Luck Out, Is the Indianapolis Colts' Season Over?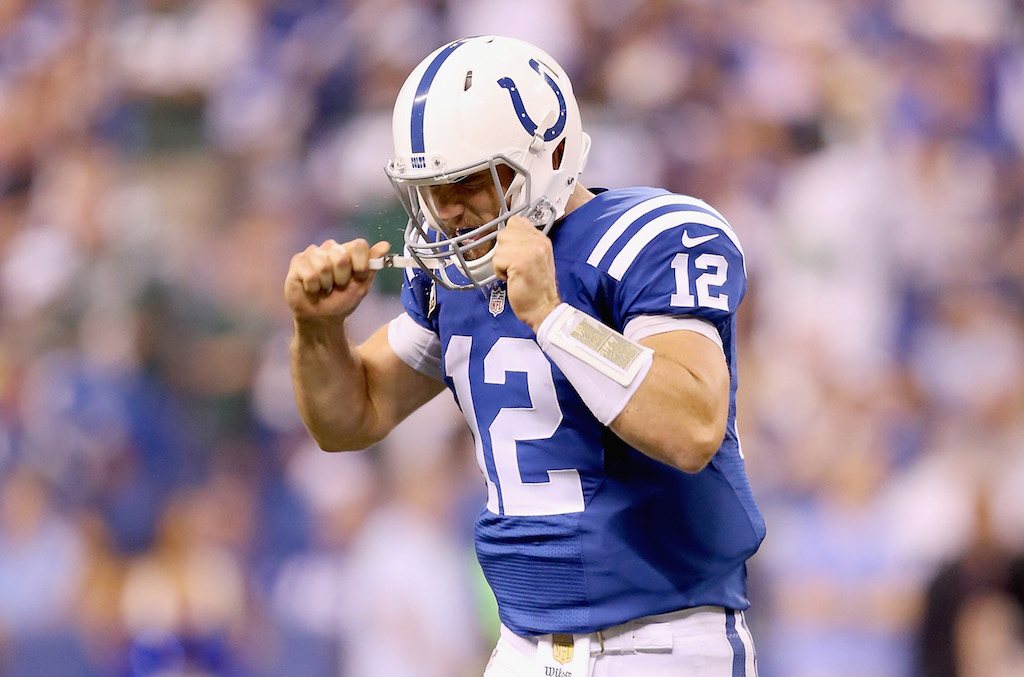 This kind of goes without saying, but with a 4-5 record through the first nine weeks of the regular season, the Indianapolis Colts have been one of the most disappointing teams in the league in 2015. After an aggressive spending spree this past offseason, the Colts quickly emerged as one of the trendy picks around the NFL to win the AFC and Super Bowl 50 titles this coming January and February. And when you look at everything on paper, it's easy to see why.
In addition to acquiring wide receiver Andre Johnson, running back Frank Gore, outside linebacker Trent Cole, and offensive guard Todd Herremans, the Colts were coming off of a trip to the AFC Championship Game, and their quarterback, Andrew Luck (pictured above), led the league with 40 touchdown passes in 2014.
Unfortunately for the Colts, Luck is having the worst season of his career, and while Gore and Cole have been solid contributors, Johnson has been a non-factor, and Herremans was playing so poorly that he was benched following the team's Week 2 loss to the New York Jets. On top of that, the team has been dealing with the constant distraction caused by the uncertainty surrounding the future of their head coach, Chuck Pagano. All said, if it weren't for the fact that they are fortunate enough to be playing in the worst division in the NFL, the Colts would already be in serious danger of missing the postseason altogether.
As it stands, the Colts are currently in first place in the AFC South and control their own destiny in regards to their playoff future. However, with that being said, the Colts' postseason aspirations just took a serious blow when it was announced that Luck will miss at least the next month of action as he recovers from a lacerated kidney.
With this latest development, would it be an overreaction to write the 2015 season off as a lost cause for the Colts? Here is our take on the situation.
Stepping in for Luck will be 17-year NFL veteran Matt Hasselbeck (pictured above), who has been the team's backup quarterback since the 2013 season. Since joining the Colts, the 40-year-old Hasselbeck has made two starts — in Week 4 and Week 5 of this year — and has performed quite admirably, given the circumstances. Here is a brief rundown of his statistics in his two starts as a member of the Colts.
2-0 record
63.2% completion percentage
495 passing yards
3 touchdown passes
0 interceptions
95.0 quarterback rating
His two starts may have come against the Jacksonville Jaguars and Houston Texans, who have a combined record of 5-11, but at the end of the day, Hasselbeck is more than capable of playing well enough to give the Colts a fighting chance while Luck is out of the lineup.
Fortunately for the Colts, they will have a bye in Week 10, which should give the team and coaching staff plenty of time to adjust to a new quarterback, and based on current standings and remaining schedules, they will likely only need to get to 7-9 or 8-8 overall to win their division. Here is a look at Indianapolis' remaining 2015 schedule.
Week 10: Bye
Week 11: @ Atlanta Falcons (6-3)
Week 12: Tampa Bay Buccaneers (3-6)
Week 13: @ Pittsburgh Steelers (5-4)
Week 14: @ Jacksonville Jaguars (2-6)
Week 15: Houston Texans (3-5)
Week 16: @ Miami Dolphins (3-5)
Week 17: @ Tennessee Titans (2-6)
Without Luck under center, we are forecasting the Colts to, at best, go 1-2 in their next three games. After that, they do not play another team that has a winning record in 2015. Knowing this, the Colts have to feel pretty good about their chances of making the AFC Playoffs, despite missing their franchise quarterback for a significant portion of the season.
Conversely, the Colts' front office needs to quickly decide whether or not this team is strong enough to contend for an AFC title this season. If they truly believe that they have a realistic shot, it will be worth doing everything in their power to get Luck back on the field as soon as possible. If they feel that there is very little chance that they will be able to get through the Cincinnati Bengals, New England Patriots, and Denver Broncos (for a second time), then they should protect the future of their franchise and give Luck all of the time that he needs to get back to full strength.
When it comes down to it, does Luck's injury mean the Colts' 2015 season is over? Of course not. But, in the grand scheme of things, are they really going to contend for a Super Bowl without their best player at full strength? Absolutely not.
All statistics courtesy of Pro-Football-Reference.