NFL: Xavier Rhodes is not Like Your Typical Cornerback
In a world that thrives on drama, professional athletes often take notice and treat their opponents as opposition on the other side of the war. They use social media, post-game scrums, and in-game trash talk to demean, belittle, and destroy their opponents in the name of sports. Some people love this and want nothing more than an on-field fight or off-field war of words. Xavier Rhodes is different, however.

Xavier Rhodes respects his opponents
Sitting down for a conversation in Brian Baldinger's film breakdown series, the Vikings cornerback didn't use his platform to declare his superiority over all of his opponents and rivals. Instead, he took the time to respect the opponents who he's supposed to guard on a game-to-game basis.

It makes sense. In six seasons, Rhodes has seen a lot of opponents, and when somebody like him speaks about the game, he should be given all of the attention.

"You have that one guy in front of you," Rhodes said in the video. "You don't have to worry about anything else but the guy in front of you."

After talking about this respect for his opponents, Rhodes went on to list the three toughest receivers that he's been tasked with guarding.

Julio Jones
"You have receivers that have certain routes," Rhodes said about the Falcons wide receiver's tendency to freestyle. "He don't have certain routes."

Julio Jones has made his name keeping defenses on their toes, and hearing one of them give this sort of respect to his game is a testament to this. In Julio Jones's eight-year career, he has been a perennial Pro Bowler, a two-time First-Team All-Pro selection, and he has even played in a Super Bowl. Football is about the X's and O's, but a player who can throw these to the side on the fly and make it work is one of the most valuable tools a player can have.

For Xavier Rhodes, it means that his head has to be on a swivel constantly, and he has to be ready for Jones to perform jazz on the football field and take things into his own hands.

Antonio Brown
Rhodes compared Brown favorably to Jones, stating that he too had his own routes. While Brown will be on a new team this year in Oakland, he brings with him seven Pro-Bowl seasons, four All-Pro seasons, and several other accolades from throughout his career. While many may have been distracted by his offseason antics, defenses have to respect Brown, or he'll put them on the wrong side of a highlight reel.

Brown may be entering his 10th season, but he has shown no signs of slowing down. If his complaints about the way that the Steelers used him are correct, a change of scenery could mean that he is only getting better as he settles down with the Raiders franchise, and Xavier Rhodes would know. The Baldinger video showed him in the middle of a game asking how he did the things he did on the field.

Davante Adams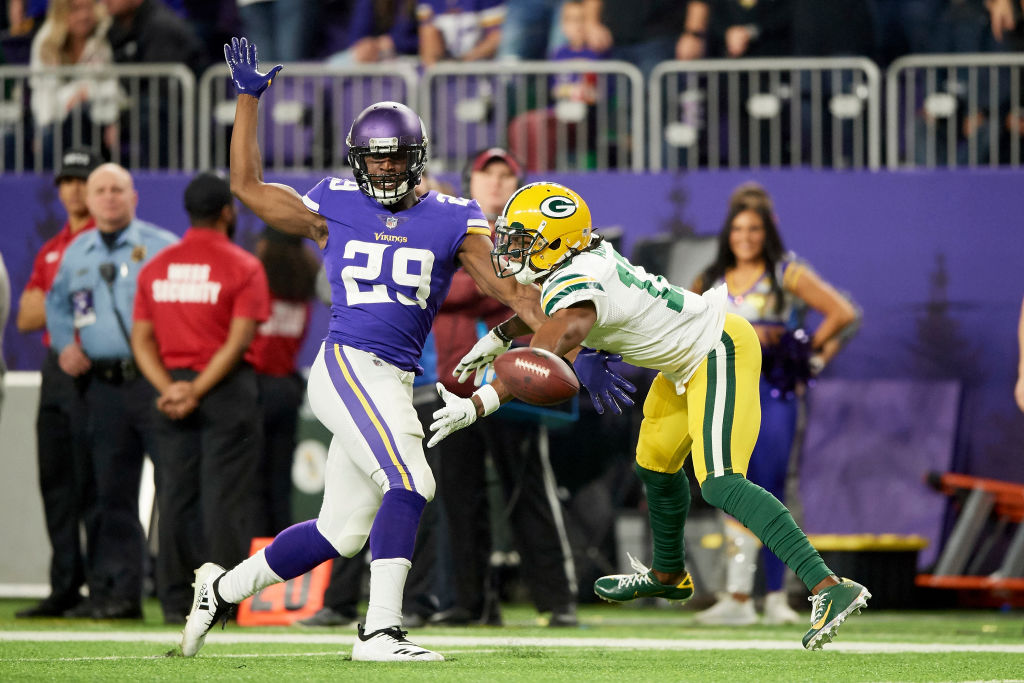 "This guy is unbelievable," Rhodes said before beaming about how much the young receiver has grown since he came into the league, something that he says he also told Adams in the middle of a game.
The Packers' Iron Man entered the league around the same time as Rhodes, so both have experienced the NFL at a similar pace. Coming off of a career year where he had 1,386 receiving yards and 13 touchdowns, Adams shows no signs of regression, either.

It shows that Rhodes understands that while competition is the key to the sport, so is respect for your opponents' games. It is this respect that has helped make Rhodes the defender that he is, and it is this respect that should make him be a great defender for years to come.