The Reason the NFLPA Called out Jaguars Executive Tom Coughlin Before the Draft
With the 2019 NFL Draft starting on April 25, teams around the league are preparing for one of the most crucial portions of the offseason. You can't win a division title in April, but drafting players who turn out to be busts is one way to make life tough. However, the draft is only part of the preparation teams do. Offseason workouts and voluntary team activities help NFL players get ready for the season ahead. The NFLPA, however, took Jacksonville Jaguars executive Tom Coughlin to task before the draft some comments he made about offseason workouts.
What Tom Coughlin said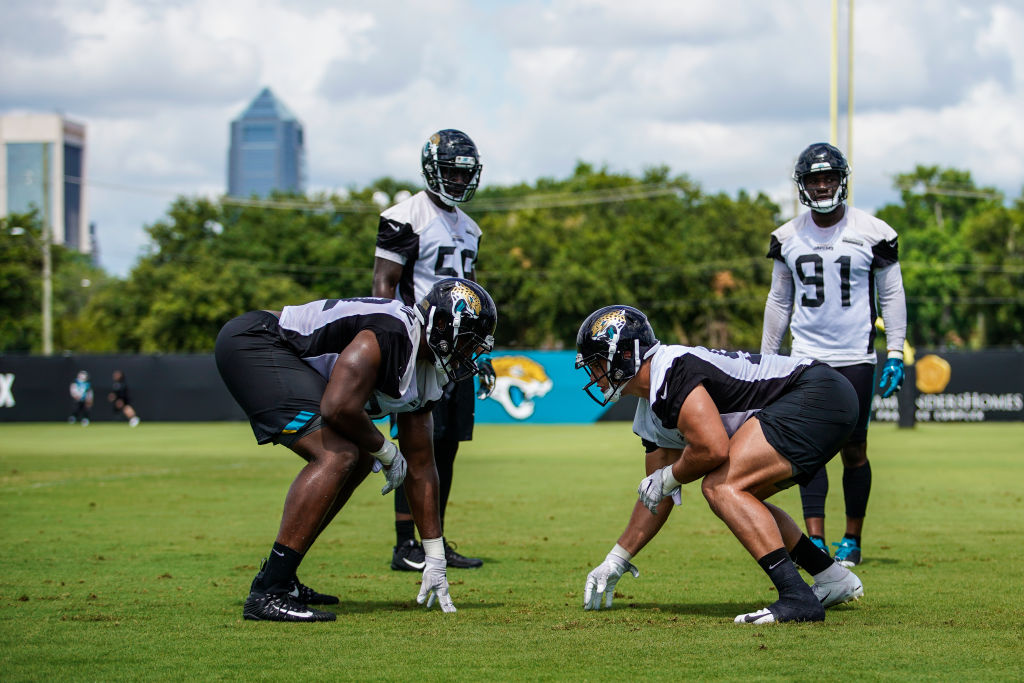 The Jacksonville Jaguars were a trendy Super Bowl pick before the 2018 season started. They came off a division title and an appearance in the AFC championship game, and most of the key pieces returned. Proving that the Jaguars are perhaps the most cursed team in the NFL, they stumbled to a 5-11 finish after going 10-6 the previous year.
Jacksonville held voluntary team workouts starting on April 18, but a few players didn't show up. No big deal, right? Not to Tom Coughlin. Potential trade bait CB Jalen Ramsey and leading tackler Telvin Smith both skipped the workouts. Coughlin wasn't pleased. "We're close to 100% attendance — and quite frankly, all of our players should be here," he said, according to beat writer John Oehser.
On the other side of the coin, Tom Brady and Aaron Donald tend to do their own thing during offseason workouts, and they don't show any ill effects once the season rolls around.
How the NFLPA responded

The fact that his entire team didn't show up for voluntary workouts shocked Tom Coughlin. The fact he apparently doesn't know what voluntary means shocked the NFL Players Association. 
NFL players fought hard for more forgiving offseason and practice schedules during the last round of collective bargaining, and the NFLPA takes those rights seriously. Not long after hearing about what Tom Coughlin said, NFLPA president Eric Winston issued a scolding rebuttal:
"Our CBA definition of voluntary is the same as the actual definition of voluntary and prohibits anyone from threatening players to participate in voluntary workouts. This is precisely the reason players negotiated strict rules and bright lines when it comes to offseason activities."
Not the first time Coughlin irked NFL players
Tom Coughlin is one of the few coaches to win multiple Super Bowls, but NFL players don't always care for his methods. He famously had his own timekeeping methods where he considered players "late" for meetings even if they showed up early.
Players accused him of running a dictatorship instead of a football team. New York Giants legend Michael Strahan didn't care for Coughlin's methods, but he softened his stance after two Super Bowl victories.
One reason Coughlin hoped for full participation
Aside from his old-school mentality and perhaps not knowing the definition of voluntary, there's another reason Tom Coughlin desired full participation at offseason workouts — the Jaguars look drastically different heading into the season.
Experts expected Jacksonville to be busy during free agency, and it was. Quarterback Nick Foles scored one of the best deals of the offseason, but that was just the beginning for the Jaguars. They added a receiver, a tight end, and two offensive linemen in an effort to remake one of the worst offenses in the NFL in terms of yards gained.