NHL: 11 Goalies Who Have Actually Scored Goals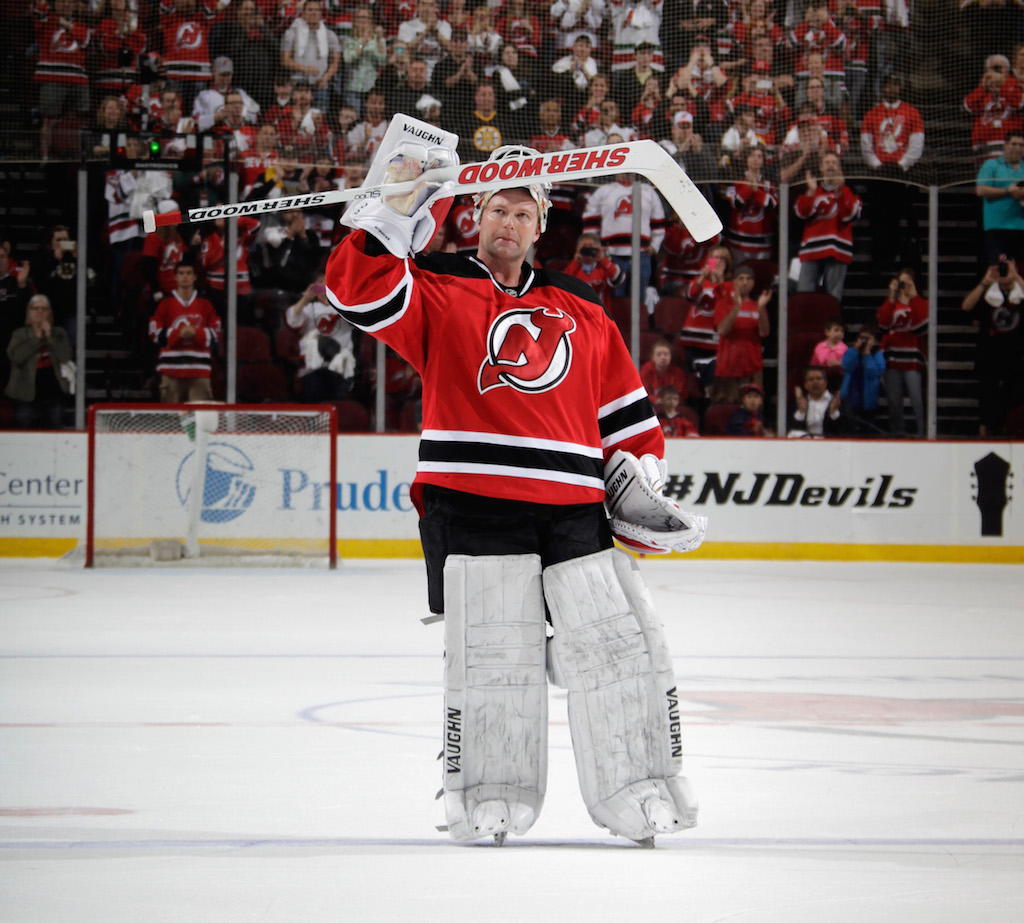 Like any other sport, hockey has its own set of rare feats that happen every so often, such as a player scoring five or more goals in a single game, which has only occurred 44 times in league history. There is also the crazy feat of "50 goals in 50 games," which has happened eight times by five different players (three times by Wayne Gretzky). However, there is one achievement that tops all: a goal scored by the opposing goalie. Here are the 14 occurrences when an NHL goalie has recorded a goal in a game.
1. Billy Smith
Former New York Islanders goalie and four-time Stanley Cup winner Billy Smith had the first credited goal from a goalie in league history when he slapped one in against the Colorado Rockies in November 1979. It occurred after the Rockies pulled goalie Bill McKenzie in the waning moments of the game, which resulted in a 7-4 loss for the Islanders. Although the shot on goal was given to Rob Ramage, it's another accolade for Smith's historic career — he was elected to the Hockey Hall of Fame in 1993 and had his No. 31 jersey retired by New York in February 1993.
2. Ron Hextall
The former Philadelphia Flyers goalie and Vezina Trophy winner Ron Hextall achieved this rare feat twice in his 13-year NHL career; both times with the Flyers. The first time was during a regular season game — a 5-2 win against the Boston Bruins on December 8, 1987 — when he scored an empty-netter in the final seconds. It was the first goal marked in the record books as a goalie committing the shot on goal.
The second occurred a year later on April 11, 1989, during Game 5 of the division semifinals matchup against the Washington Capitals, giving his team an 8-5 win. Hextall had a successful NHL career holding several Flyers' franchise records, such as most career games played by a goaltender (489), most career wins (240), most career playoff wins (45), most career points by a goaltender (28), and most career penalty minutes by a goaltender (476).
3. Chris Osgood
The three-time Stanley Cup champion and three-time William M. Jennings Trophy winner Chris Osgood joins this exclusive list by knocking a long-distance shot in during a regular-season 4-2 win against the Hartford Whalers on March 6, 1996. Osgood spent the majority of his career with the Detroit Red Wings. He currently ranks among the top 10 all-time at his position in league history, placing 10th all-time in wins by an NHL goaltender, eighth in all-time playoff wins, and fourth all-time in playoff shutouts.
4. Martin Brodeur
Arguably one of the game's greatest goaltenders, former New Jersey Devils goaltender Martin Brodeur scored three goals throughout his sure-fire Hall of Fame career. He had his first goal on April 17, 1997 in a 5-2 win in Game 1 of the Eastern Conference quarterfinals against the Montreal Canadiens. He had his second on February 15, 2000, in a regular season game against the Philadelphia Flyers when he was the last Devils' player to touch the puck after Daymond Langkow's shot went into his own net to give New Jersey a 4-2 win.
On March 21, 2013, during one of his final seasons, Brodeur's final goal came after once again being the last Devils' player to touch the puck, when Jordan Staal's errant pass went into his own goal — a 4-1 win for New Jersey over the Carolina Hurricanes. The future Hall of Famer is one of two NHL goaltenders to score a goal in both the regular season and the playoffs.
Brodeur holds many NHL and franchise records, including all-time regular season wins (691), losses (397), shutouts (125), and games played (1,266). He also won at least 30 games in 12 straight seasons and is the only goalie in league history with eight 40-win seasons. Along with that, he's also a four-time Vezina Trophy winner, a five-time Jennings Trophy winner, a 10-time NHL All-Star, a Calder Memorial Trophy winner, and a three-time Stanley Cup champion.
5. Damian Rhodes
The former Ottawa Senators goaltender Damian Rhodes was credited with a goal in a regular season 2-0 win on January 2, 1999 against the New Jersey Devils when Lyle Odelein accidentally hit the puck in his own goal. This made Rhodes the first goalie to score a goal in a shutout win. He played 10 years in the NHL, suiting up for the Senators, Toronto Maple Leafs, and Atlanta Thrashers.
6. Jose Theodore
During his eight-year tenure with the Montreal Canadiens, Jose Theodore became part of NHL history when he knocked in a long-distance goal in a 3-0 regular-season win against the New York Islanders on January 2, 2001. He became just the second goaltender to score a goal in a shutout win. Theodore had an extremely productive 16-year NHL career playing for the Canadiens, Colorado Avalanche, Washington Capitals, Minnesota Wild, and Florida Panthers. This included winning both the Vezina and Hart trophies in the 2002 season with Montreal.
7. Evgeni Nabokov
During his 14-year NHL career spent primarily with the San Jose Sharks, goaltender Evgeni Nabokov joined rare air with his goal in a regular season 7-4 win over the Vancouver Canucks on March 10, 2002. With just under a minute left in the game, Nabokov lifted a shot over the defenders that slid into an open goal to seal the win for his team. Nabokov also played for the New York Islanders and Tampa Bay Lightning. At the time of his retirement, he ranked 18th all-time in most NHL regular-season wins (353).
8. Mika Noronen
In his brief NHL career that spanned just six seasons, goaltender Mika Noronen was still able to join this exclusive list by being credited for a goal while playing for the Buffalo Sabres on February 14, 2004, in a regular season 6-4 win against the Toronto Maple Leafs. In a tense one-goal game in the final minute, Robert Reichel accidentally shot a pass back at his own net that went in and secured the win for Buffalo. Noronen was credited with the goal, given that he was the last Sabres player to touch the puck. He would play his final NHL season in 2005-06 with the Vancouver Canucks.
9. Chris Mason
During his 11-year NHL career, former Nashville Predators goaltender Chris Mason became a member of this small group on April 15, 2006, in a 5-1 regular season win over the Phoenix Coyotes. It occurred after Phoenix's Geoff Sanderson made an inadvertent pass into his team's vacated net on a delayed penalty call. Mason was the last Nashville player to touch the puck before the goal was scored. He played for the Predators, St. Louis Blues, Winnipeg Jets, and Atlanta Thrashers.
10. Cam Ward
The 25th overall pick of the 2002 NHL Draft has spent his entire career with the Carolina Hurricanes, and along the way he's achieved a great amount of success, winning the Stanley Cup with the Hurricanes in 2006. He also became the first starting goaltender to win the NHL championship as a rookie since Patrick Roy in 1986.
During this span, he also joined another exclusive list by scoring a goal in the regular season in a 4-2 win on December 26, 2011 against the New Jersey Devils. He was credited a goal when Ilya Kovalchuk's pass was off the mark, going into his team's empty net with 29.5 seconds left in the game, sealing the win for the Hurricanes.
11. Mike Smith
The current goalie of the now-Arizona Coyotes Mike Smith scored the most recent goal by a goaltender on October 19, 2013, against the Detroit Red Wings in the waning seconds of the game. With the game in hand, Smith swung a shot from his own goal to an empty one with 00.1 seconds remaining in the third period for a 5-2 win. It was the seventh goal that a goaltender had a shot on goal and the 14th overall goal credited to an NHL goalie. In his 10-year career, he has played for the Coyotes, Dallas Stars, and Tampa Bay Lightning