NHL: Alex Ovechkin and 4 Players Who Hit 500 Goals the Fastest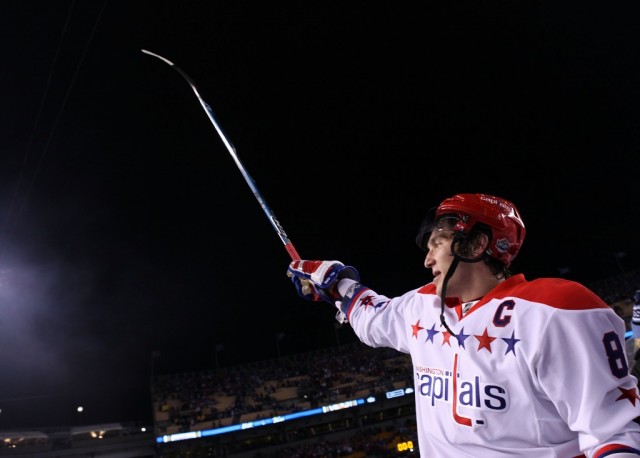 On Sunday, January 10, 2016, Alex Ovechkin entered his 801st NHL game — all played as a member of the Washington Capitals — needing one goal to become the first Russian NHL player to hit the 500-goal mark. At the 16:19 mark of the second period, Ovechkin, playing on the power play, took a wrist shot from 38 feet out and a millisecond later, the puck was in the net. As the horn sounded, Ovechkin's teammates swarmed him, emptying the bench to celebrate the milestone goal.
In addition, the 18,506 fans in attendance at the Verizon Center rose to their feet in appreciation of their captain. Among those cheering on Ovechkin were members of his family, including his mother and father. The power play goal made Ovechkin the 43rd player in NHL history to score 500 goals. Not content to rest at the bottom of that list, Ovechkin scored another goal at the 9:46 mark of the third period. With that goal, he moved up to No. 42 on the list of all-time NHL goal scorers, passing Lanny McDonald, who ended his Hall of Fame career with 500 goals.
The 30-year-old also took over the lead in goal scoring this season with that second goal giving Ovechkin 26 goals on the season, putting him one goal in front of Patrick Kane and Jamie Benn. Ovechkin's 500th goal came faster than most other players in that exclusive club. Here are the four players who reached 500 goals faster than Ovechkin.
4. Brett Hull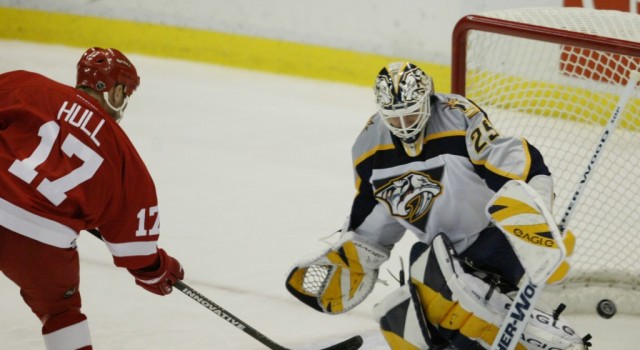 Brett Hull was a member of the St. Louis Blues when he scored his 500th goal on December 22, 1996, and he did so in style, scoring a hat trick that night to join his father Bobby as a member of the 500-goal club. Brett was the 24th player to score 500 NHL goals; he did so in his 693rd NHL game. Hull would go on to score 741 goals in the NHL, finishing his career with a total of 741 goals, ranking him third on the all-time list. Hull went on to enter the Hockey Hall of Fame in 2009.
3. Mike Bossy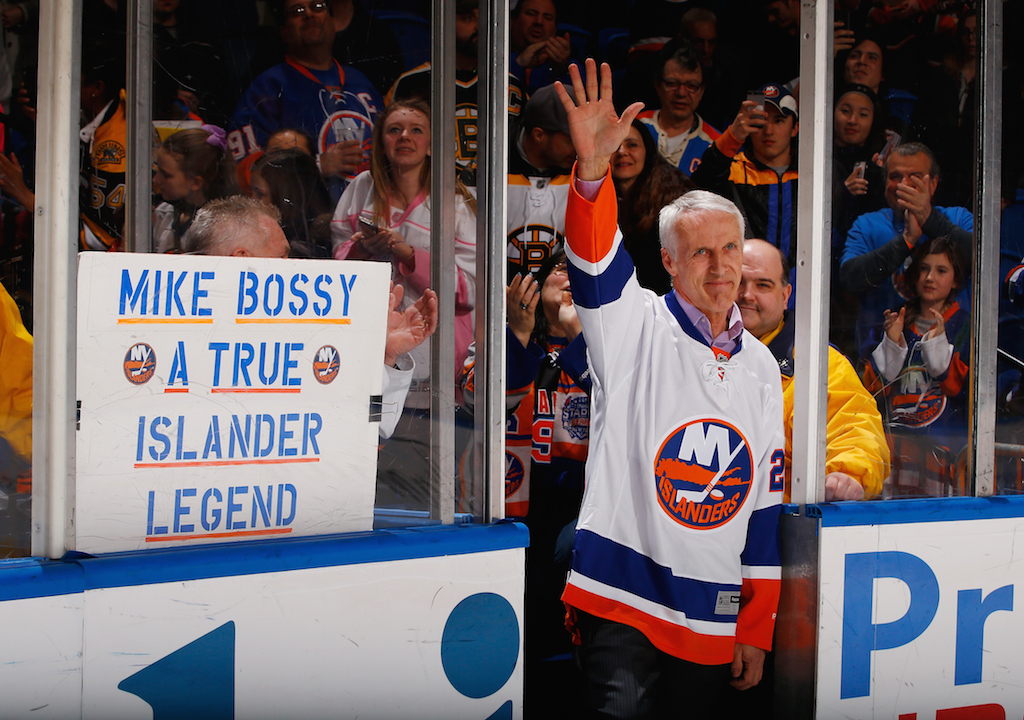 Mike Bossy spent his entire career playing with the New York Islanders, the team that picked him 15th overall in the 1977 NHL Entry Draft. The 12 teams that passed him over (two teams passed on Bossy twice) would regret it; no player picked before Bossy would enter the Hockey Hall of Fame, which Bossy did in 1991. Bossy was a goal-scoring machine. He netted his 500th career NHL goal in his 647th game, scoring into an empty net against the Boston Bruins. Bossy was the 11th NHL player to hit 500 goals.
In addition to scoring 500 goals faster than all but two players, Bossy was the second player to score 50 goals in 50 games, joining Maurice Richard in that exclusive club. Bossy accomplished that feat in the 1980-81 season. He was hampered by back injuries during his NHL career and retired after the 1987-88 season; he had not played since the end of the 1986-87 season, taking a year off before he decided he could not play on. Bossy went on to finish his career with 573 goals in 752 games, giving him the best goals per game average in NHL history at .762.
2. Mario Lemieux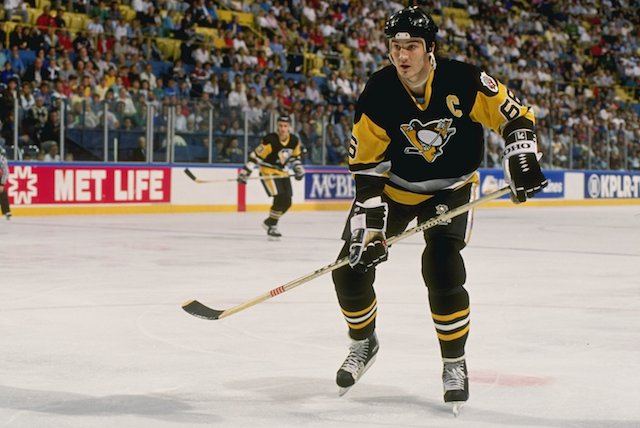 Nearly everyone knew that Mario Lemieux was a goal scorer, and he silenced any doubters in his first game with the Pittsburgh Penguins. You see, Lemieux scored on his first shot as an NHL player. Over the course of a 915-game career, Lemieux scored 659 additional goals, retiring with the 10th most goals in NHL history. Lemieux hit the 500-goal mark in an astounding 605 games, scoring his 500th against the New York Islanders during the 1995-96 season. Remarkably, Lemieux scored all those goals while suffering back injuries and after battling Hodgkin's lymphoma.
Following the 1996-97 season, Lemieux retired from the NHL. The organization waived the mandatory three-year waiting period for Lemieux, allowing him to be inducted into the Hockey Hall of Fame in November 1997. That retirement lasted until December 2007 when Lemieux returned to the Penguins. He played through the 2005-06 season, but played more than 43 games only once during those final seasons. Lemieux retired for good in January 2006, leaving us to wonder how many goals a healthy Lemieux would have scored.
1. Wayne Gretzky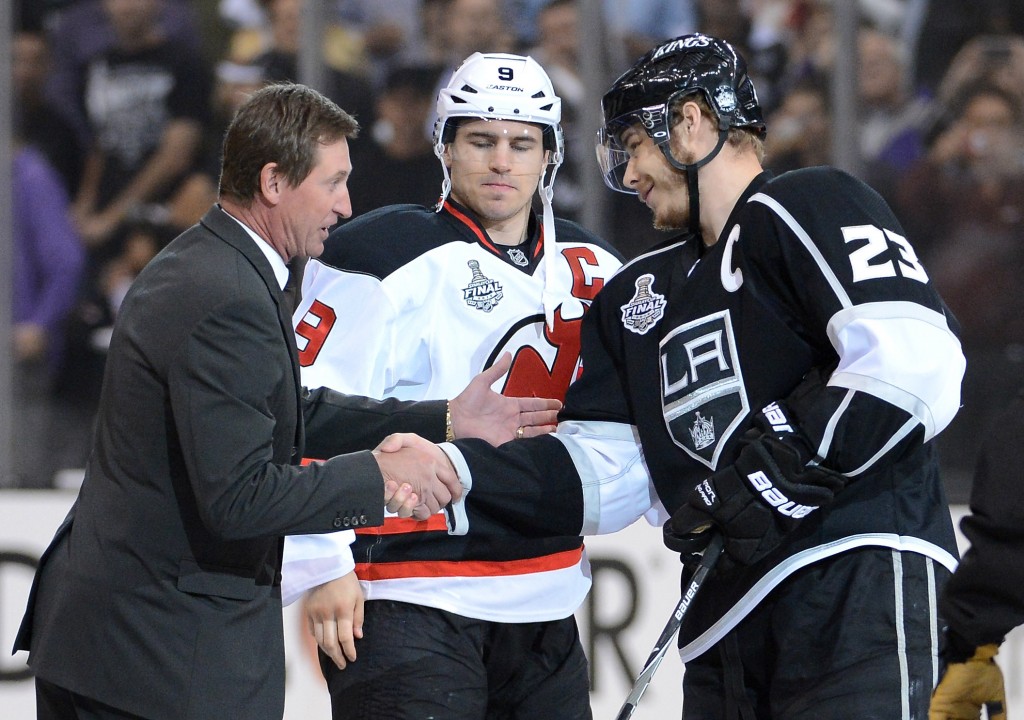 If you have even a casual relationship with the NHL record books, this one should come as no surprise. A player doesn't score 894 goals over an NHL career without putting the puck in the net at an aggressive pace, and that is exactly what Wayne Gretzky did, scoring all those goals in 1,487 games. Gretzky hit the magic No. 500 in 575 games, scoring that goal into an empty Vancouver Canucks net in November 1986 (it was one of 52 goals he scored that season).
Surprisingly, that 52-goal total was Gretzky's lowest goal total since he joined the NHL in 1979-80, a season in which he scored 51 goals. Gretzky retired at the end of the 1999 season, and like Lemieux, his waiting period was waived, allowing him to enter the Hockey Hall of Fame in his retirement year. Gretzky also had his number, 99, retired league-wide upon his retirement. Only one other NHL player has scored more than 800 goals, Gordie Howe. Howe netted 801 goals during his career, playing almost 300 more games than Gretzky.
Statistics courtesy of Hockey-Reference.com.