NHL: Connor McDavid can Join Elite Company During the 2019-20 Season
Connor McDavid is quickly becoming one of the NHL's most promising young players at just 22 years of age. Since easing into the league his rookie season, McDavid has been amazingly good. Just how good, though? If McDavid can emulate the previous success that he has had, he can become just the 14th player in the history of the NHL to accumulate four-straight seasons with at least 100 points. The other 13 are NHL Hall of Famers.

Connor McDavid breakout years
McDavid sat on the bench for most of his rookie season, but his impact was felt whenever he took the ice. Despite playing in only about half the season, he was able to finish the year with 48 points, just about on pace with his production over the next three seasons. Starting the next year, however, he showed that he can be a star in the league.

Showing that his success in 45 games was no fluke, McGregor was able to break out during his first full-time season as a rotation player. He amassed 30 goals and 70 assists during his sophomore campaign, and his threats both on the pass and on the opposing team's goal did not go unnoticed. His production only got better over the next two seasons, and McDavid has amassed a combined 324 points over the past three seasons.

McGregor is assumed to continue his growth, and if he does, he will find his name in an exclusive club. To say the achievement is historic is an understatement. It is a feat that has rarely been done in the NHL, and he would be the first to do it in over a quarter-century.

Wayne Gretzky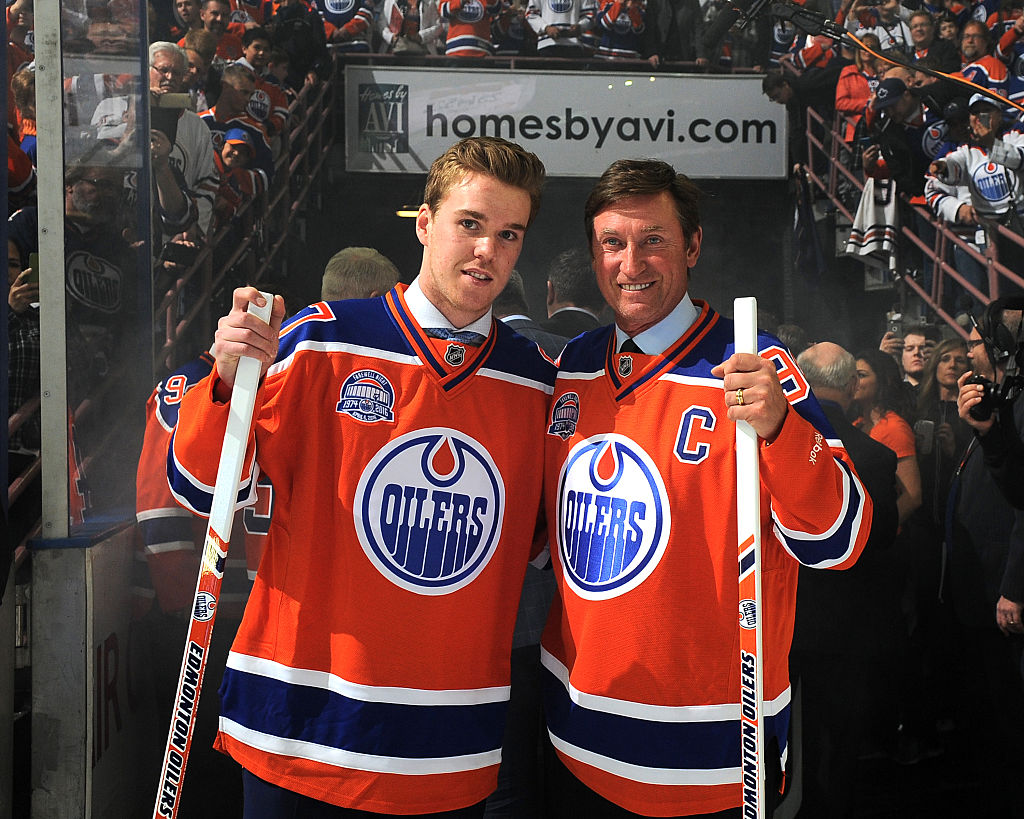 Any time a player has been mentioned in the same breath as Wayne Gretzky, you know they have done something great. Gretzky made himself a household name in a sport that doesn't always resonate past its devoted fanbase. It should come to no surprise, then, that Gretzky not only holds the record for most consecutive 100-point seasons, but he also holds it by a hefty margin. Connor McDavid hopes to join Gretzky as Edmonton Oilers icons.

Wayne Gretzky had 13-straight seasons with at least 100 points. That is more than double the people who came in second. Not much can be said about Gretzky's career that hasn't been run into the ground by even the most casual hockey fan, and the streak shows exactly why that is the case.

Mario Lemieux
Mario Lemieux wasted no time during his career joining the club. He got his six-straight seasons with 100 or more points in his first six seasons in Pittsburgh. That included a 1989 campaign where Lemieux scored 199 points. Lemieux's career didn't stop there. The streak may have approached Gretzky's, too, had Lemieux not been injured in both 1991 and 1994 or miss four years after that.
Lemieux has one of the most legendary careers in the history of the NHL, and even then it is filled with some what-ifs.

Who else?
The list of players Connor McDavid could join is a who's who of some of the greatest to ever play the game. From Bobby Orr, Guy Lafleur, Peter Stastny, Mike Bossy, and Steve Yzerman — all of whom had six-season stretches — the list goes even further. Bryan Trottier, Marcel Dionne, Jari Kurri, and Dale Hawerchuck all did it five times, and Phil Esposito and Brett Hull both did it four.

Suffice it to say, McDavid is going to join some exclusive company if he can continue his early-career success. The only question that remains is if he'll be able to pull it off.