NHL Playoffs: 8 Players You Want When a Game is on the Line
The 2015-16 NHL playoffs are under way, and with that in mind, we look at the players who give their teams an unfair advantage when the game is on the line. These are the players who know how to get things done. If their team needs a goal in the last minute of play to tie the game or to break the tie, you can be sure these competitors will be on the ice. If the game is in overtime, these are the guys who will be double shifted in the hopes that they can make some magic happen.
When picking these players, we looked at a number of playoff-related statistics, including games played, game-winning goals, power play goals, short-handed goals, and points per game average. While we focused on playoff performances, we did also consider regular-season statistics as well as just how good of an all-around player they are.
8. Ryan Getzlaf
None of Ryan Getzlaf's individual numbers grab you by the lapels. He's played in 98 playoff games for the Anaheim Ducks and scored 28 goals and 67 assists for 95 points. His points total ranks him 14th among active players.
Where the playmaking center does excel is in his points per game average, which is .969 (sixth among active players). Getzlaf may not score a lot of goals in the postseason, but he sure can dish the puck to his teammates, which makes him a valuable commodity when the game is on the line.
7. Patrick Marleau
Patrick Marleau has played 1,411 regular-season games, all with the San Jose Sharks, so he's doing something right. There's no way he'd stick with a single team that long if he was not an excellent player. Marleau has played in 148 playoff games, placing him sixth among active players. His 60 goals rank him second only to Jaromir Jagr. As for his points, he ranks 10th with 103.
Where Marleau shines is scoring important goals. During the playoffs, he has netted 21 power play goals and 15 game-winning goals — also second to Jagr in those two categories. Where he does rank No. 1 is in short-handed goals, scoring four times while the opposition has been on the power play.
6. Justin Williams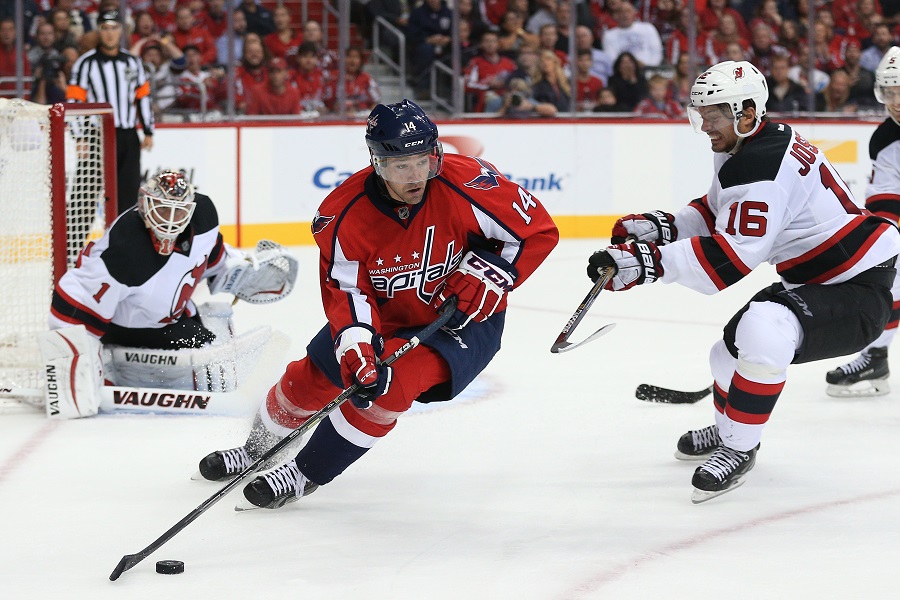 Justin Williams may not be a player you typically think of as clutch, but if your team is in Game 7, and you need a goal, the Washington Capitals' Williams is your man. In 116 playoff games, he has scored 30 goals and 48 assists. Not too shabby. But where Williams really shines is when a series is on the line.
Williams has played in seven Game 7s in his playoff career, and in those games he has scored seven goals and seven assists. His goals in Game 7s tie an NHL record and his 14 points are an NHL record. More importantly, his teams have gone 7-0 in those series-clinching games. That's great news for the Capitals, who are 4-10 all-time in Game 7s.
5. Evgeni Malkin
There are three active NHL players who score at a pace of more than one point per game during the playoffs. One of them is Claude Giroux of the Philadelphia Flyers; the other two are Sidney Crosby and Evgeni Malkin of the Pittsburgh Penguins.
Malkin has played in 101 playoff games, the same number as Crosby, and he has scored 111 points (42G, 69A), 10 points less than Crosby, for a PPG of 1.099. While Crosby gets the headlines, Malkin has more game-winning goals (9) and more power play goals (18).
4. Alex Ovechkin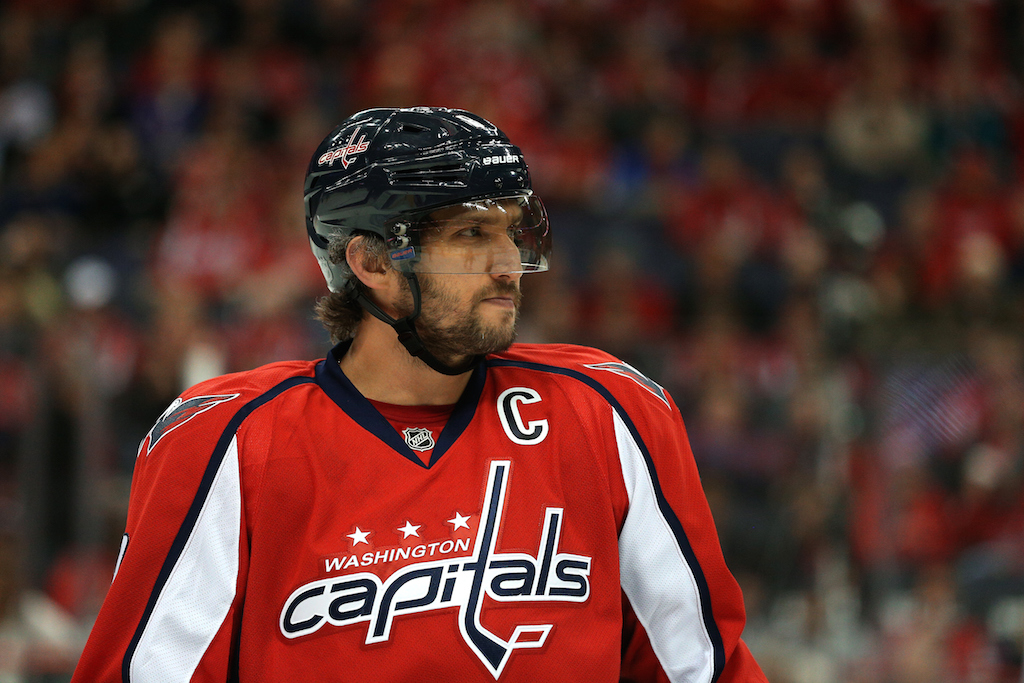 Alex Ovechkin is one of the best current players who has never won a Stanley Cup. But that may change this season with the Washington Capitals putting one of their best teams on the ice in a long while. Ovechkin has played just 73 playoff games, which puts him way down the list of active players at No. 95.
Despite that low number of games played, he has 36 goals during that time, putting him at No. 16 among active players. Ovechkin's 34 assists rank him at No. 42, and his 70 points put him at No. 27. Ovechkin has scored 10 power play goals, which puts him at No. 17.
All these numbers show how good Ovechkin has been during the playoffs, but where he shines is in the points per game department, where he is seventh with .959. If the Capitals make a deep run this year in the playoffs, expect Ovechkin to be a huge part of that.
3. Jaromir Jagr
Jaromir Jagr may have some miles on his skates, but you'd definitely want him on the ice when the game is on the line. Not only is he a winner but he is also one of only 26 players in the "Triple Gold Club," winning a Stanley Cup (1991 and 1992), a World Championship (2005 and 2010), and an Olympic gold medal (1998). He has the most games played of any active NHL player (204).
With that experience comes a lot of scoring. In his 204 playoff games, Jagr has 199 points (78G, 121A). He leads all active NHL players in playoff goals, assists, points, power play goals (24), and game-winning goals (16), and he is fifth in points per game. The numbers don't lie. Jagr may be getting older, but he's always a threat on the ice.
2. Patrick Kane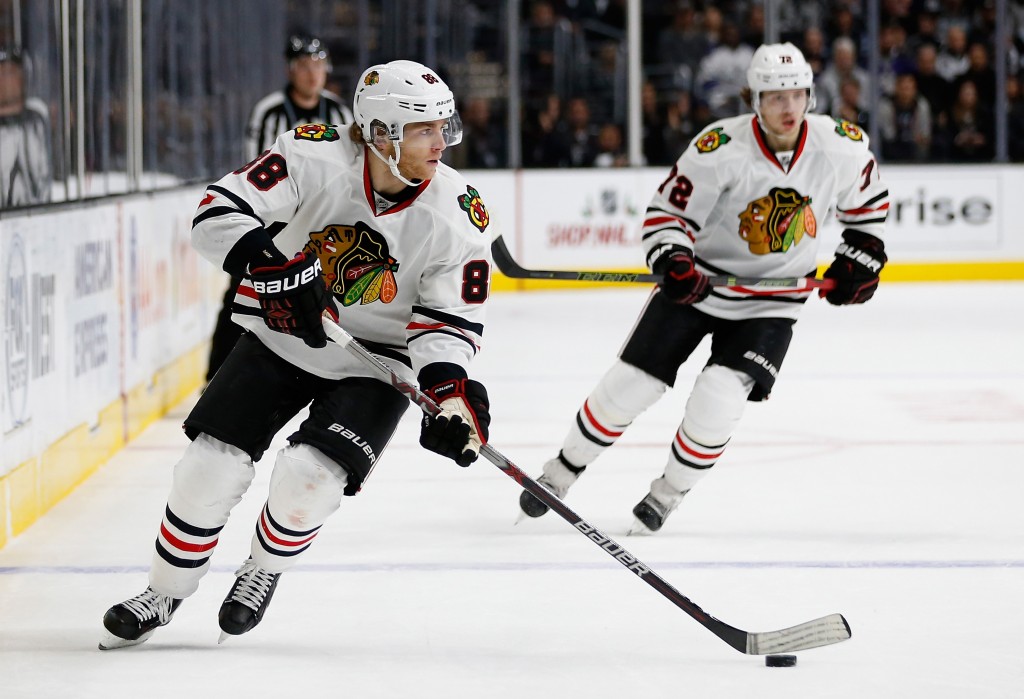 Patrick Kane had a breakout season for the Chicago Blackhawks this year. Sure, Kane was already a top-level NHL player, but this year he took it up a notch, putting together a 26 game point streak and winning the scoring title with 106 points (46G, 60A). Kane barely cracks the top 20 in playoff games played, with 118, but he is near the top of all active players in his points per game.
In 118 games played, Kane has scored 116 points (48G, 68A), giving him a points per game average of .983, which ranks fourth. Despite ranking 19th in games played, Kane has managed to net 10 game-winning goals, putting him fifth among active players. If you're looking for additional playoff credentials for Kane, how about three Stanley Cups and one Conn Smythe Trophy?
1. Sidney Crosby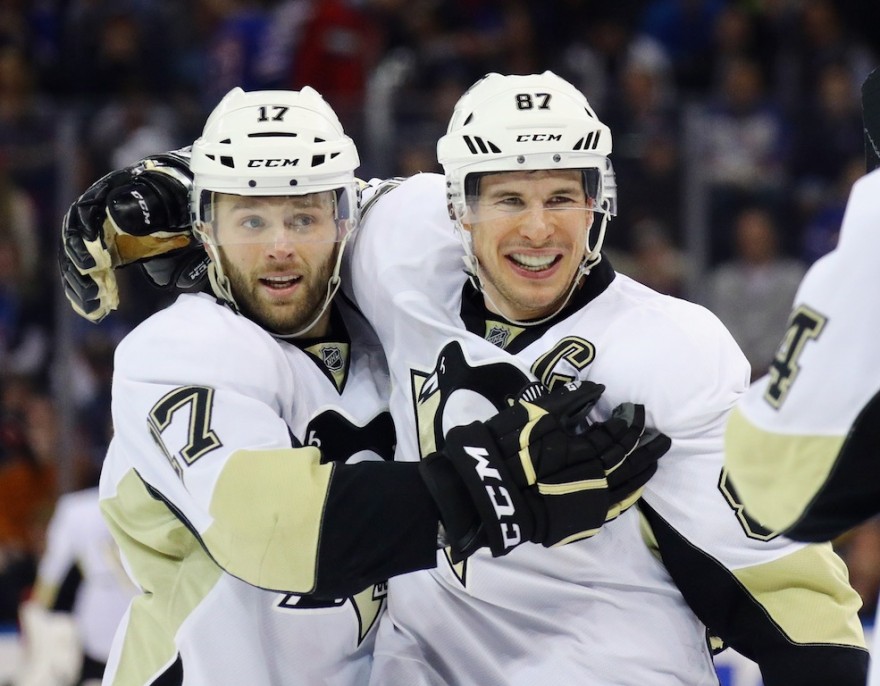 Sidney Crosby was a slam dunk to make this list. Why? Well, he has the highest points per game average in the playoffs among active players with 1.198. That number also puts him at No. 7 all-time in that statistic, behind players with last names such as Gretzky, Lemieux, Messier, Orr, and Bossy.
Crosby is a player who knows how to win. A member of the "Triple Gold Club," he won a Stanley Cup in 2009, Olympic Gold in 2010 and 2014, and a world championship in 2015. He also scored the game-winning goal for Canada in overtime at the 2014 Olympics, so you know pressure is not a problem for Crosby.
Crosby's played 101 playoff games, ranking him 27th among active players. Despite playing in fewer games than 36 players, he ranks seventh in goals (44), fourth in assists (77), fourth in points (121), 16th in power play goals (11), and 18th in game-winning goals (6). Crosby may not be the most popular player in the NHL, but he is a stud.
Stats by Hockey-Reference and Quanthockey.