NHL Season Opens: Lightning Vie for Third Stanley Cup in a Row, Capitals' Alex Ovechkin Starts Injured, And Expansion Kraken out to Capture Knights' Past Magic
The NHL is attempting to treat the 2021-22 season as normally as possible.
Training camps and preseason matches? Check. An entire 82-game regular season? Check. Fans in the arena? Check.
Unvaccinated players traveling to Canada? Big question mark. OK, so everything isn't totally normal, considering COVID-19, but, at least, it's getting closer.
Beginning Tuesday night, for the first time since 2019, fans will be treated to meaningful ice hockey in October.
Here are three top storylines entering the regular season:
Can Tampa Bay Lightning strike 3 times in a row?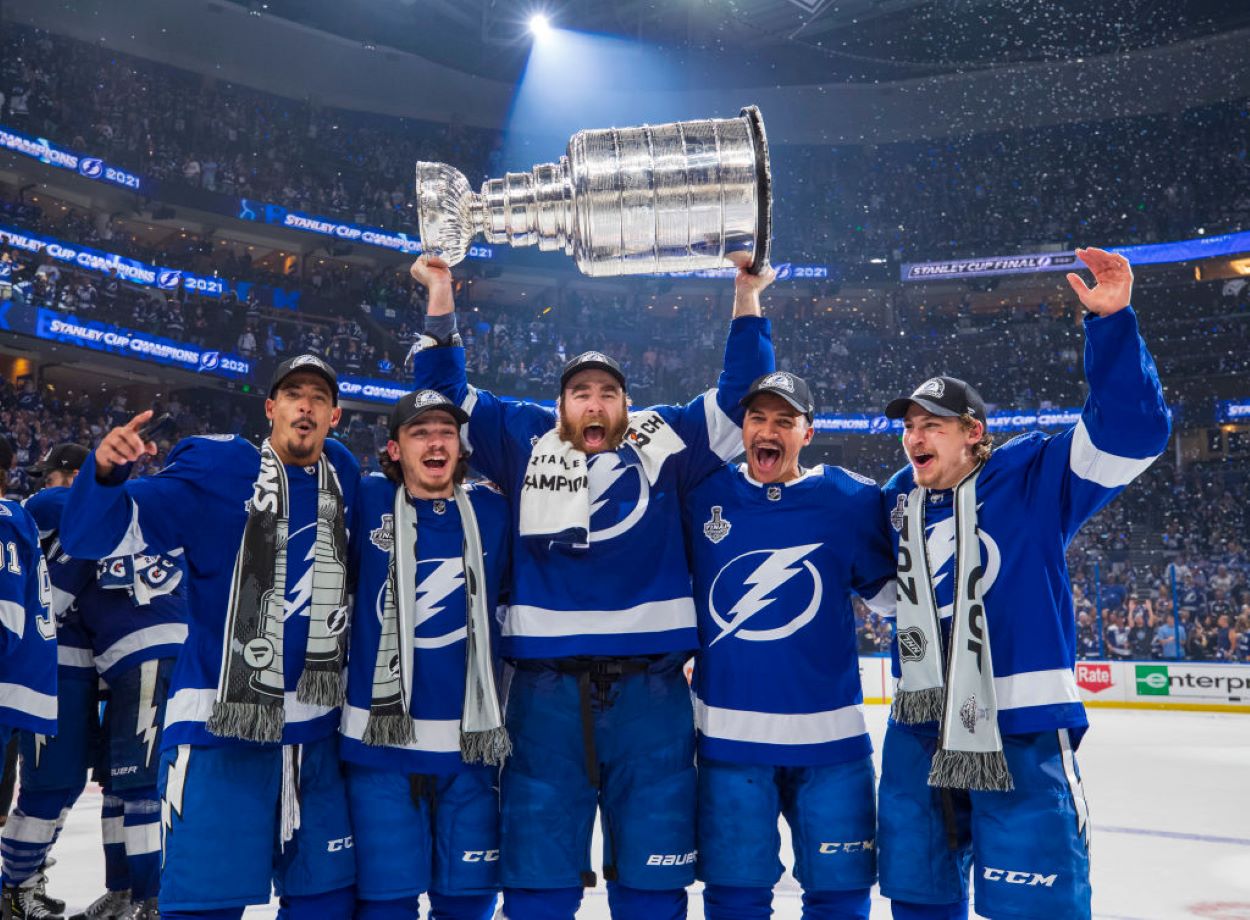 Most NHL fans last saw Nikita Kucherov when he was shirtless and drenched in beer, giving a post-Stanley Cup championship interview.
It was the second consecutive season Kucherov and the Tampa Bay Lightning claimed the Cup. Kucherov missed the entire regular season with a hip injury but returned for the postseason, collecting 32 points in 23 matches.
The Hart Trophy recipient in 2018-19 as the league MVP, Kucherov is expected to be healthy for the first time in two years. Combined with all-world goalie Andrei Vasilevskiy, defenseman Victor Hedman, and forward Steven Stamkos, the Lightning possess All-Stars and quality depth at every position level.
An NHL club has not earned three straight Cups since the New York Islanders claimed four in a row (1980-83), but that streak could end this spring. Critics point out the past two regular seasons were shortened (70 and 56 games) because of the pandemic.
Will the Lightning be able to respond to a full regular schedule after consecutive deep playoff runs?
Prediction: The Lightning find a way to beat the Colorado Avalanche in the Cup finals.
Ovechkin's preseason injury opens Eastern Conference opportunities
It was every coach's nightmare.
Washington Capitals captain Alex Ovechkin left the ice during the final preseason match. He walked straight to the dressing room. He noticeably avoided putting weight on his left leg.
The Eastern Conference just got a little more interesting.
The Capitals have not captured a playoff series since winning the Stanley Cup championship in 2018. They are still considered a Cup contender but now have considerable questions to overcome. Along with Ovechkin's potential short-term absence, top center Nicklas Backstrom missed all of training camp.
Is time beginning to run out on the Caps' aging roster?
Ovechkin, 36, recently signed a five-year, $47.5 million contract extension. The deal was structured to allow Ovechkin an opportunity to chase history in the nation's capital.
Sixth all-time in goals scored (730), Ovechkin needs two more to overtake Marcel Dionne and 165 to pass Wayne Gretzky's league record.
Ovechkin plays with a bruising style but has rarely missed time. An injury, however, caused him to miss seven of the final eight games. It was the most he missed in any of his previous 10 seasons.
Ovechkin missed Sunday's practice after being re-evaluated Saturday. He was listed as day-to-day.
Ovechkin has been tough and durable throughout his career, but the quiet question could get louder. Is the future Hall of Famer beginning to wear down?
Prediction: Ovechkin suffers through an injury-riddled season, and the Capitals again fail to survive the first round.
Release the Kraken: Expansion club out to match Knights' magic
The comparisons are inevitable.
They may be unfair, but Seattle Kraken fans want to experience the same type of magic the Vegas Golden Knights enjoyed in 2018. They want someone, possibly Jared McCann, to become another William Karlsson, who went from overlooked forward to 43-goal scorer during the Knights' magical expansion season.
The Knights shocked the hockey universe by qualifying for the Stanley Cup finals but eventually fell to the Capitals in a five-game series.
The odds of the Kraken experiencing déjà vu. Well, ask Vegas.
They are long. Very long. But not as long as some other clubs'.
Perhaps McCann, a six-year journeyman, will enjoy a breakout season. But a 43-goal breakout season like Karlsson's? Don't bet on it.
Perhaps the goaltending duo of Philipp Grubauer and Chris Driedger can keep the Kraken close on most nights, but that could prove challenging.
Perhaps the Kraken's mismatched roster will jell, sort of like the Knights', and contend in the Pacific Division. It's possible. But a run to the Cup finals? Not likely.
Not with a defensive corps led by Dennis Cholowski, Vince Dunn, and Mark Giordano.
In reality, NHL teams put more long-term thought toward which players they exposed for last summer's Expansion Draft. The quality of players available to the Kraken was not close to the building-block foundations the Knights secured.
Prediction: The Kraken receive a first-year flyer for their nickname alone.
RELATED: Steve Carell Once Thought He Had a Shot to Play in the NHL