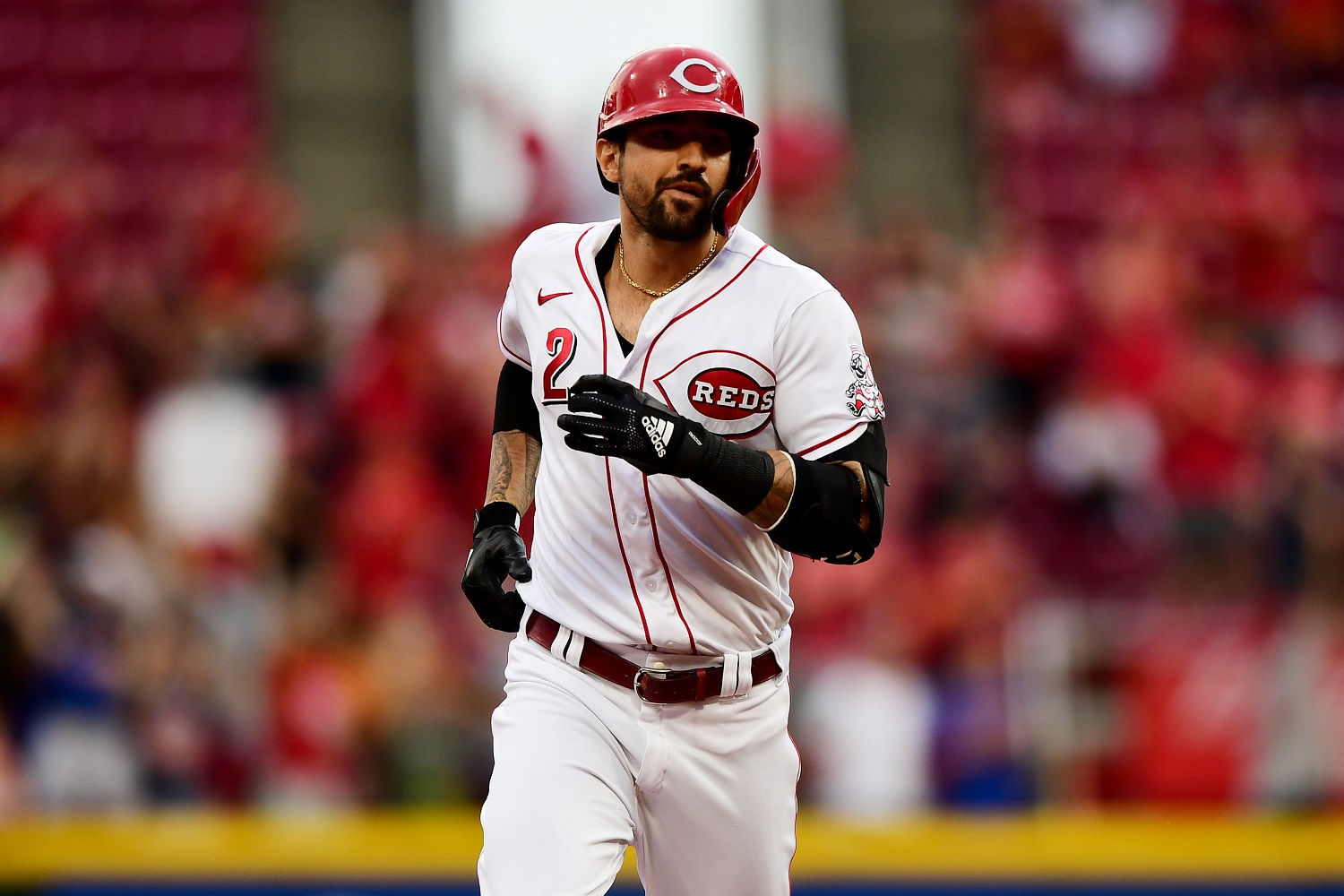 For a .335 Hitter, Nick Castellanos Sure Has Awkward Timing at the Plate
Cincinnati Reds outfielder Nick Castellanos has a knack for hitting home runs in Kansas City while announcers are doing important stuff on the air.
Nick Castellanos' name will come up in speculation right up until the trade deadline, especially if the Cincinnati Reds can't gain traction in the race for a National League playoff berth. With two years at $16 million apiece and a $20 million option remaining on his contract, the outfielder is a luxury that the Reds might not be able to afford.
Castellanos is both durable and on his way to a career year at the plate, so he would be an asset to a contender looking for power and average from the right side of the plate.
But, man, he sure does pick awkward times to hit home runs.
Nick Castellanos will start in the All-Star Game
MLB fans have selected Castellanos and teammate Jesse Winker to start in the All-Star Game in Denver on July 13. It's the first time that either has earned a spot and the first time the Reds have placed two players in the starting lineup since 2013. According to Cincinnati.com, the Reds haven't boasted of two starting All-Star Game outfielders since Gus Bell and Frank Robinson in 1956.
Castellanos' numbers look sharp from every angle. Aside from batting .335 through July 6 to lead the league, he is also tops in hits, doubles, and total bases. With 17 homers just beyond the midpoint of the season, he's pacing to eclipse the career-high 27 he hit in 2019 while splitting time between the Detroit Tigers and Chicago Cubs.
Castellanos is especially tough at home (.391 average, 14 homers), leading off innings (.426), and in extra innings (5-for-5 with three walks). And don't even talk to us about his antics in Kansas City.
Castellanos interrupted a solemn moment this week
For all the good that Castellanos does on the field, he certainly draws attention to himself while announcers are doing important stuff in the broadcast booth in Kansas City. The latest such instance came Monday while the Reds were defeating the Royals, 6-2. As Castellanos stepped to the plate to lead off the top of the seventh inning, Royals TV announcer Ryan Lefebvre came out of the commercial break paying tribute to George Gorman, the father of Royals equipment manager Pat Gorman, who died over the weekend.
While Lefebvre was telling Gorman's story, Awful Announcing reported, Castellanos hit the first pitch from Mike Minor into the left-field seats for a home run. It required Lefebvre to break away from his thoughts and return to play-by-play duties.
"That's a great life, 96 years old. Pat, just like his dad, went to KU, also went to Bishop Ward High School," Lefebvre said when the crack of the bat interrupted his thought.
"There's a drive into deep left-center field and there's never a great time to eulogize someone during the broadcast, so we apologize for the timing," he continued.
Lefebvre concluded his thoughts on the Gorman family as Castellanos circled the bases and touched the plate to forge a 2-2 tie.
The Reds star homered last year at an awkward time
The internet never forgets, so it didn't take long for baseball fans to recall the last time Castellanos homered in Kansas City.
Back in August 2020, Reds announcer Thom Brennaman was attempting to apologize for his homophobic slur caught by a microphone while he thought he was in a commercial break. Naturally, Brennaman had to break off his apology to acknowledge Castellanos taking Kansas City pitcher Greg Holland deep (hear it at the 1:00 mark of the above video).
"I can't tell you how much I say from the bottom of my heart that I am so very, very sorry. I pride myself and think of myself as a man of faith, as there's a drive into deep left field by Castellanos, that will be a home run, and so that will make it a 4-0 ballgame," Brennaman said as one of the most awkward apologies on TV grew worse.
Short of passing along a warning of an imminent tornado touchdown, don't expect any announcer to go near a weighty or sensitive thought going forward with Castellanos at the plate.
All stats courtesy of Baseball Reference.