Nick Chubb Just Placed Enormous Pressure on Baker Mayfield and Browns Teammates Despite Giving Them 'Super' Praises
Nick Chubb suggested that Baker Mayfield and other Browns teammates may be part of the Marvel or DC universe. He's also put them on a pedestal and ramped up the pressure significantly as this Cleveland team looks to build on last year's unprecedented success.
The Browns are striving to live up to their potential as contenders in the AFC. Can they also live up to the "super" labels Chubb has bestowed upon them?
Nick Chubb compared Baker Mayfield and other Browns players to superheroes
One would imagine Nick Chubb was a massive fan of comic books. He probably still is.
Chubb had some interesting comparisons for his high-profile Browns teammates during a promotional event for his "Chubb Crunch" cereal on Monday. He likened Baker Mayfield and others to superheroes.
The Browns running back deemed himself Batman. However, he said there is no Robin on Cleveland's roster, only other superheroes. For instance, Chubb compared Mayfield to Captain America and deemed star defensive end Myles Garrett as being Superman.
Other Browns stars got shoutouts, as well. Chubb compared backfield mate Kareem Hunt to Wolverine. He likened Jarvis Landry to Iron Man while stating Odell Beckham Jr. is like Spiderman.
The comparisons for Landry and Beckham are especially apt. Landry played the entire 2019 season with an injured hip and also battled through broken ribs this past season. Hence, Iron Man. Meanwhile, Beckham's designation as Spiderman undoubtedly stems from his knack for making spectacular, one-handed grabs.
One can draw parallels between each of the Browns players that Chubb cited and their respective superhero counterparts. Still, there is even more pressure on this Cleveland team to build on the successes of 2020.
The Browns made their first playoff appearance in 18 years in 2020 and will be expected to build on that success
The Cleveland Browns were one of the pleasant surprises in football in 2020.
After a disappointing 6-10 finish in 2019, first-year head coach Kevin Stefanski helped lead the Browns to an 11-5 mark this past season. Cleveland made the playoffs for the first time since 2002 and even won a playoff game after defeating its AFC North rival, the Pittsburgh Steelers, in the Wild Card round.
The Browns are likely aiming even higher in 2021. They bolstered the secondary by signing former Los Angeles Rams safety John Johnson III and improved the linebacking corps by drafting Jeremiah Owusu-Koramoah. Jadeveon Clowney joins Garrett as another experienced pass-rusher up front. Meanwhile, OBJ could give the receiving corps a boost after suffering a torn ACL last season.
Cleveland was previously known as one of the eminent losers in the NFL. Suddenly, they are one of the most promising and talented organizations in football. The Dawg Pound will not temper expectations, not after Chubb likened his teammates to superheroes.
The Browns' star running back plays a huge role in the team's success and especially the success of his quarterback.
Chubb and Mayfield ultimately steer the ship for Cleveland's offense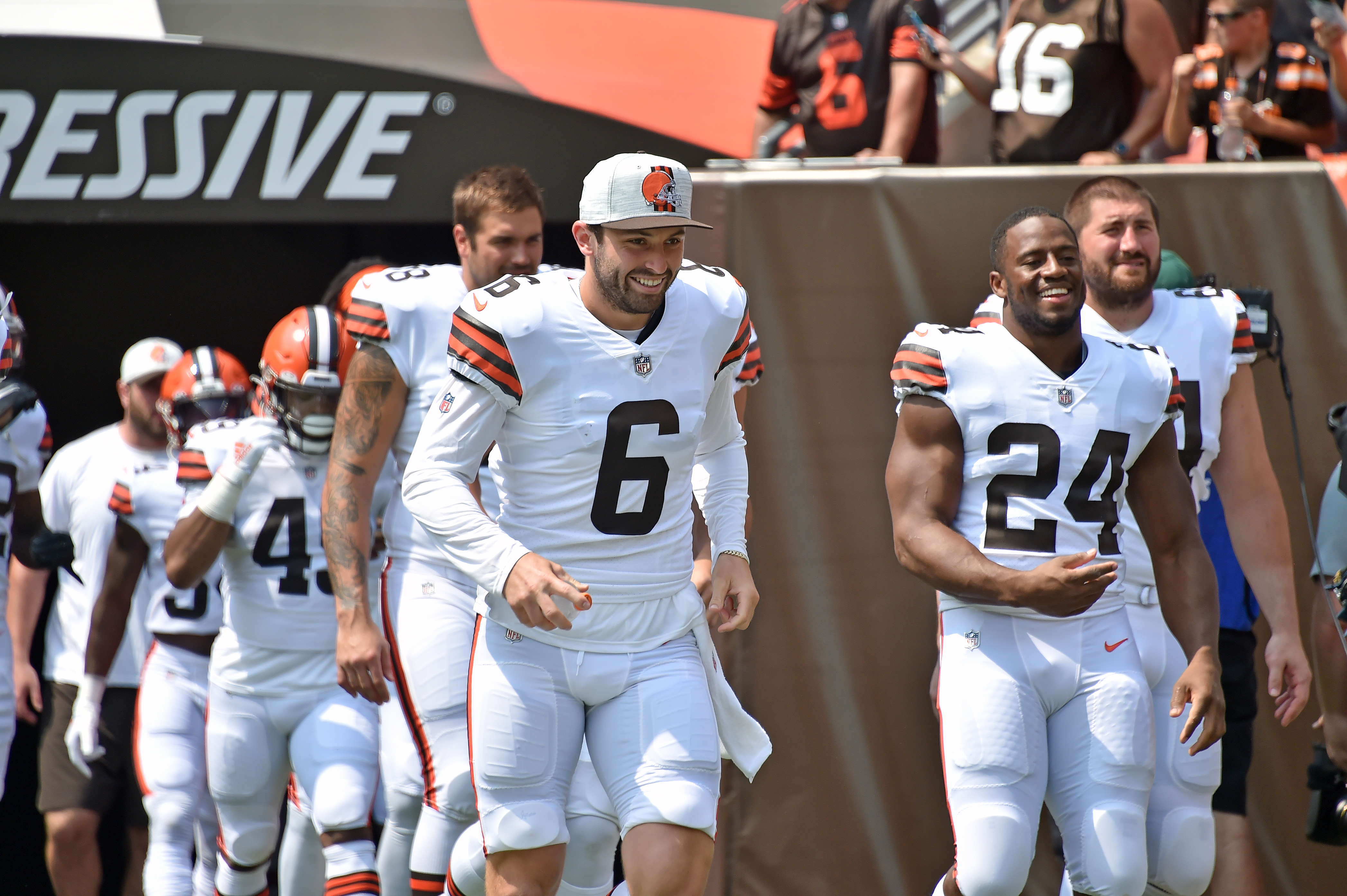 Nick Chubb and Baker Mayfield each play pivotal roles for this Browns offense. Naturally, as the quarterback, there is elevated pressure on Mayfield to perform. But much of his success is, in a way, tied to Chubb.
Stefanski came from a run-heavy Minnesota Vikings organization and has instilled much of the same look in Cleveland. Chubb and Hunt get ample usage, with the Browns trying to establish the run and set Mayfield up for play-action.
Stefanski figures to call Chubb's number quite often. He rushed for 1,067 yards on 5.6 yards per carry last season, and his ability to run in between or outside the tackles frees things up for Stefanski to be more creative with play-action calls. Mayfield also has the added benefit of getting another deep threat in Beckham back on the field, but it all starts with the run.
Nick Chubb is setting the bar high for himself and his teammates as the Browns hope to live up to Super Bowl expectations. He might well have to be like the Dark Knight if he hopes to bring a Lombardi Trophy to Cleveland.
Stats courtesy of Pro Football Reference.
RELATED: A Surprising Turn of Events Should Make Baker Mayfield and the Cleveland Browns Even Scarier For Years to Come