Nick Chubb Rivaling Derrick Henry With Epic Feat of Herculean Strength
If Tennessee Titans running back Derrick Henry is the standard-bearer for absurd strength at the running back position, Cleveland Browns star Nick Chubb might be a close second.
Henry has set the NFL ablaze in recent seasons. He won the rushing title in 2019 and 2020, with his 2,027 rushing yards in 2020 ranking fifth all-time. Yet, as brilliant as Henry has been, Chubb has been every bit as special for a Browns team trying to find sustainable success.
Chubb could be Henry's closest rival on the gridiron. It's a similar situation in the weight room.
Derrick Henry's weightlifting videos are viral entities
Derrick Henry's sheer power is astounding. Much of it stems from his activity in the gym.
Henry routinely posts clips from his workout sessions, which have become fairly legendary. The former Alabama star got right back in the weight room months after winning the rushing title and has been churning out the reps ever since.
It's no wonder Henry led the NFL with 34 broken tackles last season. He is hard to bring down in close quarters and even harder to wrap up with a full head of steam.
Henry doesn't seem to get tired, either. He led the NFL in rushing attempts, and it wasn't even close. Henry's 378 attempts far outpaced the runner-up in that category, Minnesota Vikings star Dalvin Cook (312). The Titans repeatedly called his number, and Henry almost always answered the bell.
Interestingly, though, the advanced numbers suggest Chubb is even harder to bring down. That's in part due to his own absurd strength for someone his size.
Nick Chubb put up some crazy numbers on the squat rack
Chubb is coming for the title of strongest running back in the NFL.
The Browns star posted a video of himself hitting five reps of an astonishing 545 pounds on the squat rack. He made it look pretty easy, too.
Chubb is not even six feet tall, yet he still poses a problem for would-be tacklers. Remember that stat about Henry leading the NFL in broken tackles? Well, Chubb actually ranked ahead of him in rushing attempts per broken tackle. He was sixth in the NFL in that category.
The 25-year-old is a handful for opposing defenses and can make plays running in between or outside the tackles. He has firmly established himself as one of the best running backs in football.
Will the Browns extend Chubb this offseason?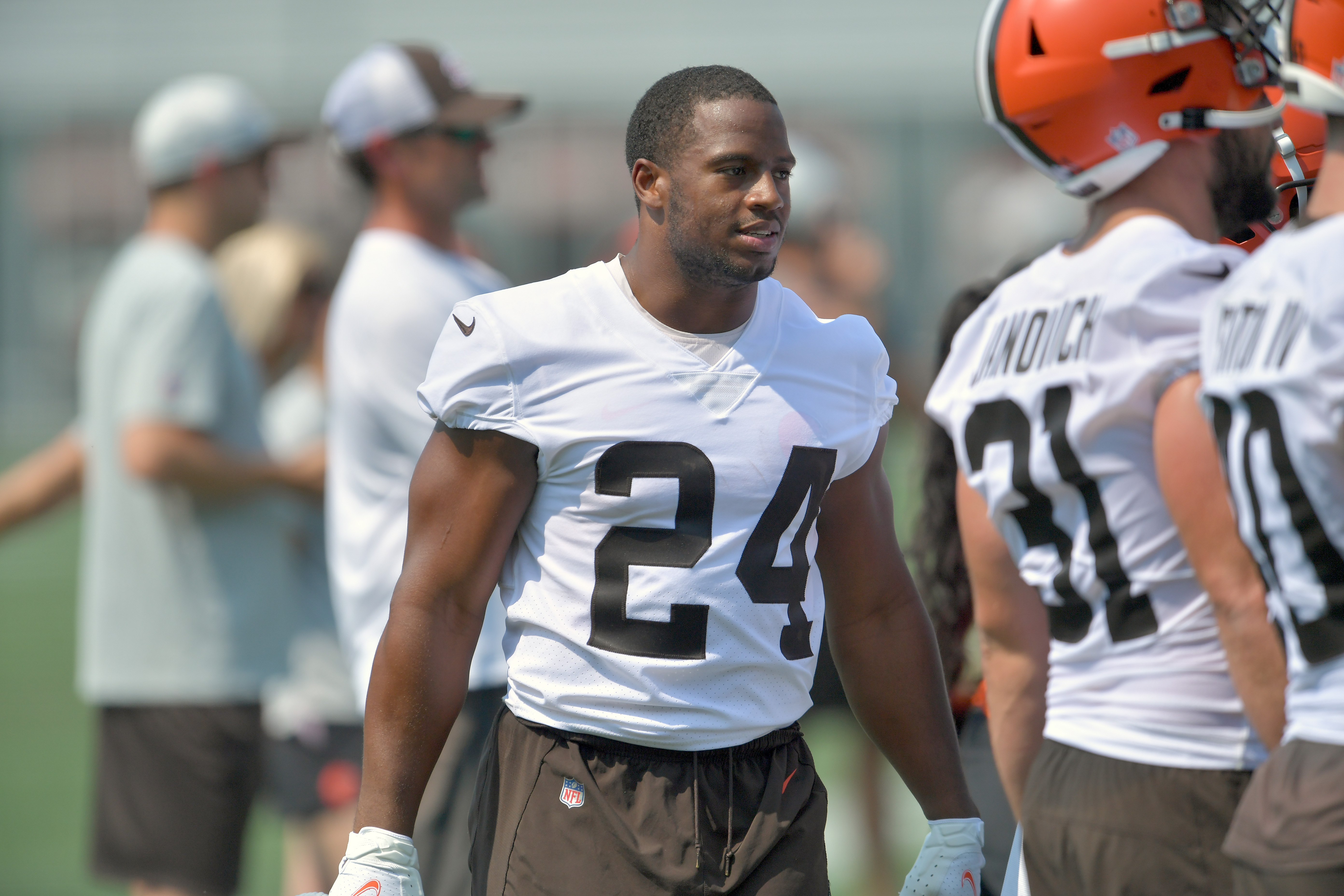 Nick Chubb is eligible for an extension this offseason, but it's unknown whether he and the Browns will reach a deal.
Chubb is an elite runner. He has rushed for over 1,000 yards in consecutive seasons and ranked second among running backs at 5.6 yards per carry. Still, the Browns could have other priorities.
Quarterback Baker Mayfield is also eligible for an extension. The quarterback position is arguably the most important in team sports, so it stands to reason the Browns would focus on a Mayfield extension before turning to Chubb. Not to mention, Cleveland has some nice insurance knowing it also has Kareem Hunt in the backfield.
However, Ian Rapaport of NFL Network recently suggested the Browns might actually try to extend Chubb before Mayfield, which speaks volumes to how the team feels about the former Georgia standout.
Why wouldn't the Browns feel strongly about keeping Chubb? He puts in the hard work, both on and off the field, and looks hungry to be the best running back in the NFL.
Stats courtesy of Pro Football Reference.
RELATED: Odell Beckham Jr.'s Devastating Knee Injury Appears to Have Finally Set Him on the Path to Maturity