Why Nick Foles Had Mixed Emotions Taking Back the Jaguars' QB Job From Gardner Minshew
Jacksonville Jaguars quarterback Nick Foles broke his collarbone in Week 1 and finally returned to action in Week 11, his first game back after his devastating week one injury. It was a trying moment for backup QB Gardner Minshew, who surpassed expectations looked every bit the leader the Jags' offense sorely needs. Foles came to Jacksonville to be the starter, and he's paid that way, too, but he was almost sad to take back the starting job from Minshew.

Here's why Foles' melancholy take on Minshew's benching matters for the Jags' season.

How Gardner Minshew earned the respect of Jaguars fans
The Jaguars' current 4-6 record puts them at the bottom of the AFC South. Foles' injury happened partway through the season-opening loss to the Kansas City Chiefs, and he didn't return until a loss two months later to the Colts. That leaves the bulk of their season — and four of those losses — under Minshew's watch.

But in a team sport, wins never tell the whole story. Fans dubbed the break from Foles the Minshew Mania era for a reason. He pulled in six Rookie of the Week awards during his time leading the Jags offense. Even during losing bids, it was clear that the offense was being dragged forward by Minshew's 92.8 passer rating.

His worst performance was a messy two-interception game against the Houston Texans in London. He still threw for more than 300 yards in the process. With little else to work with outside of breakout wide receiver D.J. Chark, these numbers hold even more weight. Minshew earned respect from Jaguars fans and the league itself for elevating the pieces around him under trying circumstances.

Why Nick Foles had mixed feelings on taking Minshew's spot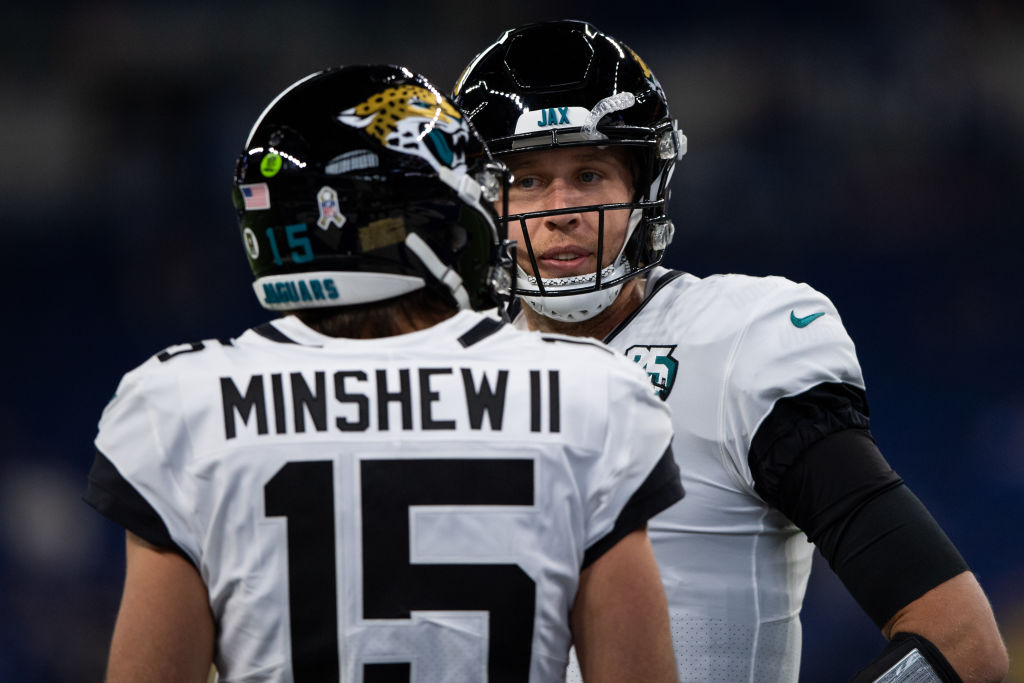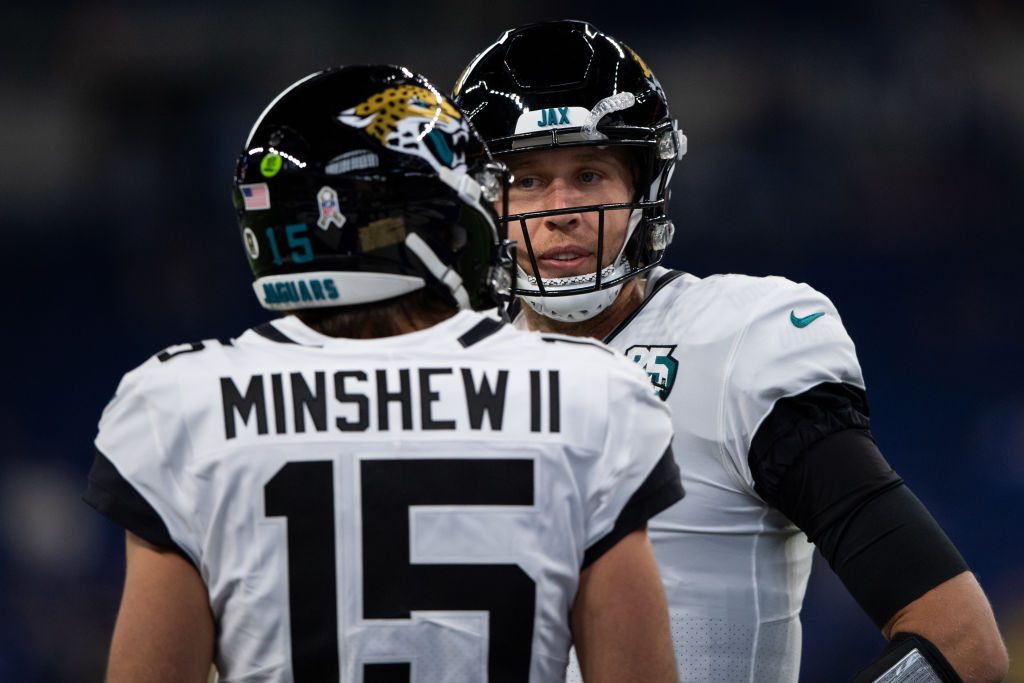 Foles had unusually specific praise for Minshew in the days before his return. The introspective Foles, no stranger to the feeling of playing good football with an injured starter waiting in the wings, was somewhat melancholy about the whole thing.
He told NBC Sports, "I'm proud of Gardner for everything he's done … I was once [Gardner Minshew], playing as a young player, and to see him playing at the level he has is amazing. He's going to continue to develop and grow and have a great career, and I'm excited for him."

It's hard not to connect this to Foles' own experience stepping up for Carson Wentz with the 2017 Super Bowl champion Philadelphia Eagles. But there's another element: maybe Foles knew what his two months off the field meant for his first game back.

The media reaction before Minshew's run was largely positive, while Foles' return was received a bit more tentatively. His results reflected that assumption. A strong opening drive against the Indianapolis Colts could've set the tone. But that touchdown wasn't followed up until the fourth quarter when it was too late to salvage a shaky performance.

The Jags simply couldn't keep the ball for long. It calls into question whether Foles should've earned his playing time back slowly, rather than regaining command the second his health allowed. But does it say much about his performance going forward?

Is Nick Foles actually better than Gardner Minshew?
First off, it has to be acknowledged: Foles, as a backup QB, won the Super Bowl against the Patriots. He was the wrench in the works that interrupted a dynastic championship team.

And as far as 2019 is concerned, Foles typically performs well in the back halves of seasons. His first game against the Colts probably won't reflect what's coming. When Foles is in shape and mentally prepared to play, great things can happen.

Minshew's case is strong based on what he proved he can do with the Jaguars offense around him in particular. That's why even with Foles back — a guy who is the more accomplished player of the two by far — Minshew deserves to get playing time whenever possible for the rest of the season.