Nick Foles' Reunion With Frank Reich and Carson Wentz Looks Unlikely Thanks to Reich's Latest Comments
Once quarterback Carson Wentz suffered his latest injury, many fans began speculating on who the Indianapolis Colts could turn to while he's down. Given that his former Philadelphia Eagles backup, Nick Foles, is now a third-stringer on the Chicago Bears — and that Colts head coach Frank Reich worked with them both on the Eagles in 2017 — Foles' name has been discussed frequently of late.
However, despite Foles recently sounding like someone who wants to go to the Colts, Reich has seemingly shut that idea down.
Nick Foles had high praise for his former Eagles OC Frank Reich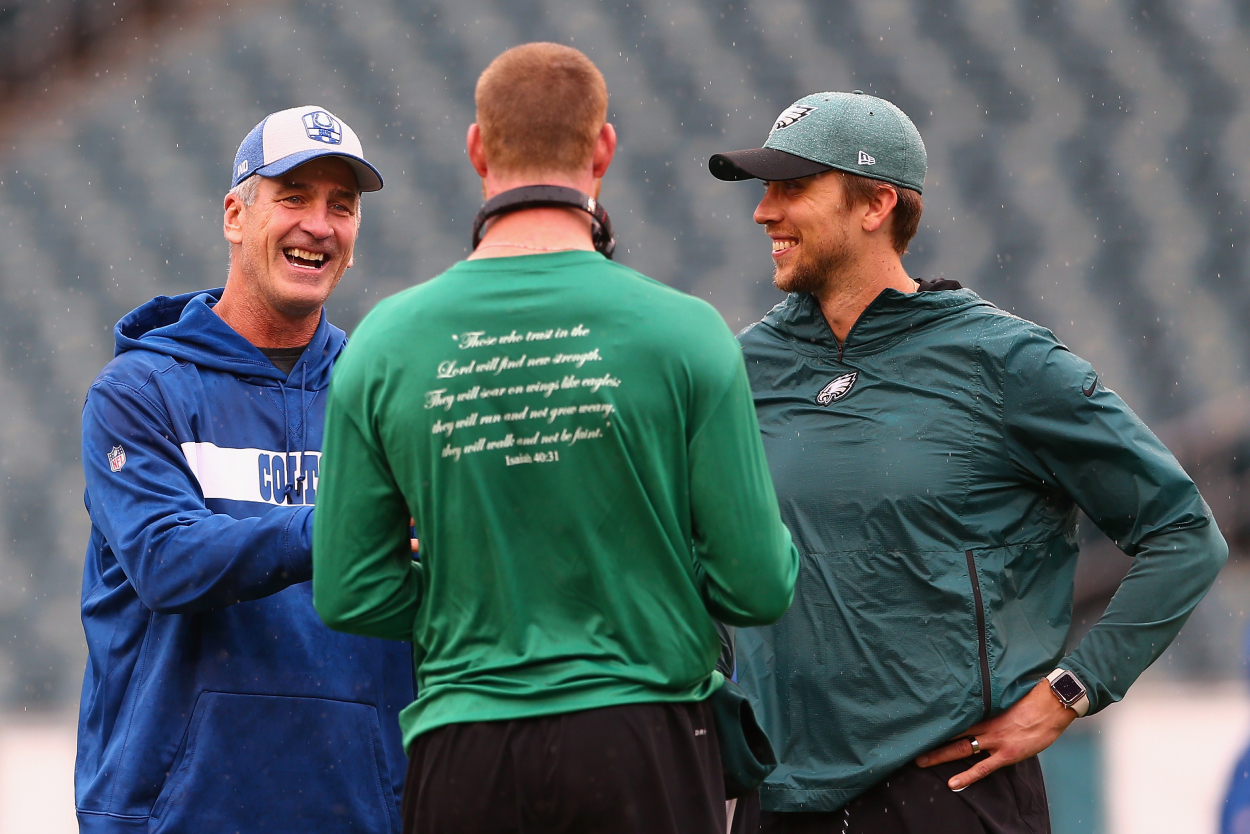 There has been plenty of trade talk around Nick Foles recently as he's the third-string quarterback on the Chicago Bears behind Andy Dalton and rookie Justin Fields.
So, when asked about maybe pairing up with Colts head coach Frank Reich — who was the Philadelphia Eagles' offensive coordinator during the 2017 season when Foles led Philly to a Super Bowl win in place of an injured Wentz — the QB had a lot to say.
"Listen, Frank Reich is one of my favorite if not favorite coaches of all-time," Foles said, per NBC Sports. "He understands me as a player, he understands me as a person. I haven't had any talks with them. I'm a Chicago Bear right now. But he knows me. Y'all watched the 2017 season and the playoffs, where he changed the offense and built it around me, and y'all saw what happened. So he understood my mentality as a player, and he was able to build it around me and put me in a successful position, and my teammates."
Foles, though, would just fill in for Wentz while he recovers from a foot injury that is supposed to keep him out five to 12 weeks. Wentz would likely be the starter in front of Foles once he returns.
"They have Carson, and Carson and I have a lot of history," Foles said. "I have a lot of respect for Carson, he's a tremendous player, he's going through adversity once again, but he'll bounce back. … We haven't had any talks, so right now I'm a Chicago Bear and I'm going to keep slinging it with these third-stringers, and we're going to dice 'em up."
So, despite Wentz being in Indy, Foles sounds like a guy who would love to play with Reich. What does Reich think, though?
Frank Reich doesn't sound like a guy wanting to trade for Nick Foles
Reich recently appeared on The Pat McAfee Show, and he discussed the state of his team. So, McAfee, of course, asked what he thought of Foles' comments.
"I've got all the respect in the world for Nick," Reich said on the Aug. 3 episode. "He is a clutch player now and a big-time player. He's even a better person. He's a great teammate. I did see the clip, I did see the clip; someone showed it to me. He's telling the truth when he said we haven't talked. We're friends, we'll always be friends, and he's a Chicago Bear. We're focused here on the guys that we have. And we're gonna keep going down that road."
By the sounds of Reich's comments, the Colts don't seem too interested in trading for Foles, and it might be because the quarterback still has $12 million left on his contract, per Spotrac. But if Wentz isn't back in time for the season, and they don't acquire Foles, who else could play QB for Indy?
Who can the Colts bring in to play quarterback if Carson Wentz remains sidelined?
Indianapolis doesn't have too many options to turn to while Wentz is down.
As of now, it looks like Frank Reich and the team is going with Jacob Eason, a second-year guy who was Indy's third-stringer last year. He was a five-star quarterback going into college and played well at Georgia and then Washington, but was later a fourth-round pick with the Colts in 2020.
Suppose Eason, though, has a difficult time developing into a starter before Week 1. In that case, Indianapolis could look to trade for players who will likely ride the bench on their respective teams this season like Marcus Mariota, Jimmy Garoppolo, Gardner Minshew, or, yes, Foles. But Colts GM Chris Ballard has never been one to trade away draft picks, so this is likely his last resort.
Then, of course, there's Philip Rivers, who led Indy to a playoff berth last season but retired at the end of the year. He recently said he's not ruling out playing again later in the season, per ESPN, so Indianapolis could try and talk him into playing sooner. However, he's a head coach of a high school football team, so that may be difficult to accomplish.
Indianapolis has one of the best rosters in football. Things could go bad quickly, though, without a solid quarterback behind center. So, if Wentz's recovery timetable ultimately starts looking closer to 12 weeks than five, the Colts should keep every option open. If they don't, it could be the difference between a playoff run and a top-15 draft pick.
Like Sportscasting on Facebook. Follow us on Twitter @sportscasting19.