Nick Kyrgios Has Made Over $8 Million in His Tennis Career but 'Lost a Little Faith in Humanity' After Someone Else Wrecked His $300,000 Car
Nick Kyrgios has become one of the hottest young tennis players in the world. His success has helped him become one of the most popular personalities in the sport, but has also helped him earn quite a bit of money. In fact, Nick Kyrgios, who has ultimately racked up a significant net worth so far in his career, even had a $300,000 car in 2019, but later said that he "lost a little faith in humanity" after someone else wrecked it.
Nick Kyrgios is one of the top young tennis players in the world
According to his ATP bio, Nick Kyrgios won his first ATP level match in 2013 at Roland Garros and then won a Challenger title in Sydney that same year. Kyrgios also won the Australian Open junior title that year and the Wimbledon junior doubles title.
However, in 2014, Kyrgios became a star as he ended the season as one of only two teenagers in the top 100. He really proved his potential, though, when he became the first teenager to defeat the No. 1 ranked tennis player in the world at a Grand Slam event since 2005 when he defeated tennis legend Rafael Nadal at Wimbledon. Kyrgios, who is from Australia, then continued to rise in the rankings in 2015, as he ranked as high as No. 25.
During the 2016 season, Kyrgios racked up 39 wins and ranked as high as 13th. He ultimately won three ATP World Tour titles, too. Kyrgios then continued to prove that he can compete with the best of the best in 2017 when he defeated Nadal again at the Western & Southern Open in Cincinnati. He, however, lost in the final to Grigor Dimitrov.
Kyrgios then battled injuries in 2018 but still won another ATP World Tour title at Brisbane. In 2019, though, he earned over 20 wins again and finished in the top 35 in the world for the fifth straight season. However, during the 2020 season, Kyrgios just played in nine matches due to the COVID-19 pandemic, according to the ATP's site.
Overall in his career, through three matches in 2021, Kyrgios has a 163-96 singles record. He has also won six ATP titles, and ranked as high as 13th in 2016. He is additionally 41-44 with one title in doubles.
Nick Kyrgios has racked up a nice net worth
Nick Kyrgios has the skills and personality to earn quite a bit of money on and off the court.
According to ATP, he has earned over $8.5 million in prize money in singles and doubles combined in his career. This has helped Nick Kyrgios rack up a nice net worth, too, as Celebrity Net Worth estimates that he is worth $8 million.
So, what does Kyrgios spend his money on? Well, one thing was his very nice, $300,000 car. However, someone else ultimately wrecked it.
The ATP tennis star 'lost a little faith in humanity' after someone else wrecked his car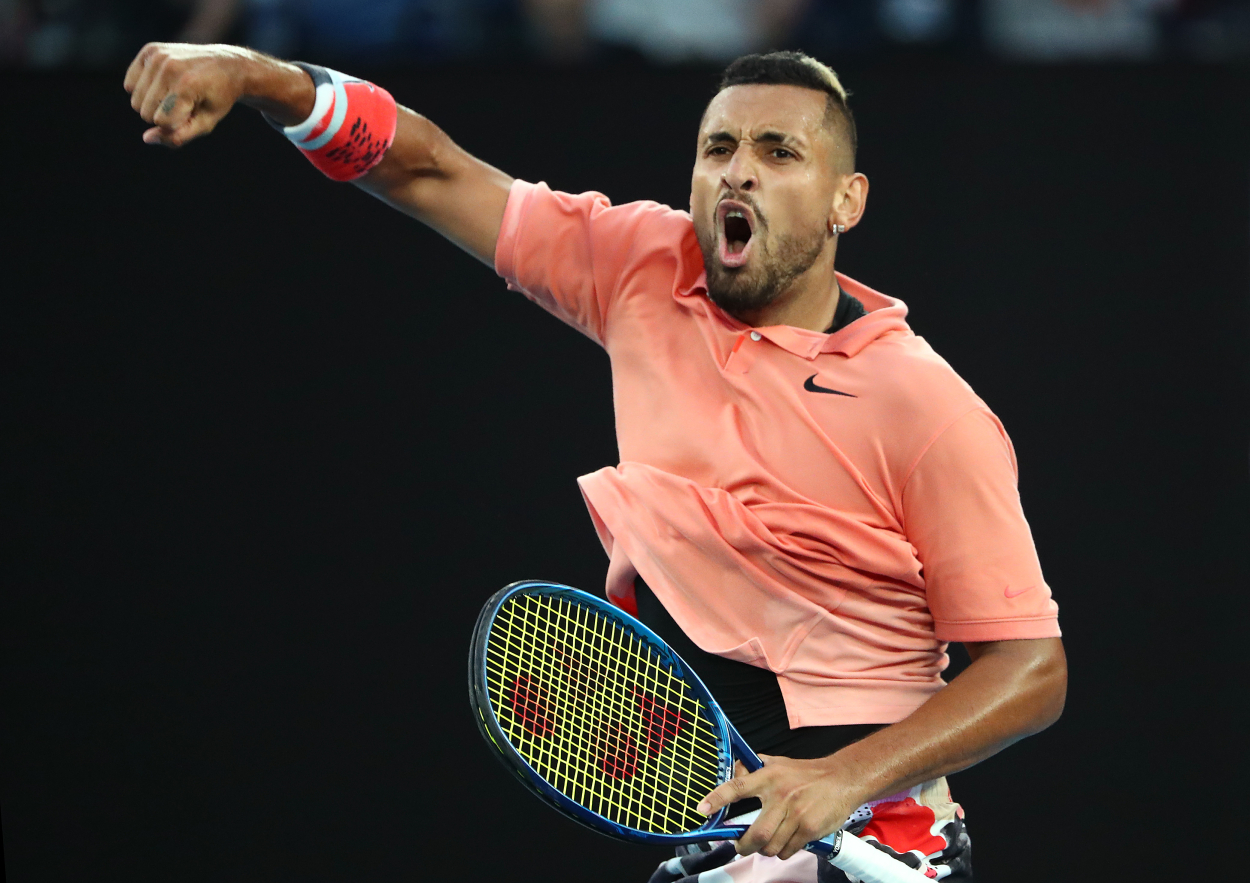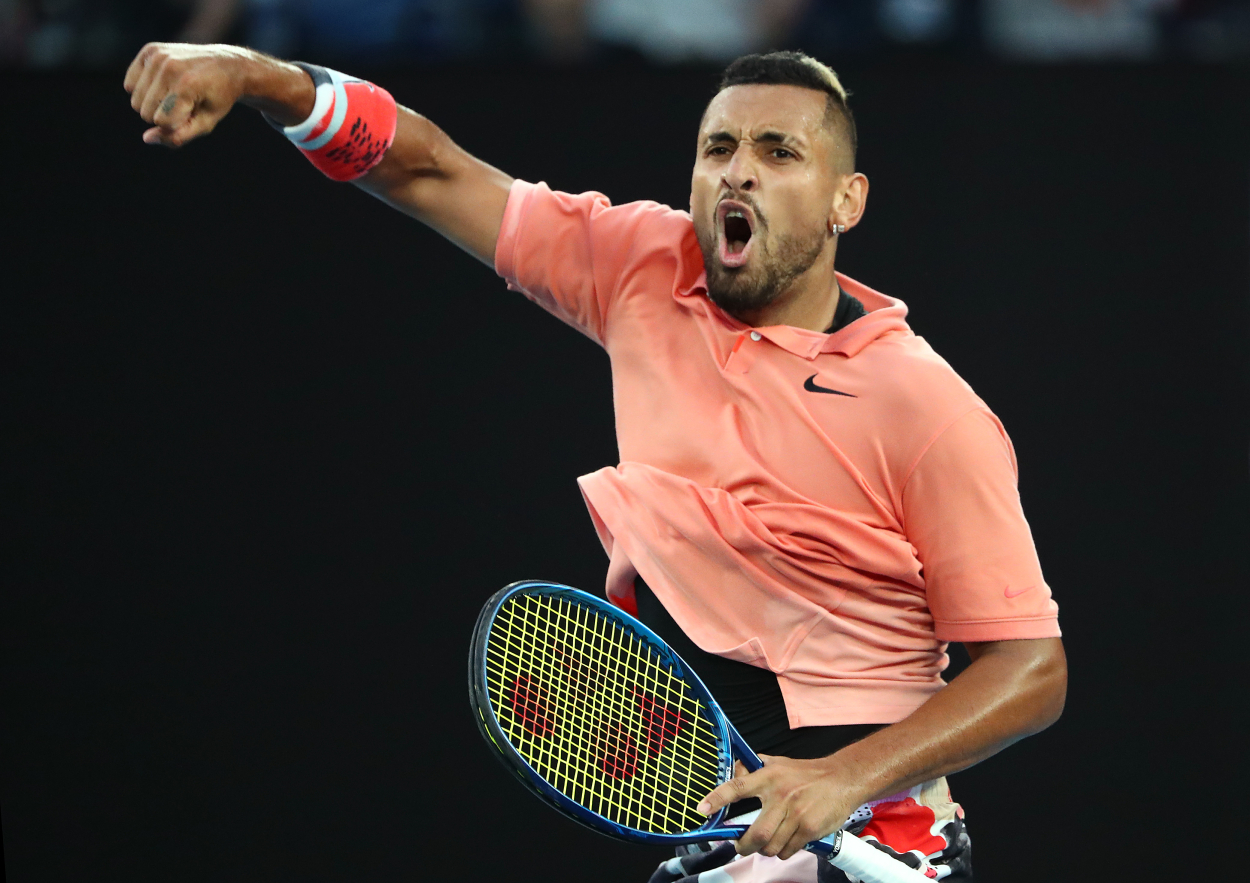 According to Sporting News, in 2019, someone wrecked Kyrgios' $300,000 Dodge Challenger SRT Demon into a pole. He was then seen at the scene, and police confirmed that he was not the driver. Kyrgios — who has reportedly let friends drive his cars in the past, per Sporting News — was believed to be a passenger.
It doesn't appear that his car is what bothered him most, though. After the accident, Kyrgios shared messages that a troll sent him on social media. The person said, "suck s*** about your car ya flop," according to Sporting News. They also said, "Spewing you're alive ya weak c***."
Kyrgios then added a caption to the screenshot of the messages that said, "Cheers bro, honestly why I've lost a little faith in humanity."
Sure, not many people have an $8 million net worth or a $300,000 car. Kyrgios' incident, though, hopefully reminded fans that tennis players are still people, no matter how much money they make.