Controversial Tennis Star Nick Kyrgios Claims LeBron James Is Better Than Michael Jordan: 'Not Even a Debate'
In the never-ending tennis match that is the NBA GOAT debate between LeBron James and Michael Jordan, James scored an overhand winner courtesy of Australian tennis star Nick Kyrgios. The two-time Grand Slam quarterfinalist weighed in on the topic in a recent social media post.
Kyrgios is not a stranger to basketball. As a teenager, he was a rising star on both courts before deciding on tennis as his future. That lends him at least a bit more credibility on the topic of the GOAT.
Nick Kyrgios is more well-known for his antics than his tennis
Tennis was the right choice for Nick Kyrgios, at least early on. He rose to the top of the world's junior rankings as a 17-year-old in 2013 and turned pro the same year. He played basketball and tennis into his early teens and was an elite-level player in both. It reached the point where Kyrgios had to pick his path. He told The Sydney Morning Herald in January 2013 why he chose tennis.
"I guess I was around 13, 14 because you get injured a lot in basketball, I guess, and that was going to keep me out of tennis, and I was a fair bit better at tennis, I thought, at the time.

"So I thought I'd just give everything, give all my dedication to that and see how it goes, and it's obviously paid off a fair bit."

Nick Kyrgios in 2013
Kyrgios was ranked as high at No. 13 in the world in 2016 but currently is 77th. He hasn't won an ATP event since 2019. His temperamental nature came to a head at the 2019 Cincinnati Masters.
An ongoing feud with chair umpire Fergus Murphy exploded during a round-of-32 loss to Karen Khachanov. Murphy assessed 11 violations against Kyrgios for his behavior during the match. It culminated at the match's conclusion when the Aussie refused to shake the official's hand and called him a "f*cking tool," per USA Today.
The ATP fined him a record $113,000 for the various violations and placed him on six months probation.
Kyrgios stays true to his generation by picking LeBron James over Michael Jordan as the GOAT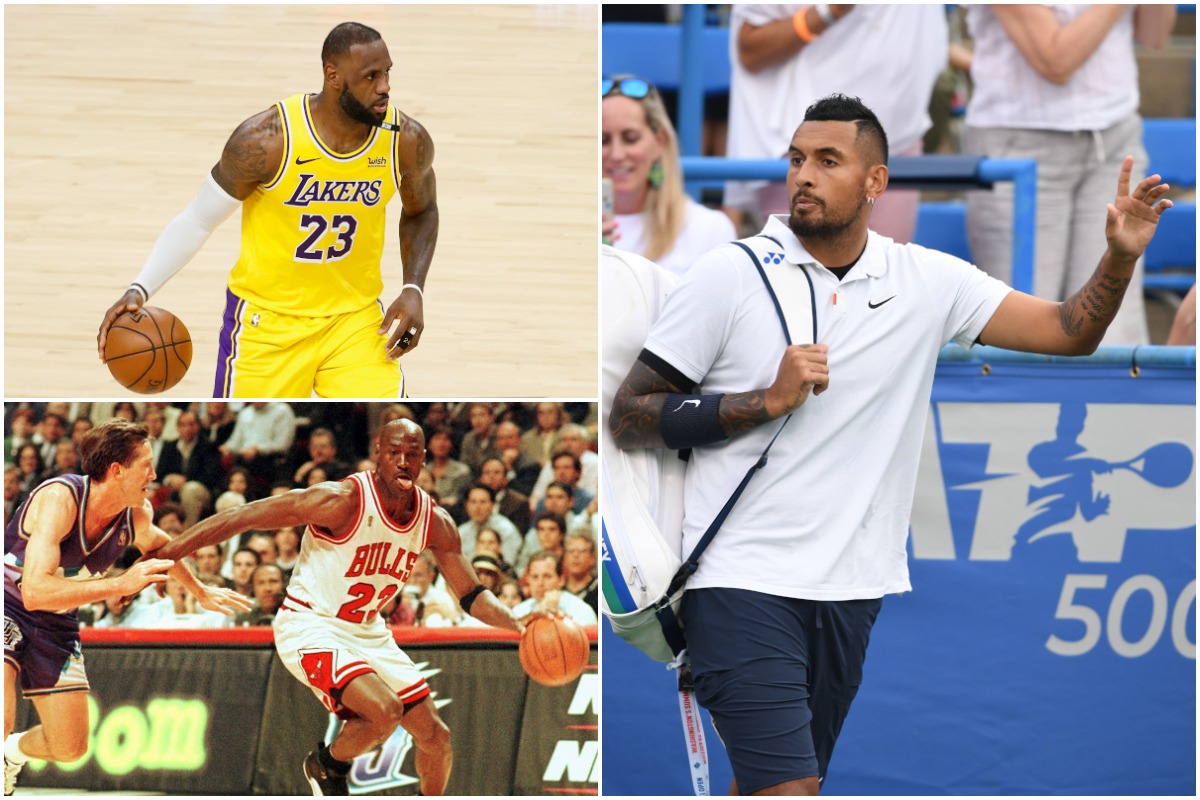 Nick Kyrgios was born in 1995 and was 8 years old when LeBron James made his NBA debut with the Cleveland Cavaliers in 2003. Conversely, Michael Jordan left the stage for the final time earlier the same year. Kyrgios grew up watching James, not Jordan.
The ATP Tour posted a short Instagram video of Kyrgios declaring James was the GOAT.
"LeBron's better than Jordan. Not even a debate."

Nick Kyrgios
When Michael Jordan entered the NBA in 1984, most basketball fans knew who he was. But he was not a global sensation. But LeBron James was under the microscope from the time he was in high school. By his senior year at St. Vincent-St. Mary High School in Akron, Ohio, he had already made two national magazine covers, was fielding seven-figure offers from shoe companies, and had a bodyguard, per the Pittsburgh Post-Gazette in 2002.
The debate over LeBron or Jordan is going on two decades old, and there's no end in sight. James faced the comparisons from the time he entered the NBA after his senior year of high school. As his list of career accolades grew, the intensity of the comparisons exploded.
The truth is there's not a correct answer. Jordan was the generational Julius Erving when he entered the NBA. He wasn't just a high-flying scoring machine; he was historically elite in every facet of the game. To extend the metaphor, James is more of a generational Magic Johnson. He's capable of scoring at an elite level, but he also excels at distributing the ball. When he's locked in, James is an outstanding defender as well.
Nick Kyrgios is still a basketball fanatic
Though he chose another path away from basketball, that does not mean Nick Kyrgios doesn't love the game. It's something of an obsession, according to what he told NBA Australia in March 2021.
"Definitely, it's my meditation. You know, when I'm out there, I don't even get it on the tennis court. When I'm out playing basketball, I don't think of anything for that, you know, hour or two hours. It's just having fun, seeing the ball, just hearing the ball bouncing going through the net, it's my meditation, I feel like I've got no problems in the world. And then when I step off the court, I feel like, you know, the real world catches up again."

Nick Kyrgios
Basketball serves as the escape from his day job, tennis. His ATP Tour look includes NBA jerseys, jewelry, and his Air Jordans.
At least Nick Kyrgios acknowledges Michael Jordan is the GOAT of basketball shoes, even if he believes LeBron James to be the better player.