Nick Nurse Rubs Salt in the Wounds of Toronto Raptors Fans by Forgetting His Star Player Is Now in South Beach
In June 2019, the Toronto Raptors were crowned NBA champions for the first time in franchise history. Now, entering the 2021-22 season, head coach Nick Nurse will struggle to lead his squad to a .500 record.
Times are certainly different in Toronto, especially with the departure of franchise icon Kyle Lowry this summer. Sadly, someone may have to remind Nurse that his point guard has moved on.
Kyle Lowry is one of the greatest Toronto Raptors of all time
After six average seasons, few imagined Lowry as anything more than a serviceable point guard. But soon, the former Villanova Wildcat developed into a star.
In 2014-15, Lowry's third season in Toronto, the 6-foot guard made his first All-Star team. He finished the season with 17.8 points, 6.8 assists, and 1.6 steals for the first-place Raptors. He continued to make the All-Star team in each of the next five seasons, with Toronto winning at least 51 games each year. Before Lowry's arrival, the Raptors won no more than 47 games in any season.
Although Lowry and teammate DeMar DeRozan couldn't lead Toronto to a championship, fortunes changed in 2019. With Kawhi Leonard replacing DeRozan as the team's go-to scorer, the Raptors made their first NBA Finals. Lowry, who previously dealt with postseason struggles, shot 50% or better in three of the final four games against the Golden State Warriors. Punctuated by a 26-point, 10-assist showing, Lowry and the Raptors won Game 6 to clinch the title.
With Toronto's championship window now closed, its franchise centerpiece decided to say goodbye. Lowry agreed to a three-year, $85 million deal with the Miami Heat, the fourth team in his 16-year NBA career. The 35-year-old leaves Toronto as its all-time leader in assists, three-pointers, and win shares, as well as its runner-up in points and games.
Nick Nurse forgot Lowry wasn't on the Raptors anymore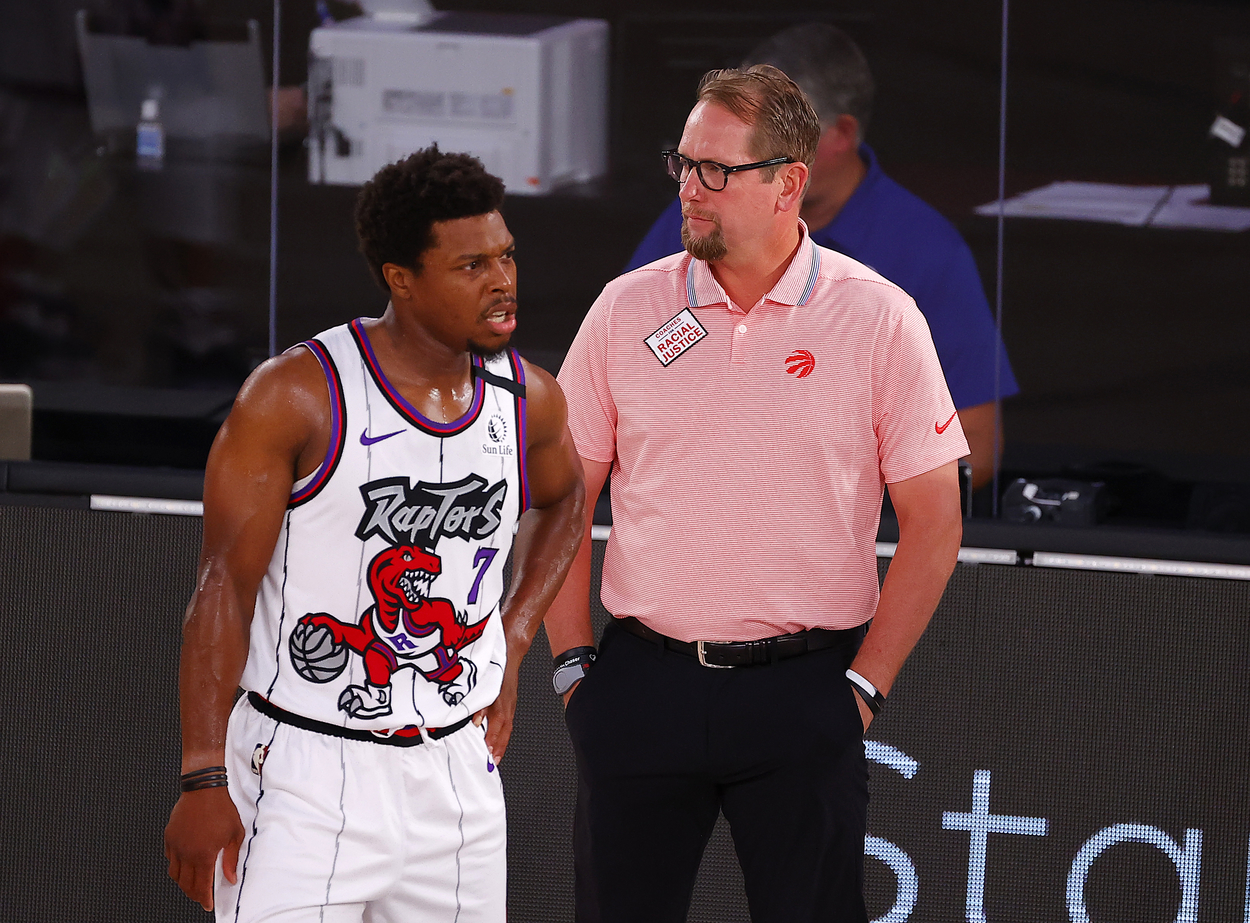 When you've had the same starting point guard for your entire NBA coaching career, it's going to take a while to adjust. Before Nurse was named head coach in 2018, he was hired as an assistant under Dwayne Casey in 2013, Lowry's second season in Toronto. With no prior NBA experience, the 54-year-old only knows number seven bringing the ball up the court.
Ahead of Wednesday's preseason game against the Philadelphia 76ers, Nurse was asked by TSN who he planned on starting. Answering a question he's surely been asked a million times, the head coach gave an answer he's likely given a million times.
"I think it's the same as the other night," Nurse answered. "Let me think about this for just a second … Kyle, Goran, um …"
At that point, a reporter interrupted Nurse to remind him that Kyle [Lowry] is no longer on the team. The fourth-year coach then corrected himself, listing the remaining starters for his rebuilding squad.
The Toronto Raptors will have to move on without Lowry
Even with Lowry, the Raptors were a shell of their old selves last season, finishing 27-45. It's fair to expect the losing to continue in the short term now that the six-time All-Star has moved on to Miami. But there are signs of hope across the border.
First off, the fact the Raptors don't have to play their home games in Tampa, Florida anymore is a welcomed sign. In addition, a few key members of the title team remain, including Pascal Siakam, Fred VanVleet, and OG Anunoby. The 6-foot-1 VanVleet seems to be in the best position to see his numbers surge without Lowry, as he comes off of a career-best 19.6 points per game.
As far as new faces, Toronto acquired veteran Goran Dragic and second-year forward Precious Achiuwa in the sign-and-trade with Miami. Dragic is a former All-Star who will add leadership and a scoring punch for the younger Raptors, while the 22-year-old Achiuwa has some potential for growth. The Raptors also managed to get the fourth overall pick in the NBA Draft, selecting Scottie Barnes out of Florida State. The 20-year-old filled up the stat sheet in his preseason debut, putting up a 13-9-6-2-2 line in 25 minutes.
Still, seeing Lowry in a different uniform will take some getting used to. Particularly, for his old head coach.
All statistics courtesy of Basketball Reference and contract figures courtesy of Spotrac.
RELATED: It's Been Over 2 Years Since the Toronto Raptors Won the NBA Finals, but 1 Player Still Hasn't Received His Ring