Nick Saban's Alabama Crimson Tide Could Have a Final Reckoning on the Horizon After Finally Getting What They Deserve
Throughout this season's first three College Football Playoff rankings, the committee proved several concerning trends. Its treatment of Nick Saban's Alabama Crimson Tide, though, was maybe the most questionable.
Bama has a great reputation within the college football universe, and rightfully so. It has won six national championships since 2009. But some teams shouldn't be able to live off their past achievements while others can't. And in the latest CFP rankings, the selection committee finally gave this year's Alabama team what it deserves.
There was a major shakeup in the latest CFP rankings
After a weekend where two top-10 teams (Oregon and Michigan State) looked like high school squads in a couple of blowout losses, the College Football Playoff Selection Committee shook its rankings up tremendously.
Here's what they looked like last week:
1. Georgia 
2. Alabama
3. Oregon
4. Ohio State
5. Cincinnati
6. Michigan
7. Michigan State
8. Notre Dame
9. Oklahoma State
10. Wake Forest
Following the chaotic weekend, here's the newest version of the CFP rankings:
1. Georgia
2. Ohio State
3. Alabama
4. Cincinnati 
5. Michigan
6. Notre Dame
7. Oklahoma State
8. Baylor
9. Ole Miss
10. Oklahoma
As you can see, Alabama went from No. 2 — where it had been since the first CFP rankings in Week 10 — to No. 3. And that's exactly what the Crimson Tide deserve.
Nick Saban's Alabama Crimson Tide team hadn't earned its No. 2 ranking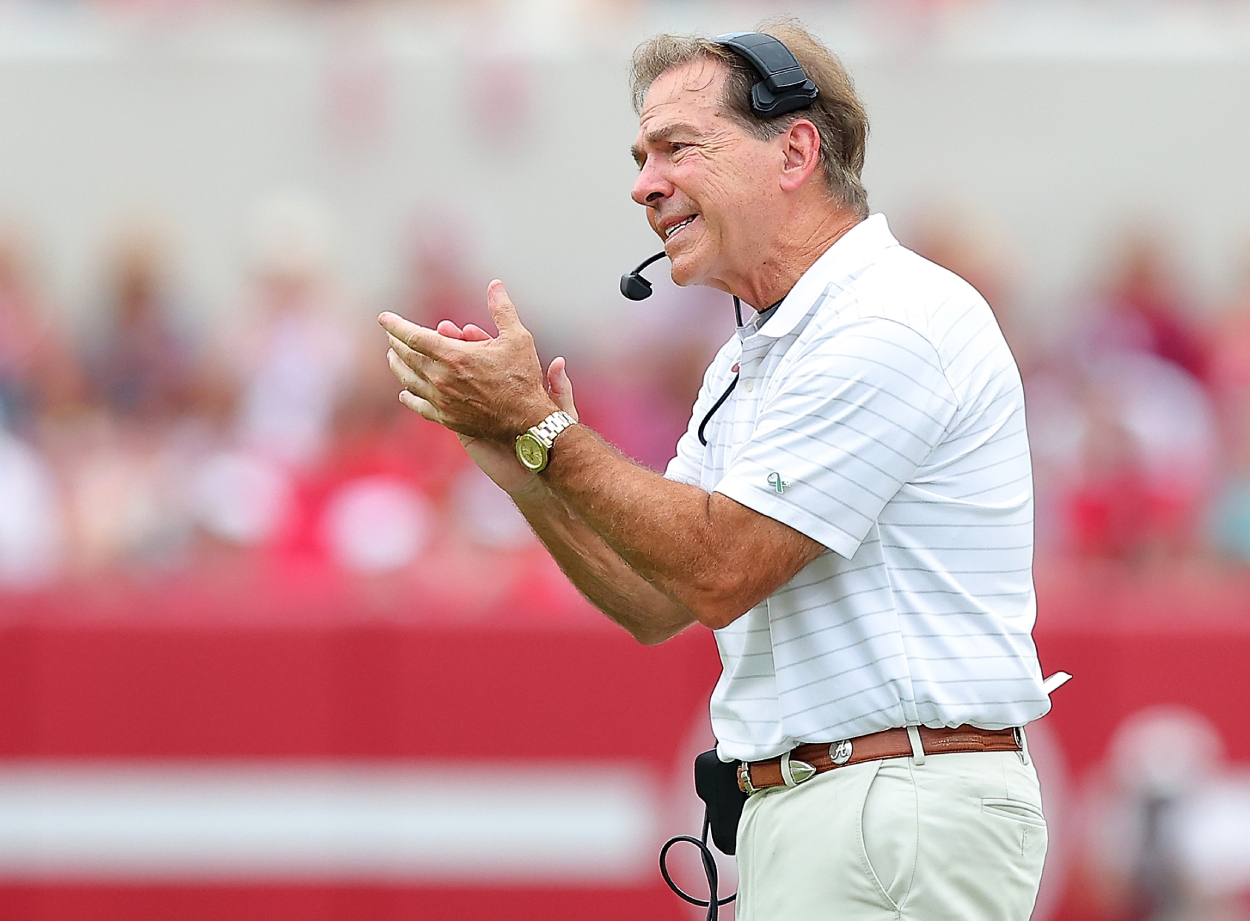 It was pretty questionable when the selection committee put Alabama at No. 2 in each of its first three CFP rankings. The Crimson Tide had already lost a game, and they fell to what was a two-loss (now three-loss) Texas A&M team. 
Comparatively to Ohio State and Cincinnati, the former had only lost to the Oregon Ducks, who were in the top four up until this week. The Bearcats have also been undefeated this whole year and earned a win over a now sixth-ranked Notre Dame team in October.
Speaking of Cincinnati. The committee clearly gave Alabama its previous No. 2 rankings because of its reputation and past successes. However, despite the AP and Coaches polls putting the Bearcats at No. 2 and 3 every week, the committee initially gave UC a No. 6 ranking. No, Cincy isn't typically a powerhouse program, but it went toe-to-toe with Georgia — the No. 1 team in the country this year — in last season's bowl game. 
Some teams' past wins come into play while other schools' achievements get forgotten? Got it.
Selection committee chair Gary Barta also said stats were considered when ranking Michigan and Michigan State in Week 12. But in addition to a better loss, Ohio State also currently averages more points and yards than Bama. It allows fewer points defensively than the Crimson Tide do as well.
The Buckeyes, though, were still below Alabama in the rankings until this week.
Sure, Ohio State's recent game against Michigan State likely helped its defensive numbers, but OSU has had the best offense in the country for almost the entire season. That, combined with the better loss, should have had them over the Crimson Tide from the very beginning.
However, it's all OK now. Alabama is now under Ohio State (as well as Georgia), and it could move down even further when it gets its final reckoning in a couple of weeks.
Alabama could have another dark day on the horizon
Everyone knows the SEC Championship Game will really determine Alabama's fate this season. The Crimson Tide play the No. 1 Georgia Bulldogs in the game on Dec. 4.
Georgia has been the best team in the country this entire year. Its defense is arguably the most dominant we have seen in seasons, and it hasn't had a close game since its very first one against Clemson. Alabama has some great athletes like quarterback Bryce Young and receiver Jameson Williams, but they haven't faced a defense like Georgia's.
So, if the Bulldogs wins in two weeks, Bama could drop out of the top four entirely, which would only be the second time it has missed the CFP since the playoff's first season in 2014. Of course, if Alabama wins, then the Crimson Tide are, in fact, a top-four team and will deservedly make the playoff.
Right now, though, Nick Saban's squad is probably a top-four team, but barely. However, one more loss could put it on the outside looking in and allow a team like Notre Dame to take its spot.
All in all, we will soon learn whether this Alabama team is, in fact, a typical Bama squad, or if its past wins and championships are what's keeping it in the top four.
Rankings courtesy of the CFP site