Nick Saban and Charles Barkley Team Up For PSA Encouraging Fans to Get Vaccinated
As the country continues to battle COVID-19, some states have struggled to get their citizens vaccinated. One of those states is Alabama.
To encourage the people of Alabama to get the COVID-19 vaccine, the state got two of its most famous residents to do a Public Service Announcement: Alabama head coach Nick Saban and former NBA star Charles Barkley.
Saban and Barkley wanted to help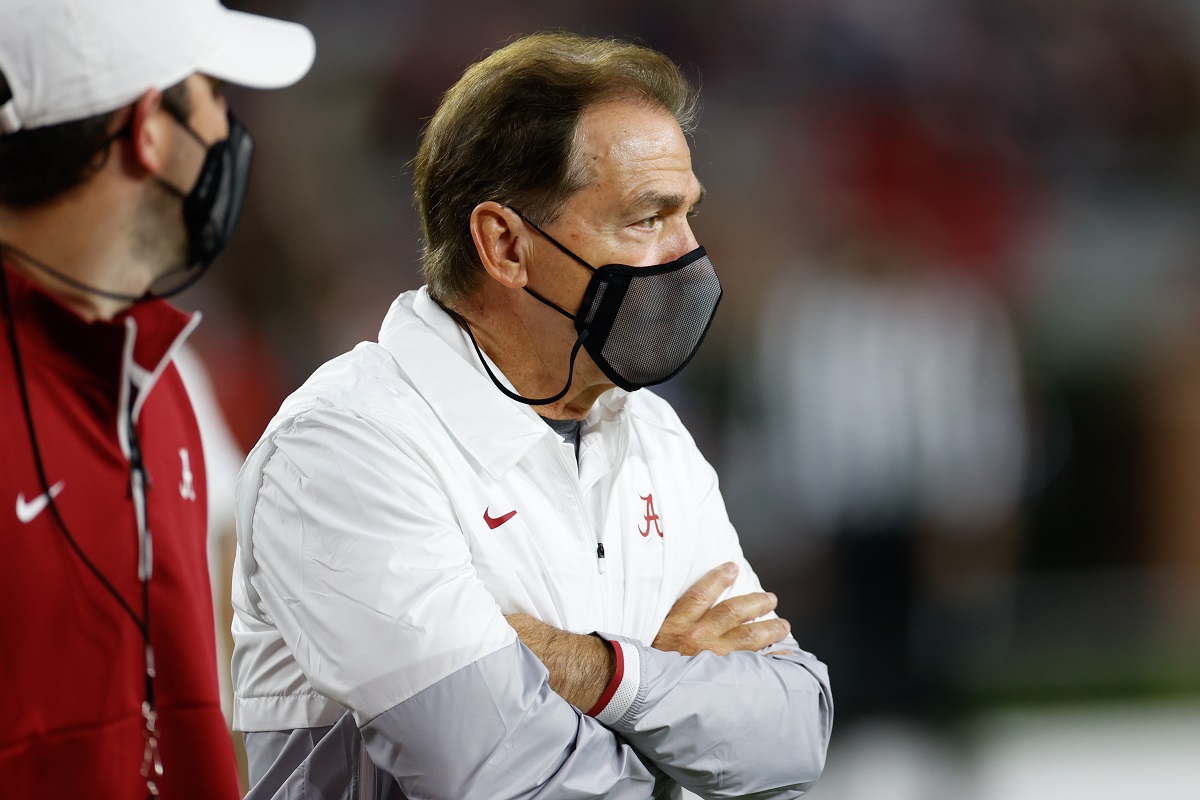 Since Alabama has one of the lowest vaccination rates in the country, the state needed a hand in getting people to get out and get vaccinated. It turned to Saban and Barkley for help.
"The Alabama Department of Public Health (ADPH) is very pleased that Coach Nick Saban and other notable sports figures, including Charles Barkley, are encouraging Alabamians to take COVID 19 vaccine. Alabamians have great respect for the opinions of these important leaders in the world of sports. ADPH appreciates this partnership, as we work together as one, to protect the health and well-being of our state. All Alabamians want to return to our normal lives, which includes celebrating our state's love of football, basketball, and other sporting events like we have in the past."
But Saban and Barkley have good reasons as to why they participated in this PSA. Saban came down with the virus in November before the Iron Bowl. Luckily, his symptoms didn't get worse, but per SEC policy, he had to sit out the game.
Barkley also became sick and thought he had the virus but did not. 
Both PSAs started running this summer. 
Alabama has the lowest vaccination rate in the country
According to AL.com, Alabama is dead last in the country for residents being fully vaccinated.
Only 33% of the state is fully vaccinated. Mississippi is only slightly ahead. What scares some experts is since some residents either never got vaccinated or only got one shot, there could be a new COVID-19 outbreak in the fall.
The University of Alabama has already announced that it will be at full capacity when football season starts, according to ESPN, but that may have to be reevaluated if things don't get better soon. 
Some fans aren't pleased with Saban
Some Alabama fans aren't pleased with Saban taking this stance and think he should stay away from issues like this in general and stick to football.
When Saban marched with his players last summer in support of Black Lives Matter, a small group of people in the Alabama fan base threatened to stop supporting the Tide.
Although Saban has never announced his political affiliation, he obviously isn't afraid to take a stand on a controversial issue.
But most fans don't seem to have a problem with Saban or Barkley coming out and trying to do a good deed for their home state.