The Nick Saban Coaching Tree Includes Jason Garrett, Dan Quinn, Several SEC Coaches, and More Surprising Names
Do you want to become a head coach in college football or the NFL? If so, find Nick Saban. The Alabama Crimson Tide head coach is a legend and one of the best coaches in football history. Saban has Alabama in the College Football Playoff once again with a shot at yet another national title. Perhaps even more impressive is the Saban coaching tree, which is a lengthy list. The coaching tree features names such as Dan Quinn, Jason Garrett, Jimbo Fisher, and a high number of other surprising names — as well as several SEC coaches.
Nick Saban has produced quality coaching candidates in college football
There has been a ton of movement in college football in the past month. The long list of former Saban assistants to become head coaches has expanded. Saban's career is impressive, from being the head coach at Toledo, Michigan State, LSU, the Dolphins, and Alabama, including a long line of assistant jobs.
Oh, and he worked for Bill Belichick on the Cleveland Browns staff.
Mario Cristobal went from Oregon to Miami, Billy Napier took over at Florida, and the list goes on and on. Even more impressive, Saban's 2015 coaching staff was loaded.
Wow. Just wow.
Dan Lanning went to Oregon, Kirby Smart is coaching against Jim Harbaugh in the College Football Playoff semifinal, and Billy Napier landed at one of the best programs in the country. Mel Tucker went from Colorado to Michigan State and recently signed a $95 million contract.
Steve Sarkisian saw his career turn around after a troubled tenure at USC. He went to join Saban as an assistant and quickly became the head coach at the University of Texas.
Saban produces high-quality college coaches year after year, and it isn't stopping anytime soon.
However, Saban doesn't only do this with college coaches, either.
Nick Saban has also employed a number of NFL coaches, including Dan Quinn and Jason Garrett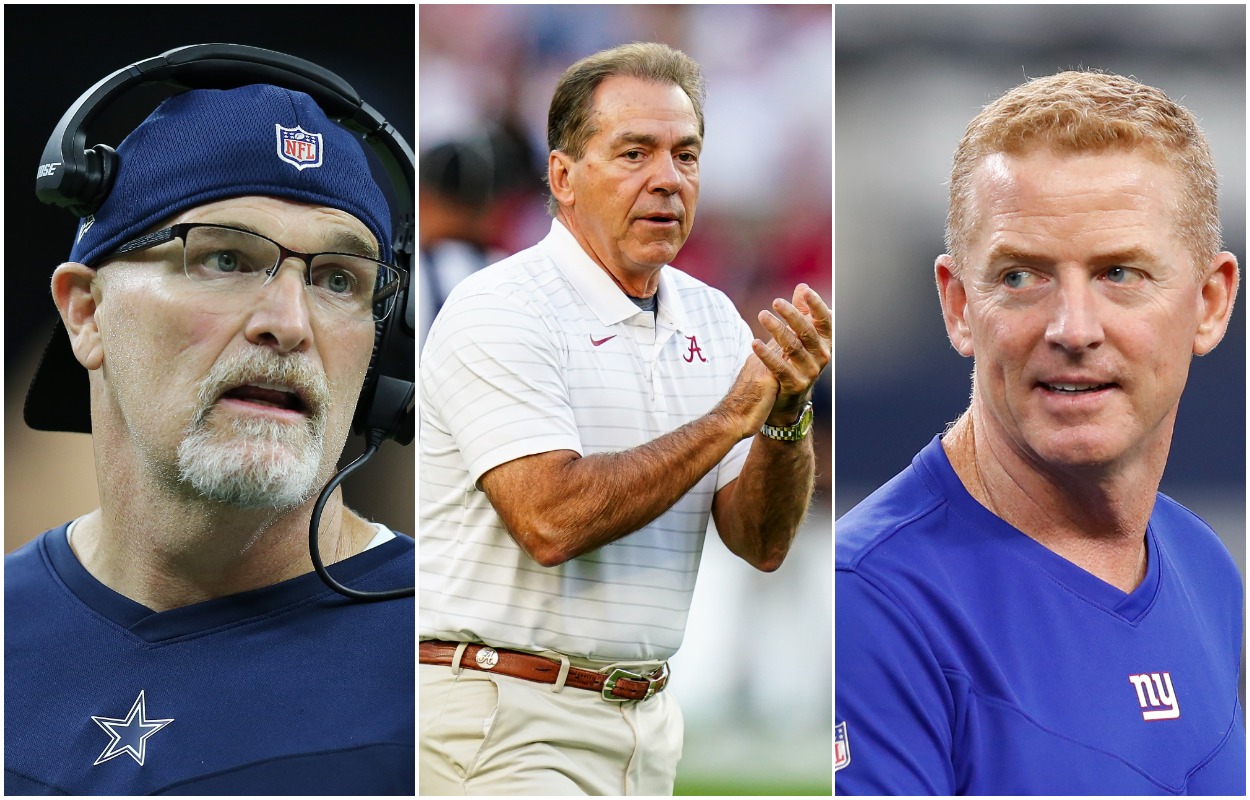 The number of successful college coaches Saban has produced is impressive in itself. On the other hand, it is pretty surprising to see some of the NFL names that have worked for Saban at some point.
This list includes the following:
Jason Garrett
Dan Quinn
Mike Mularkey
Pat Shurmur
Adam Gase
Bill O'Brien
Doug Marrone
Sure, these guys have struggled as head coaches at the NFL level. However, they were able to get jobs and last for some time.
Quinn has worked wonders with the Dallas Cowboys defense as the DC and was linked to the Jacksonville Jaguars head-coaching job before deciding against it. Before becoming the offensive coordinator for the New York Giants, Jason Garrett was in Dallas as the head coach of the Cowboys.
Mularkey spent time as the head coach for the Tennessee Titans, and Shurmur coached the Giants and is now the OC for the Denver Broncos.
Gase's struggles are the most obvious, but he went from the Miami Dolphins to the New York Jets, and it is never easy to be a head coach in the NFL. O'Brien was rumored to be a candidate for the LSU opening before the Tigers landed Brian Kelly in a shocking move from Notre Dame.
Marrone was fired from the Jaguars but brought on by Saban to coach the offensive line.
Saban has worked with all of these guys at one point or another, and it just proves even more that if you want to be a coach, go work for Saban.
The SEC features a number of head coaches who used to work for Saban and a long list of others
The Alabama legend's coaching tree is incredible from start to bottom. But, the SEC is full of former Saban assistants.
Jimbo Fisher is now at Texas A&M and handed Saban and the Crimson Tide their only loss of the season. Smart is at Georgia, Napier in Gainesville with the Gators, and Kiffin at Ole Miss.
Even more unbelievable is Saban's record against his former assistants. He is 25-1 against them, with the one loss coming this year against Texas A&M.
Work for Saban, become a head coach or at least get another job in the NFL.
Here are some other names that worked for Saban that went on to coach in either the college or the NFL level:
Jeremy Pruitt
Will Muschamp
Mark Dantonio
Derek Dooley
Jim McElwain
Bobby Williams
Major Applewhite
Mike Locksley
Geoff Collins
Curt Cignetti
Michael Haywood
Butch Jones
Just unreal. Dantonio lasted a long time with the Spartans, Muschamp between Florida and South Carolina, and Haywood was at Texas Southern for a few seasons.
Locksley (Maryland), Cignetti (James Madison), Collins (Georgia Tech), McElwain (Central Michigan), Jones (Arkansas State), and Applewhite (South Alabama OC) all have jobs currently as well as Cristobal and the more prominent names mentioned previously.
So much talent, and it all comes from the Nick Saban coaching tree.
At this rate, this list will only keep growing.