Nick Saban Just Potentially Found DeVonta Smith's Replacement and Beat Ohio State All in 1 Move
Nick Saban had an absolutely stacked Alabama Crimson Tide team in 2020. It had three top-five Heisman Trophy finalists and, of course, the Heisman winner, DeVonta Smith. This all helped the team go undefeated and eventually win the national championship. Winning a national title, though, can be difficult for a program in the following year, especially if it loses a significant amount of talent. Just ask last season's LSU team. This means Saban must find ways to replace some of his elite stars.
However, Saban and Alabama never rebuild; they just reload. And they have recently done so by also beating Ohio State.
Alabama coach Nick Saban looks to replace elite talent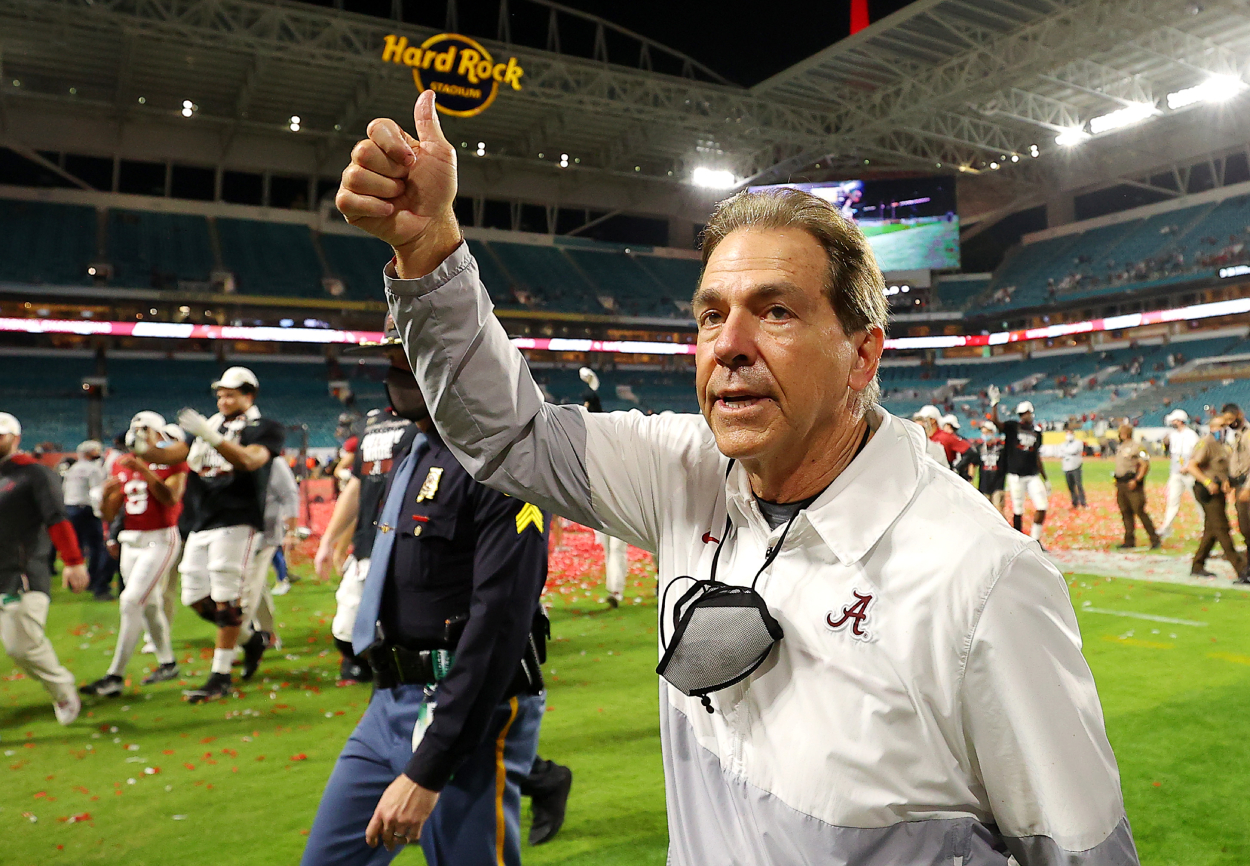 RELATED: Nick Saban's Tenure With the Miami Dolphins Was Such a Failure That He Reportedly Had Players Wanting to Fight Him
Saban has had several legendary teams throughout his time as Alabama's head coach. However, 2020 may have been one of his most talented squads, especially offensively.
Quarterback Mac Jones led the Crimson Tide by throwing for 4,500 yards, 41 touchdowns, and only four interceptions. 
His receivers, though, were incredible.
Alabama had Jaylen Waddle, who missed time with injury but still caught 28 passes for 591 yards and four touchdowns in the six games he played in. Waddle's injury, however, led to DeVonta Smith having one of the greatest seasons a college receiver has ever had. Smith caught 117 passes for 1,856 yards and 23 touchdowns, which helped him win the Heisman Trophy.
Following Smith, Jones finished third in the Heisman voting, and running back Najee Harris finished fifth after running for 1,466 yards and 26 touchdowns.
While all those guys had incredible seasons, Saban must now figure out how to replace all of them as Smith, Waddle, Jones, and Harris all went to the NFL. When it comes to replacing Smith specifically, Saban is bringing back John Metchie III, who gained 916 receiving yards last year. Slade Bolden, who had 24 catches for 270 receiving yards, will be back as well.
The Crimson Tide also appear to be replacing Smith and Waddle by stealing one of Ohio State's starters.
Jameson Williams is transferring to Alabama
RELATED: DeVonta Smith Hasn't Played 1 Game for the Eagles but Already Knows the 2 Major Purchases He Wants to Make With His Projected $20.14 Million Deal
Saban's Crimson Tide embarrassed a banged-up Ohio State Buckeyes team in last season's national title game, beating OSU 52-24. Now, the Alabama coach is beating Ohio State again by stealing one of its starters.
Wide receiver Jameson Williams started the last six contests for the Buckeyes in 2020, including the two College Football Playoff games. However, Williams — a four-star recruit and the No. 1 prospect in all of Missouri in 2019, per 247Sports — recently announced he was entering the transfer portal. Then, on May 3, Williams revealed via Twitter he was transferring to Alabama, per the Columbus Dispatch's Buckeye Xtra.
Williams' biggest game in 2020 came in the CFP semifinal win over Clemson, as the soon-to-be junior caught three passes for 62 yards and a touchdown. He is now eligible to suit up for Alabama this upcoming season, and should significantly help a receiving corps that no longer has Smith or Waddle.
Losing a starter to the team you lost to in the national title game has to be tough for Ohio State. Saban and Bama need Williams, though; the Buckeyes don't. In fact, his departure may not actually hurt them all that much.
Ryan Day and the Ohio State Buckeyes will be OK
RELATED: Justin Fields Is Chicago's Future, but He and His Bears Teammates Could Be Headed out of Town
Sure, Ohio State had high hopes for Williams. The Buckeyes probably didn't want to lose him to another national championship contender, either. However, Ryan Day's team will be just fine.
Chris Olave, who gained 729 receiving yards in seven games in 2020, is returning to Ohio State for his senior season. This is while Garrett Wilson (723 receiving yards in eight games) will also be back for his junior year. 
According to Buckeye Xtra, Wilson is supposed to move from the slot to the outside in 2021, which is where Williams lined up last season. Sophomore Jaxon Smith-Njigba should also take Wilson's spot, meaning Williams would have probably moved down the depth chart had he stayed at Ohio State.
Given the fact Williams only caught nine passes for 154 yards last season, too, the Buckeyes aren't really losing a ton of production, although he still has a decent amount of potential.
It may not hurt OSU that much, but Alabama coach Nick Saban accomplished two things by adding Williams. He filled some of the void Smith and Waddle left in the receiving room, and he took Ohio State's starter while doing it. Williams probably won't be nearly as successful as Smith or Waddle were, but adding an experienced player should be better for Bama than potentially plugging in a freshman.
We'll see whether this helps Bama or hurts Ohio State more this fall when the Crimson Tide and Buckeyes kick off their 2021 seasons.
Stats courtesy of Sports Reference