Nick Saban and All His Peers Could Shockingly See College Football Change Forever Thanks to an Up-And-Coming Program Fighting for National Relevance
Nick Saban and his peers of Power Five college football coaches have had it easy for a while. Season after season, their teams have all battled it out against each other with one winning the national title each year. However, one program is threatening everything: Luke Fickell's Cincinnati Bearcats.
Yes, Cincinnati has a great team this season and is just simply fighting for an opportunity to play in the College Football Playoff. But it could also change everything as we know it forever.
Alabama and other Power Five schools have dominated college football for years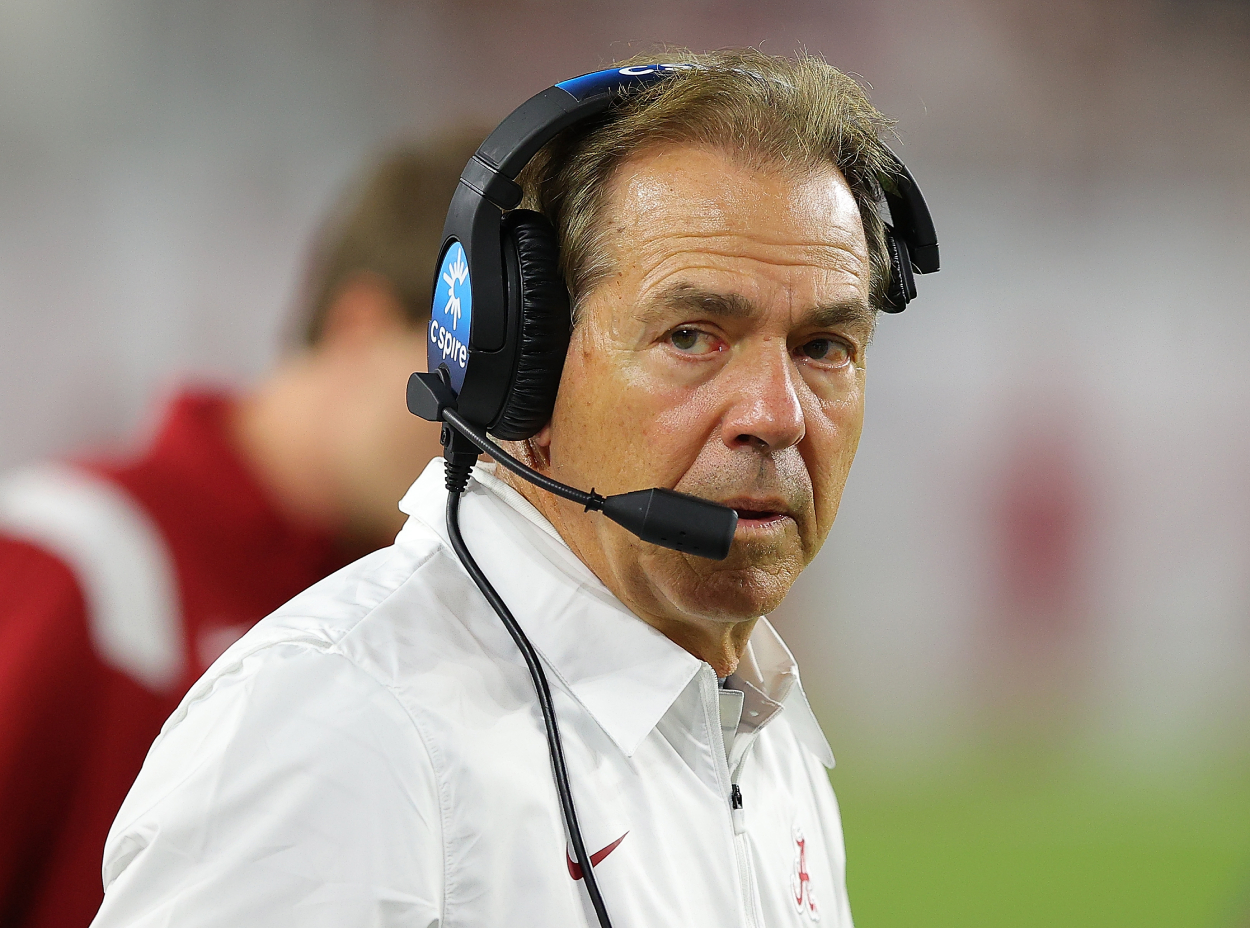 Nick Saban's Alabama Crimson Tide program started dominating college football well before the switch to the CFP format. Bama won three BCS National Championships from 2009 through 2012 and has since won three more in the CFP era. It has also played but lost in two other CFP national title games.
But Power Five schools in general started running things years before Alabama hired Saban.
When looking at the list of programs that have claimed national titles in the past, it's essentially a who's who of college football powerhouses; schools like Ohio State, Notre Dame, Michigan, Miami, and USC all frequently appear on the list. Clemson has also fought its way into national relevance more recently with multiple titles itself.
Yes, smaller schools have claimed championships before (BYU won it all in 1984), but Power Five schools (or programs that were in the Big East before the conference crumbled during the 2010s) have dominated for decades.
Cincinnati, though, threatens all of that.
Luke Fickell's Cincinnati Bearcats have a chance to change college football forever
For the first time in years, a non-Power Five school has a chance to fight for the national title: the Cincinnati Bearcats.
Since its introduction in 2014, the College Football Playoff has yet to give a Group of Five program a chance. Central Florida proved it deserved a shot in 2017, going undefeated and defeating Auburn in the Peach Bowl, but the history books will still list Alabama as that year's champion.
But the Bearcats may actually play in the CFP this season.
Luke Fickell led them to a 9-0 regular-season record during the 2020 campaign, and they went toe-to-toe with the Georgia Bulldogs in the Peach Bowl, losing just 24-21. Now, Georgia is the No. 1-ranked team in the country, and Cincinnati has continued to prove it belongs.
Of course, UC has had to play smaller schools; it's currently in the American Athletic Conference. But it has dominated those teams this year while also beating Power Five programs like Indiana and, yes, the Notre Dame Fighting Irish, who just played in the CFP last season. (Notre Dame is technically independent, but the NCAA still treats it like a Power Five program.)
So far, including those wins against Indiana and ND, the Bearcats are 6-0, and they entered Week 7 ranked No. 3 in the Associated Press poll. The No. 3 ranking is the highest in school history as the program is just now entering national relevance.
Brian Kelly first helped Cincinnati earn a little bit of respect from 2007 through 2009 with three straight 10-win seasons following a 30-plus-year stretch in which it failed to even earn a spot in the AP Top 25 rankings. Butch Jones then continued that trend at UC for a couple of years before Tommy Tuberville had a tumultuous four-year stint in Cincinnati from 2013 through 2016. Luke Fickell, though, took over in 2017 and has since turned the program that was once looked down upon into a national powerhouse.
But can UC really do it? Can it play (and compete) in the CFP?
Can the Cincinnati Bearcats play and compete with the likes of Nick Saban's Alabama Crimson Tide in the CFP?
Cincinnati will become a Power Five program in a few seasons, as it's in the process of switching to the Big 12. But before doing so, it has a chance to change college football forever by competing for a national championship as a Group of Five program.
This team is the real deal. The Bearcats have a quarterback in Desmond Ridder who has put his name in the Heisman conversation. He has thrown for 1,444 passing yards, 13 touchdowns, and only two interceptions so far this season, and he has run for three TDs as well. They also have a ton of athletes around him, like running back Jerome Ford and wide receiver Alec Pierce.
However, Cincy's defense is the unit that can actually help the team compete with the likes of Bama and Georgia. It has future NFL stars on it like defensive back Ahmad "Sauce" Gardner, and it's only allowing 13.67 points per game.
After Iowa's loss in Week 7, there's a good chance Cincinnati could be ranked No. 2 in the AP poll in Week 8, with Georgia at No. 1 and Oklahoma and Alabama ranked at Nos. 3 and 4. It would then be pretty difficult for the CFP selection committee to keep the No. 2-ranked team out of its playoff, especially since it has an elite defense and a Heisman candidate at quarterback.
All in all, the Bearcats are a force to be reckoned with, and their introduction to the CFP would not only help their own program, but it would also open the door for other Group of Five schools to make playoff appearances in the future.
So with all this in mind, Nick Saban and his peers better watch out. The Bearcats may very well wreck college football as we know it forever.
Stats courtesy of Sports Reference and the Cincinnati Bearcats
RELATED: Lane Kiffin Got Busted for Showing Arch Manning He's the Only Quarterback Ole Miss Covets