Nick Saban Feels 'Like a Proud Papa' After Alabama Ties the Record for the Most 1st-Round Draft Picks
Nick Saban is no stranger to a celebration, and neither are the young men he coaches. When the Alabama Crimson Tide coach shows up at the home of any high school four-star recruit, they know they're talking to a man with a convincing portfolio. Saban's 2021 championship team may well be his most talented, with a record of six players drafted in the first round. So the question remains: What is Saban doing differently to coach up all these future NFL stars. Is there something different in that Tuscaloosa water?
Alabama had some serious prospects entering the 2021 draft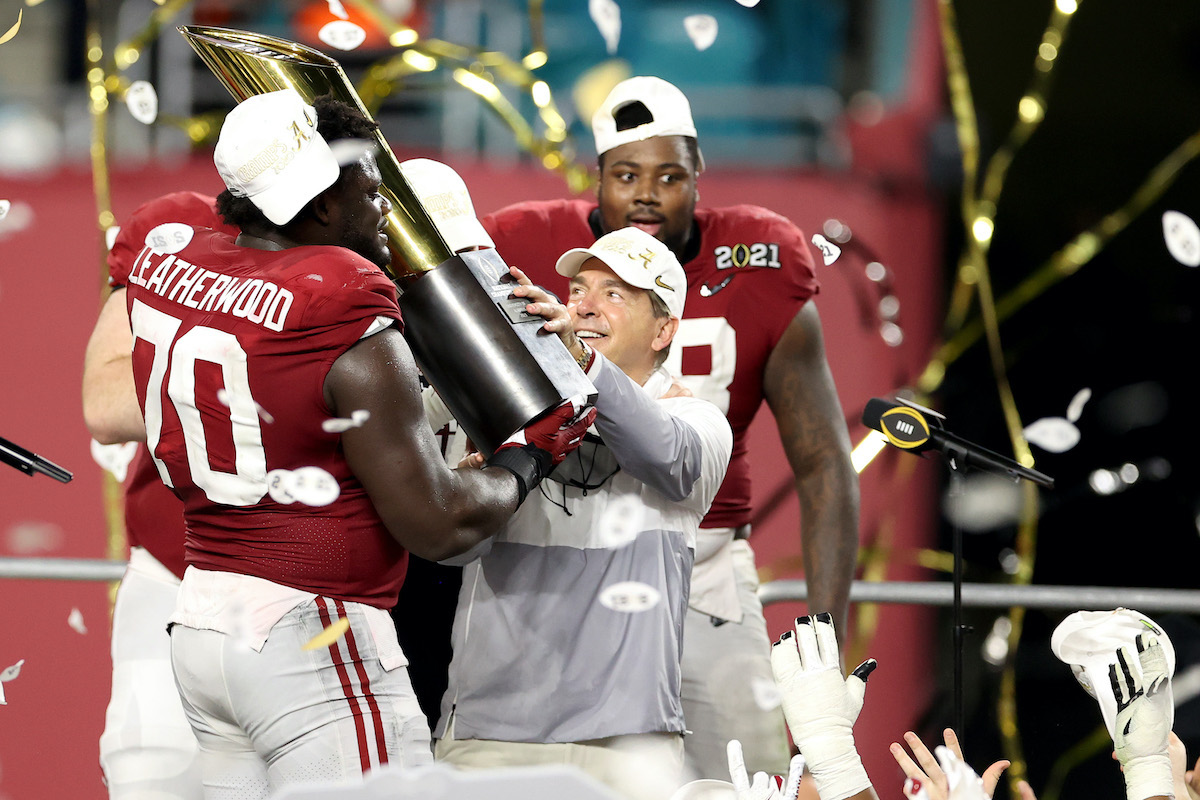 There's a reason why people call the months leading up to the draft "silly season." Everybody online seems to have a mock draft they want you to see. Mocks from "plugged-in" scouts and television hosts are typically based on info from sports agents, coaches propping up players, opinions of national scouts not directly affiliated with teams, and front offices throwing out smokescreens.
With all of this information combined, one can put together a reasonable idea of which players will go where, so significant surprises in the first round are rare. The Alabama offense was explosive all season, finishing first in points per game and top five in passing yards per game and total yards per game. 
Quarterback Mac Jones, wide receivers Jaylen Waddle and Devonta Smith, running back Najee Harris, offensive tackle Alex Leatherwood, and cornerback Pat Surtain II were all consistently floated as high first-round picks. Analysts predicted each of them going anywhere from the top 5 to the top 20. 
Six Alabama Crimson Tide players went in the first round of the 2021 NFL draft
"It makes me feel like a proud papa," Alabama coach Nick Saban said, reports Al.com. The Alabama offense was explosive all season, finishing first in points per game and top five in passing yards per game and total yards per game. It's no shock that quarterback Mac Jones, two top receivers Waddle and Smith, and running back Harris, were all valued highly enough to go in the first round.
As Jones' top lineman, Leatherwood was also highly valued. Surtain (son of former NFL player Patrick Surtain) is known for his athleticism, strong tackling skills, and the potential to be a shutdown cornerback, which is crucial in today's passing league. In order, Alabama players were drafted as follows: 
No. 6: WR Jaylen Waddle, Miami Dolphins 
No. 9: CB Pat Surtain II, Denver Broncos
No. 10: WR DeVonta Smith, Philadelphia Eagles
No. 15: QB Mac Jones, New England Patriots
No. 17: OT Alex Leatherwood, Las Vegas Raiders
No. 24: RB Najee Harris, Pittsburgh Steelers
In an inspiring moment, Harris held his draft party at the homeless shelter where he grew up.
Alabama matched the 2004 Miami Hurricanes draft record
During a stretch of dominance under Larry Coker, the 2004 Miami Hurricanes also sent six players to the NFL draft. Safety Sean Taylor was taken fifth by the Washington Redskins. The Cleveland Browns selected tight end, Kellen Winslow, with the sixth pick. Linebackers Jonathan Vilma and DJ Williams went consecutively to the Jets and Broncos with the Nos. 16 and 17 choices. The Miami Dolphins chose offensive tackle Vernon Carey with the 19th pick. The New England Patriots took nose Tackle Vince Wilfork #21. 
These players produced mixed and, in some cases, shocking results. Sean Taylor experienced immediate NFL success as a two-time Pro Bowler. A home intruder shot and killed the safety during a botched burglary attempt in 2007, short-circuiting what may well have been a Hall of Fame career. 
Kellen Winslow experienced some minor success in the Browns offense before experiencing an offseason mini-bike injury. He came back healthy and was somewhat productive before retiring. Since then, he had been convicted of several crimes, including burglary and kidnapping.
Vilma was a Defensive Rookie of the Year, a Super Bowl winner, and a three-time Pro Bowler. Williams lasted 11 years in the league, including nine with the Broncos and two with the Bears. He had four seasons over 100 tackles — a solid benchmark for a linebacker — but never made a Pro Bowl. Carey lasted eight years in the NFL, playing over 12 games in each. He became a reliable albeit not noteworthy starter. His son is currently playing in the NBA. 
Vince Wilfork went on to the greatest level of success, winning five Pro Bowls, two Super Bowls, and is highly likely to be a Hall of Famer. He is currently grilling full-time and has made some entertaining videos.
Stats courtesy of Sports-Reference.com.
RELATED LINK: DeVonta Smith Sends Strong Message to NFL Teams Doubting Him Because of Size Concerns: 'We're Not Bodybuilders'