Nick Saban's Stern Message After Alabama's Massive Upset Loss to Texas A&M Drops Them From College Football Playoff Picture: 'Everyone Needs To Remember How They Feel and Not Forget It.'
The latest Saturday in the world of college football was another wild one. Several Top 25 teams lost once again, and the story of the day was a top-5 showdown between Iowa and Penn State. However, that game was quickly overshadowed after Nick Saban's top-ranked Alabama team lost in heartbreaking fashion to Texas A&M in College Station.
The Crimson Tide were atop every ranking out there after an undefeated start to the year, and the loss to the Aggies has now dropped them out of the College Football Playoff picture– for the time being, at least.
After the loss, Saban was not thrilled with how things went down and wants every single person involved to remember this feeling so that it doesn't happen again this year.
Nick Saban wants Alabama to remember this feeling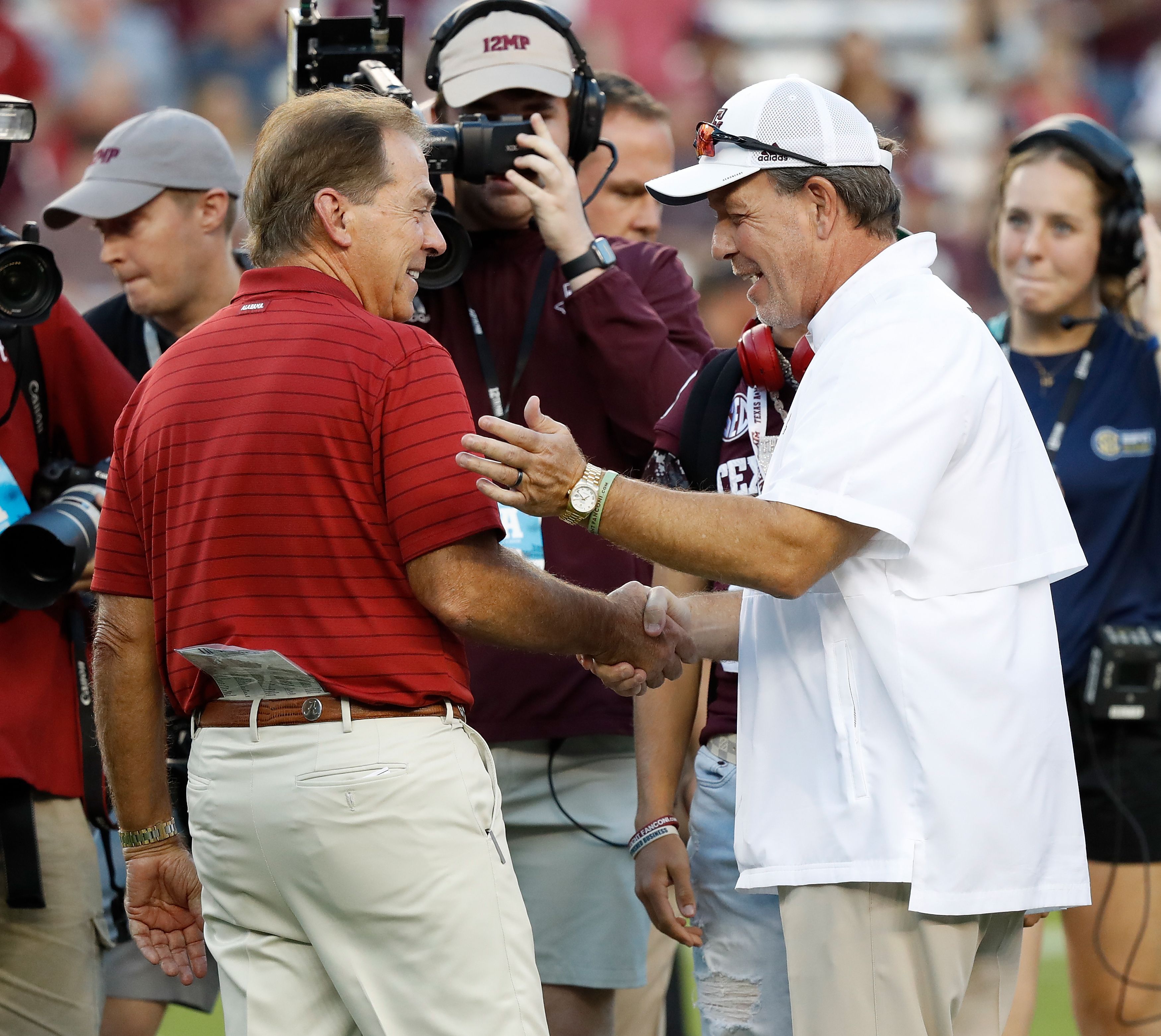 Alabama rarely loses with Saban running the show. The Crimson Tide are the dynasty of college football for the past decade, and there is no slowing down with the program doing things like they are in Tuscaloosa.
But, the latest loss by the Crimson Tide could prove as costly as ever, and Saban wants all the players and coaches involved to remember this feeling (h/t Pete Thamel of Yahoo Sports).
"Everyone needs to remember how they feel and not forget it."

Nick Saban after the upset to Texas A&M
Usually, coaches want players to forget about tough losses and focus on the next game. However, Saban is a different animal altogether, and it shows as he is arguably the greatest college coach of this generation.
Saban doesn't sugarcoat things, and players don't go to Alabama to lose football games, so he has a point. The college football legend elaborated even further after the loss dropped them out of the top four for the time being.
"Think about two things — how you feel when you lose and what did you do to contribute to losing."

Nick Saban
This should be an interesting week at Alabama facilities with a looming matchup against Mississippi State and a chance for the Crimson Tide to respond.
Texas A&M went punch for punch with the best in the country
This game was back and forth from the beginning to end. The Aggies scored 17 first-quarter points and took a commanding 24-10 lead into the half as Alabama couldn't believe what was happening.
The Crimson Tide would fight back and end up taking a 38-31 lead in the fourth quarter after 21 unanswered points, thanks primarily to the duo of Bryce Young and Jameson Williams, who connected for 10 catches and 146 yards with a pair of touchdowns.
But, the Aggies stormed back and scored 10 points in the final four minutes, including a game-winning 28-yard field goal by Seth Small to send College Station into absolute chaos and give them a signature victory and handed Alabama their first loss since November of 2019.
The talented Alabama team had no answer for the Aggies on either side of the ball, even though Alabama had nearly 150 more yards than the Aggies.
What this means for Saban's team going forward
The good news? There is a lot of time for Alabama to gain ground and get back into the College Football Playoff picture. Saban is confident that Alabama can bounce back and reach its goals, as he echoed after the crushing loss.
"We still can accomplish everything we want to accomplish."

Nick Saban on the road ahead
The Crimson Tide schedule eases up a bit. They face Mississippi State, Tennessee, LSU, and New Mexico State before a potential top-1o clash against Arkansas at the end of November. They finished up the regular season with an Iron Bowl game at Auburn and could face now top-ranked Georgia in a massive SEC Championship Game that could have Playoff implications.
If the Alabama team can remember this feeling as Saban hopes, things could fall their way, and they could force their way back into the Playoff picture.
Stats courtesy of Sports Reference
RELATED: Lane Kiffin Calls Out Nick Saban for 'Accidentally' Publicizing That His' Backup Quarterback' Made $1 Million to Help Recruiting