Nick Saban Streamlined His Diet to Focus on Daily Oatmeal Creme Pies and Turkey Salads
Nick Saban has turned the Alabama Crimson Tide into the best college football program since becoming the team's head coach in 2007. Under his leadership, the team has competed in eight championship games and won six.
You must exhibit discipline to see the kind of success Saban has enjoyed over the years. And part of the discipline that allows him to focus on his coaching might surprise you.
Nick Saban has a consistent diet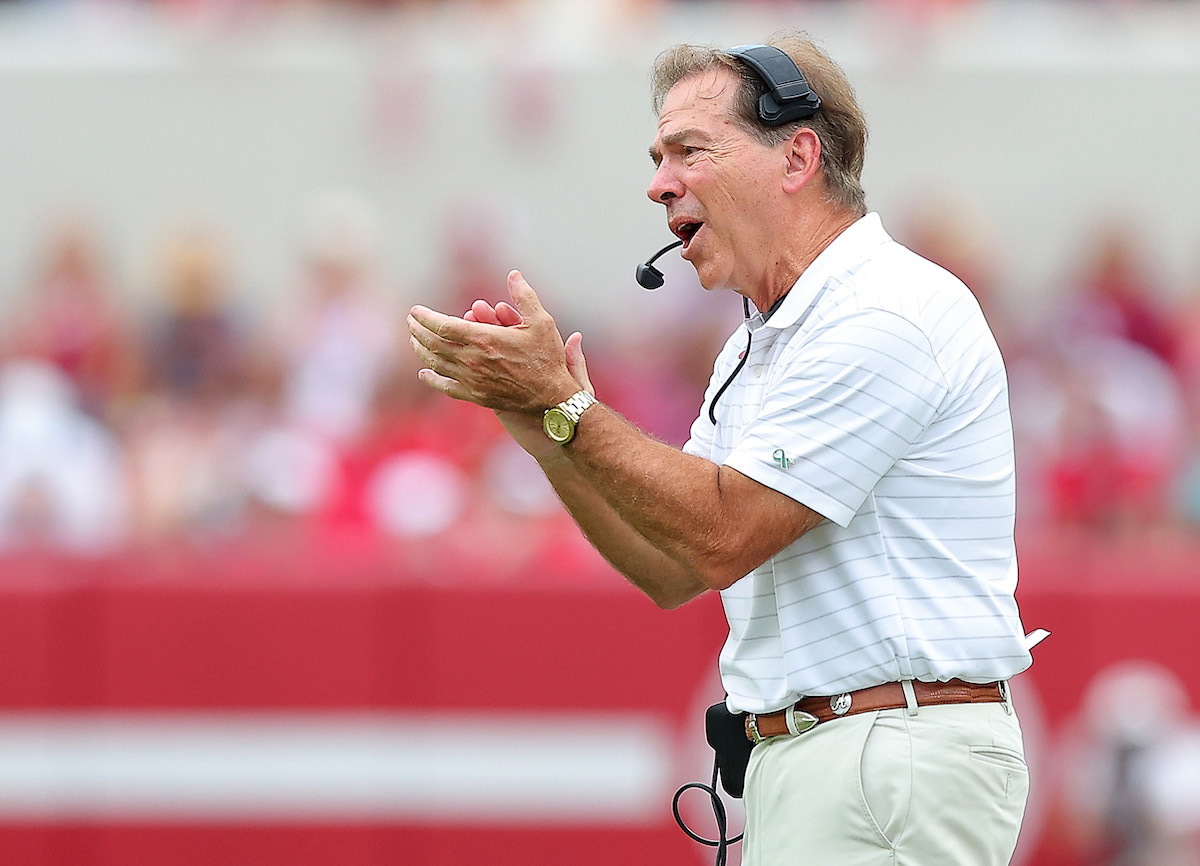 Because he's so successful, it's not uncommon for media outlets to profile Saban to share his lessons. When Kevin A. Thompson profiled the prolific coach, the site wrote about making routine decisions habitual so that you don't expend mental energy thinking about day-to-day options.
One such example is what the coach consumes.
For breakfast, he "famously eats two Oatmeal Creme Pies" every morning. Made by Little Debbie, the pies are two soft oatmeal cookies layered with cream. According to the product's nutrition label, they're 170 calories each, with 26 grams of carbohydrates and 13 grams of sugar.
Multiply that by two for Saban's daily intake, and it's the stuff of keto dieters' nightmares.
But for lunch, his go-to is a salad. Fortune says it contains "iceberg lettuce and cherry tomatoes topped with turkey slices and fat-free honey Dijon dressing."
By streamlining his diet, Saban doesn't spend much time contemplating what to eat and can use that energy and time on more important decisions during the day. 
Saban obsesses over every part of preparation
Meals aren't the only part of his life that Saban likes to streamline. Everything the coach does is part of a process he believes leads him to his ultimate goal of improvement and reaching the ideal of "right is never wrong," GQ reports.
For instance, Saban "obsesses" over every part of his team's and coaching staff's preparation. He has a strict dress code for what players are allowed to wear at practice. Saban bans hats, earrings, and tank tops from the football facility. 
He even controls how his players hold their upper bodies when running sprints. When you're out of breath, the body's natural reaction is to bend over, but Saban doesn't allow that on his team.
That process tracks with Saban's overall lifestyle and belief system — not wasting your limited capacity of mental energy on mundane decisions that don't help you achieve your goals.
Other leadership lessons to learn from Nick Saban
You can learn many leadership lessons from Saban, including these two:
Focus on the process over the outcome
You would think someone with the type of success Saban has enjoyed at Alabama would be concerned with outcomes, but he's not. Instead, he focuses on the process. That "may be the defining factor between a successful leader and an unsuccessful one," Kevin A. Thompson reported.
Saban explains it thus: Outcomes are one-time events, while processes are repeated and less affected by luck. "We can luck into a good outcome or have an unfortunate turn of events which prevents a good outcome. But processes can't be faked."
Everything matters
People tend to overlook the small things and focus on the bigger picture in their lives. Saban doesn't do that, and neither should others. Many observers consider Saban a micro-manager, which many people see as a negative. But the coach views it as one of his strengths.
In his mind, everything matters, which means nothing is too minor or inconsequential for it to be of concern to him. Saban's opinion, which other leaders should follow, is "everything speaks to the culture of the organization, influences the people involved, and plays a role in determining success and failure."
RELATED: Nick Saban Is Worth Way More Than His $100 Million in Career Earnings, According to Paul Finebaum