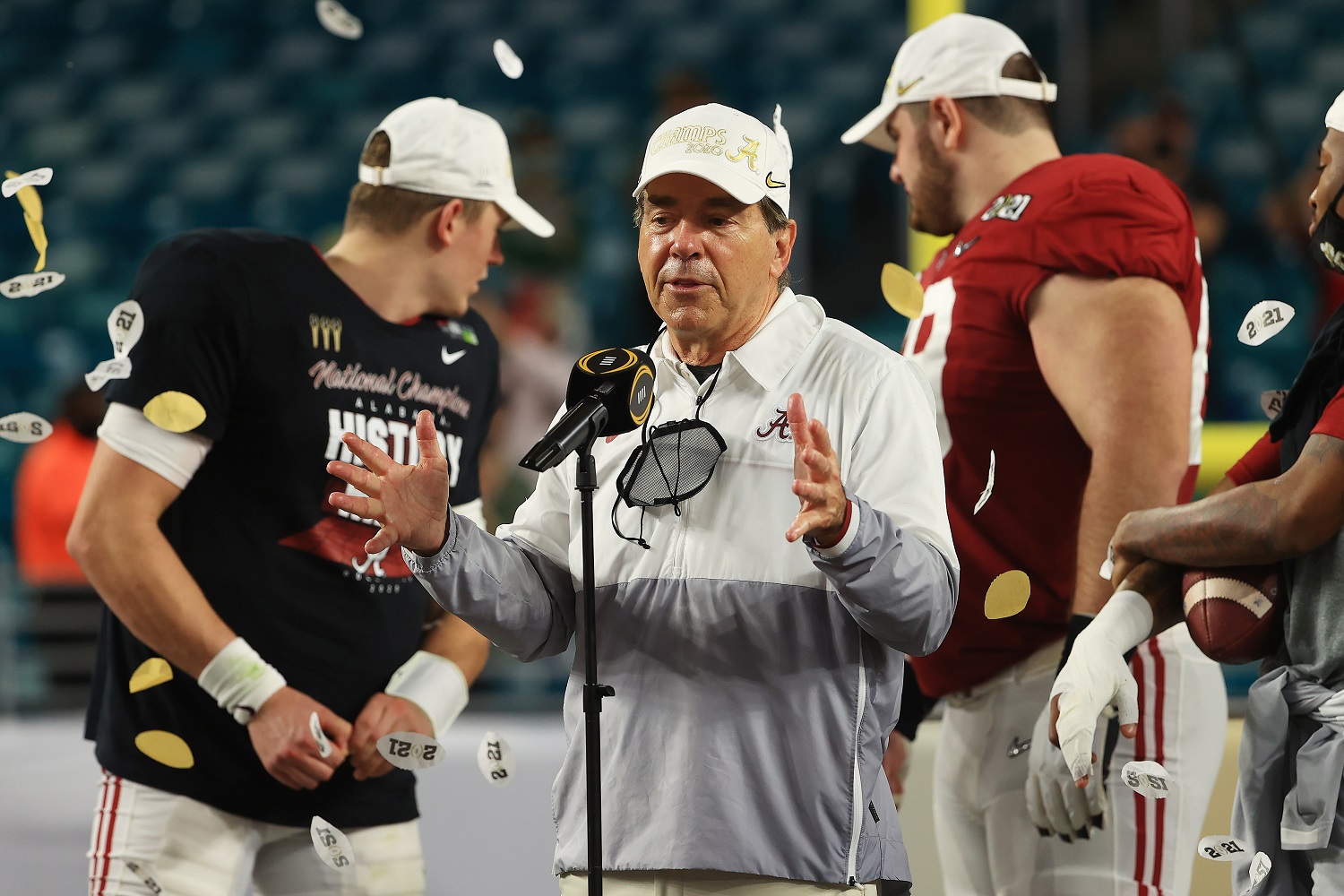 Hanging on to Nick Saban Will Cost Alabama in a Surprising New Way
Alabama coach Nick Saban's contract is about to cost the Crimson Tide a little bit more. However, Saban won't see a penny of it.
Hiring a top college football coach is an expensive proposition because the Alabama Crimson Tide's Nick Saban, and peers Ed Orgeron and Dabo Swinney, raised the salary ceiling to startling heights. Firing coaches is costly, too, as Auburn, South Carolina, and Texas recently realized.
And now comes the latest wrinkle: Schools are about to discover that hanging on to their coaches will mean digging deeper even though those coaches won't be the ones benefiting.
Yep, the federal government may be late to the game, but it has finally figured out how to make money off college sports.
Nick Saban and Dabo Swinney make a lot of money
Clemson offensive coordinator Tony Elliott received a pay raise last month, lifting his annual salary to $2 million. USA Today reported that the upgrade makes him the highest-paid assistant in college football. That honor may not last long; details of the deal that Bill O'Brien negotiated to join the Alabama Crimson Tide as their offensive in January have not yet been disclosed, but predecessor Steve Sarkisian (now the head coach at Texas) was making $2.5 million.
High-priced assistant coaches are the new frontier in the battle between FBS superpowers to see who can draw up plays to score the most touchdowns or devise the schemes to stop them en route to national championships.
That's not to say that the financial competition one level above the coordinators has stopped.
Data compiled by USA Today last fall ranked Alabama's Nick Saban ($9.3 million), LSU's Ed Orgeron ($8,918,500), Clemson's Dabo Swinney ($8,319,775), and Michigan's Jim Harbaugh ($8,036,179) as the top earners in the pandemic-affected season.
Hanging on to Nick Saban will cost Alabama dearly
Aside from salary and a potential buyout should the school fire its coach other than "for cause," college athletic departments have a new expense to consider. Much of the nation has focused on COVID-19 stimulus relief negotiations and payments since last spring, but a different sort of government measure quietly kicked into effect as well.
The U.S. Department of Treasury issued final regulations in January 2021 pertaining to a class of nonprofits that includes the athletic departments at most universities. Under Section 4960 of the federal tax code, Sportico.com reports, coaches and other executives are subject to a 21% excise tax on the employer for salary and other compensation that crosses the $1 million threshold annually.
Had the tax been in effect last year, Alabama potentially would have had to pony up nearly $1.75 million on head football coach Nick Saban's contract alone.
The excise tax arrived via the Tax Cuts and Jobs Act of 2017, passed early in Donald Trump's presidency. It applies to the nonprofit's five highest-compensated employees, which frequently includes the head football and/or basketball coaches at big schools.
Universities, their athletic departments, and boosters organizations have been shielded for years by nonprofit status at the same time that lucrative television contracts and packed football stadiums help generate more than $100 million annually for the elite programs.
Much of that income was untouchable before Section 4960, and schools have eagerly plowed the cash into paying coaches who can keep the turnstiles spinning. An ESPN survey in 2020 found that football and men's basketball coaches at public universities were the highest-paid state employee in 40 of the 50 states.
The real pain could come from firing a coach
Alabama administrators would have minimal concerns about adding a $1.75 million line to the expense ledger to cover the annual cost of Nick Saban's contract. He has already won seven national championships (six with the Crimson Tide), and his football program generates enormous revenue.
However, schools that choose poorly when doing hiring that turns into firing will be aghast at some of their tax bills, especially if buyouts mandated in the contracts require lump-sum payments or distributions over a short period of time.
Just since the end of the 2020 college football season, Auburn has had to commit $21.5 million to make Gus Malzhan go away, South Carolina was hit with a $15.5 million buyout of Will Muschamp, and Texas spent $15 million closing the books on Tom Herman.
Even assuming the combined $52 million was spread over five years, there would be $37 million still subject to the new excise tax. At 21%, that works out to another $7.77 million spent on fired coaches.
Like Sportscasting on Facebook. Follow us on Twitter @sportscasting19.