Nick Saban Is Worth Way More Than His $100 Million in Career Earnings, According to Paul Finebaum
Nick Saban is the preeminent coach in college football at the moment. After years of success at every stop (Alabama, LSU, and Michigan State), he's the best leader of a college football program today. His unimpressive tenure with the Miami Dolphins notwithstanding, he has an unblemished record of achievement. 
Saban recently re-upped with Alabama, and the numbers are big. That said, one commentator with plenty of SEC expertise thinks it's a steal of a deal. Here's why Paul Finebaum thinks Saban is worth well more than the $100 million he's earned over the course of his career. 
Nick Saban's new contract is impressive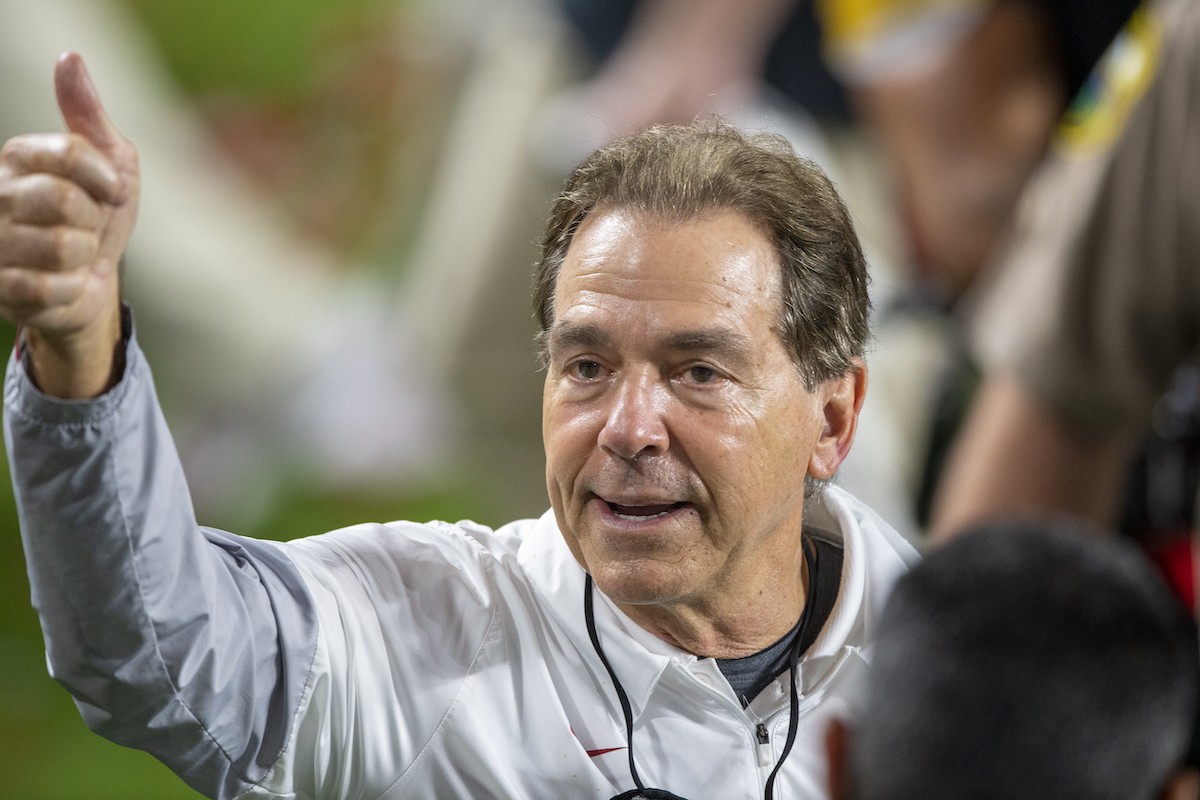 Saban's such a legend at Alabama, he's convinced other head coaches to come work under him. It should come as no surprise that he commands quite a hefty sum for his services. According to ESPN, Alabama just rewarded him handsomely yet again. They extended Saban through the 2028 season. After it's all added up, the deal's annual average value will surpass $10 million. He's earned nearly $100 million during his tenure as a coach. 
Ever the recruiter, Saban released a statement following the deal's announcement and placed the focus squarely on what he could continue to do for Alabama, stating, "This agreement gives us the chance to continue to impact the lives of the young men and their families who choose to play football and get an education at Alabama." 
This means Alabama fans can expect another seven years of national title contention. It's hard to imagine Saban experiencing a significant dropoff during that time, even as he gets up there in years. Of course, one college football expert still thinks the Tide are getting him at a discount. 
Why Paul Finebaum thinks Nick Saban is worth more than $100 million
According to The Spun, Finebaum said he doesn't just think Saban deserves his high earning totals, he believes the man deserves much more: 
"Not only is he the greatest coach of all-time, but he's still the greatest coach today. He's making eight or nine million dollars a year. If he was on Wall Street, he'd be making $150 million a year, maybe even more … He's the most underpaid, undervalued coach in the history of sports."
Finebaum compared Saban to other industries, and it makes sense. It's difficult to calculate how much Saban is worth to Alabama, but he's brought them more than $100 million. It goes beyond just wins and losses, too. He didn't just restore greatness to the Crimson Tide, he turned them into the premier college football program. Other than Clemson and possibly Ohio State — that's being charitable, though the Buckeyes are great — no one else is remotely close. 
Other underpaid college football coaches
If you use Finebaum's logic, you could also argue that Clemson's Dabo Swinney is underpaid despite his massive contract. According to MSN, he signed a $93 million deal in 2019. Last year he took a pay cut of almost $700,000. The only college coach to come close to Saban's success is Swinney's Tigers. They've been nearly as dominant in recent years. Swinney has made Clemson football elite, and it's tough to put a price on that. If he continues on this path, the school will continue to get its investment's worth. 
Another not-so-prominent coach comes to mind as being underpaid, as USA Today highlights. Coastal Carolina's Jamey Chadwell. He led the Chanticleers to an impressive 11-1 record last season, elevating the tiny school to the national conversation in many respects. He did all this on a comparatively small salary of $375,000. 
RELATED: Why Nick Saban Would Be Crazy to Ever Leave Alabama