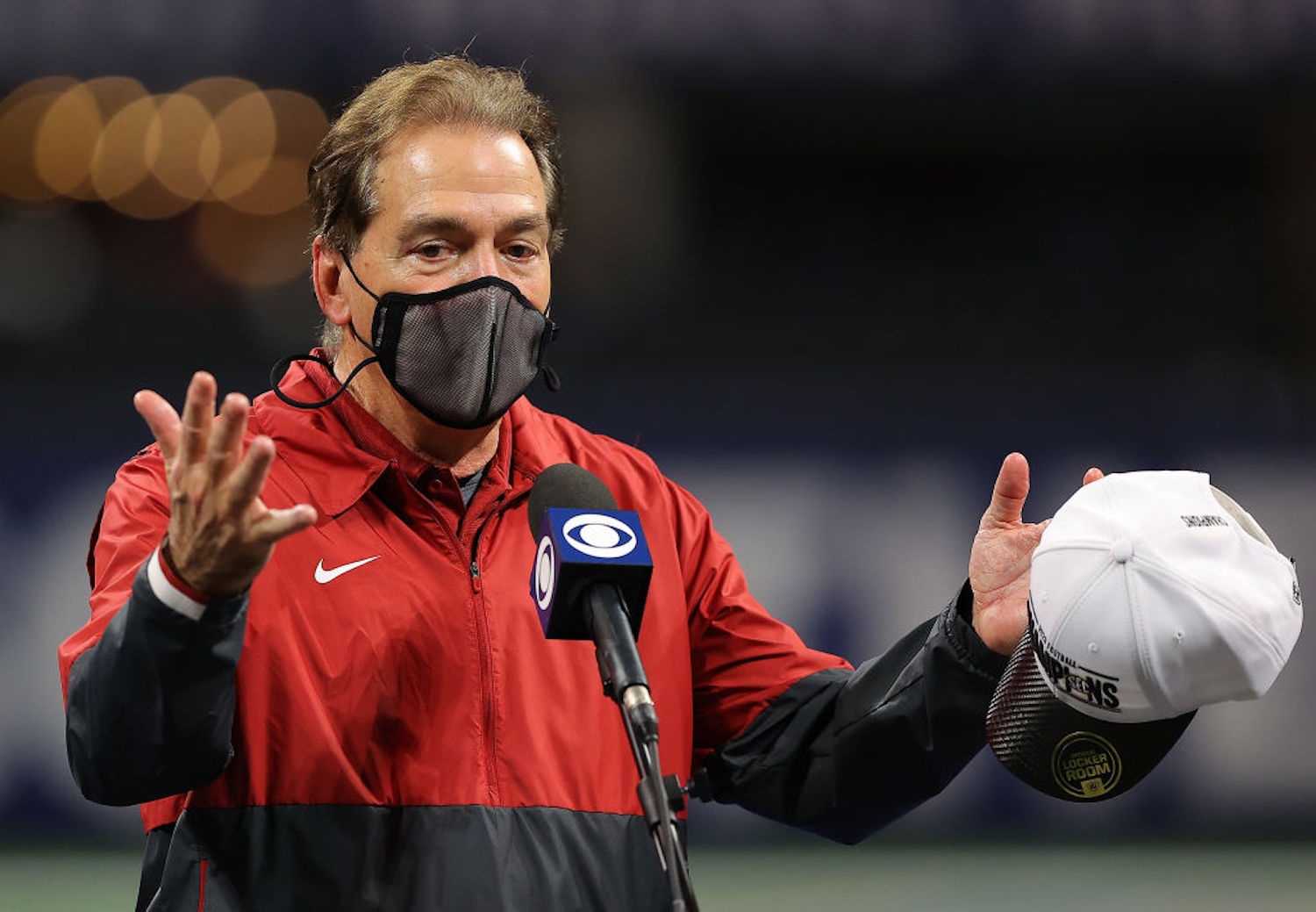 Nick Saban's Daughter Calls BS on Ohio State Trying to Push Back the National Title Due to COVID Concerns
Ohio State is pushing to move back the national championship due to COVID-19 concerns, but Nick Saban's daughter, Kristen, is calling BS.
Alabama head coach Nick Saban evidently isn't the only die-hard football fan in the family. His daughter, Kristen, is also a big supporter of the Crimson Tide, so when she noticed some sketchy behavior from Alabama's upcoming opponent for the College Football Playoff national championship game, she decided to speak out.
In a passionate, since-deleted tweet, Saban's daughter accused Ohio State of using COVID-19 as an excuse to push back the title game for other reasons. Justin Fields' ribs, perhaps?
COVID-19 threatened to postpone the national title game
On Tuesday, the college football season from hell got yet another scare. John Talty and Matt Zenitz of AL.com reported that a COVID-19 outbreak in the Ohio State program was going to threaten the national championship between the Buckeyes and Crimson Tide. The title game is scheduled to take place on Monday, Jan. 11.
The report stated Ohio State could be without an entire position group for the game due to COVID-19 protocols. The SEC, Big Ten, and College Football Playoff had discussions about postponing the game one week to Jan. 18, but it looks as if the game will take place on the originally scheduled date.
With Justin Fields still ailing from a hit he took against Clemson in the semifinal game, a certain coach's daughter wasn't too convinced Ohio State's COVID issues were legitimate.
Nick Saban's daughter calls BS on Ohio State's COVID cases
After the report of Ohio State's COVID-19 issues surfaced, Nick Saban's daughter, Kristen Saban Setas, called out the program for making an excuse to give Justin Fields more time to get healthy.
"If you're not confident to play then SAY IT. I call BS on the COVID cases. They're just worried about their QB and want him to have more time to heal. If he's hurt put in your backup. You didn't see us postpone the rest of the season to wait for (WR Jaylen) Waddle. BYE," Saban Setas tweeted Tuesday.
Ironically, postponing the national championship game would give Waddle a better chance to play in the game.
Saban Setas later deleted the tweet.
Kristen Saban Setas later apologized and deleted her account
Shortly after deleting her original tweet, Nick Saban's daughter posted a statement to Twitter apologizing for the comment.
"The tweet I posted earlier this evening was uncalled for and hurtful," she wrote. "I made a huge mistake and I apologize. In a moment of frustration, I let my anger get the best of me and acted before thinking. I sincerely regret my choice of reckless words. In no way did I intend to undermine the seriousness of the global pandemic and my heart goes out to those it has affected. The health and safety of others is first and foremost and I pray that we all can find peace soon. I am ashamed and embarrassed. I hope you can forgive me."
By the end of the night, Saban Setas had deleted her Twitter account.