Nick Wright Believes the Ravens Can Have the Best Offense in the NFL if Lamar Jackson Improves on 1 Specific Skill
Lamar Jackson and the Baltimore Ravens are entering a pivotal 2021 season.
For the most part, Jackson has guided the Ravens to an exceptional amount of success upon being drafted in 2018. They've made the playoffs the past three seasons, and Jackson cruised to an MVP award in 2019. Jackson is next in line for a massive payday following the extension that Josh Allen just received from the Buffalo Bills.
Still, that elusive Super Bowl appearance has eluded the Ravens' starting quarterback thus far. One ESPN analyst believes they're close, but Jackson needs to improve on one specific skill to vault his team's offense to the top of the league.
ESPN's Nick Wright believes the Baltimore Ravens can have the best offense in the NFL if Lamar Jackson becomes a slightly better passer
During a recent airing of "First Things First," ESPN's Nick Wright dove into the Ravens' offense and what they need to do moving forward to become the best offense in the NFL. Wright primarily focused on Jackson and how a slightly improved passing game would vault Baltimore to the top of the league:
"Lamar is incredibly effective doing what he does," said Wright. "The question for Lamar is — and I think everyone knows it — is can his passing evolve just a bit because if it does, they're the best offense in football because nobody can do what he can do on the ground and what he allows the rest of their running game to do."
Wright continued:
"If Mahomes is a 100-out-of-100, he (Jackson) does not need to be a 96 throwing the football. He needs to be like an 84. I think right now he's like a 78…he just needs to improve a little bit as long as the athleticism stays there."
An improved Lamar Jackson is scary for the rest of the NFL
Wright makes a valid point about Jackson and the Ravens' offense. Their running game is elite, but their passing game showed signs of regression in 2020 compared to 2019.
Jackson threw for 3,127 yards and 36 touchdowns in 2019 compared to 2,757 yards and 26 touchdowns in 2020. The Ravens still won 11 games with Jackson under center this past season. However, the minor step back that their offense took was noticeable. Even though they won a game in the postseason, the Ravens' inability to play while behind was ultimately exposed again.
As Wright stated, Jackson doesn't need to become Patrick Mahomes-like with his passing. Instead, he needs to slightly elevate his game to the point where Baltimore can pull off a comeback or two in the playoffs. As great as Jackson is due to his elite running skills, most Super Bowl-winning teams have a QB capable of leading second-half comebacks through the air.
The Baltimore Ravens invested into the WR position this offseason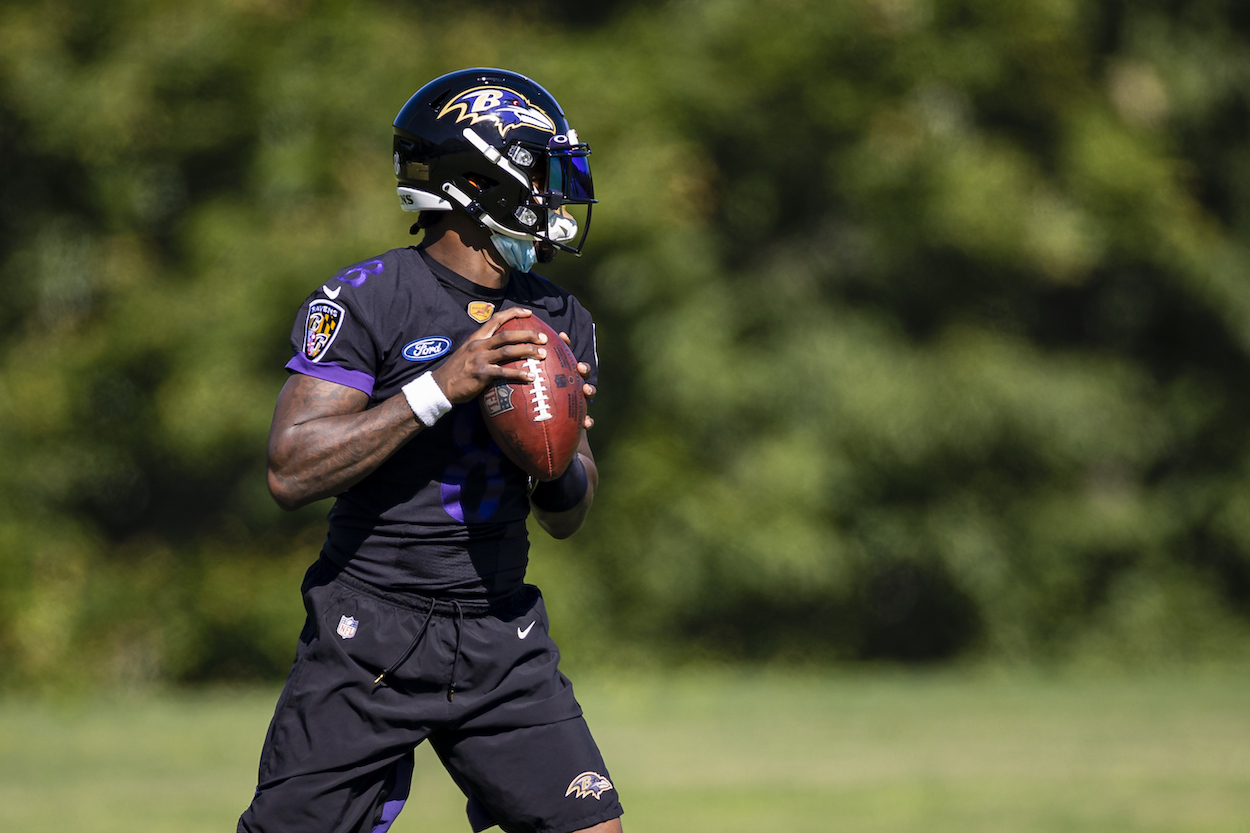 The Ravens themselves appear aware that they need to improve their passing game moving forward. This past spring, they selected WR Rashod Bateman with one of their first-round picks, essentially guaranteeing his usage as a high-volume pass-catcher in 2021.
One of the reasons Jackson has struggled throwing the football at times is the lack of a true WR1 on the Ravens' roster. Bateman should help fix that issue.
It's unknown how much time Jackson has spent working on his passing this offseason, but an improved version of himself would be major trouble for the rest of the NFL. It will be interesting to see what new plays or concepts Baltimore implements to get Jackson throwing the ball downfield on a more regular basis.
All stats courtesy of Pro Football Reference.