Nick Wright Boldly Puts Luka Doncic and the Mavericks on Finals Alert: 'This Might Be Luka's '07 LeBron Year'
Luka Doncic is proving that it's never too late to enter the MVP discussion.
The 23-year-old superstar is playing some of the most-inspired basketball fans have witnessed over his last four seasons. Not only are Luka's numbers gaudy, but the 42-26 Dallas Mavericks are in the thick of the Western Conference playoff race.
While Doncic and the Mavs are a near lock to play postseason basketball, they're hardly a lock to make it very far. Dallas is in search of its first series victory since 2011, the year Dirk Nowitzki led the franchise to its only NBA title. However, Nick Wright of Fox Sports 1 could see Luka single-handedly carry the Mavs to the Finals, similar to what a 22-year-old named LeBron James managed to do 15 years ago.
The Luka Doncic MVP argument grows by the day
This year's MVP race is shaping up to be one of the more interesting ones in recent memory. Nikola Jokic, Joel Embiid, and Giannis Antetokounmpo are all frontrunners for the award, with sleeper candidates like Ja Morant and DeMar DeRozan not far from the discussion.
But with each passing game, Doncic's case becomes more and more convincing.
Since Jan. 2, Luka's first game back following a 10-game absence, the guard is averaging 29.6 points, 10.2 rebounds, and 8.7 assists. He's also racked up 23 double-doubles and seven triple-doubles in that span, second in the NBA only to Jokic. At this rate, he could place himself in a position to win his first scoring title and MVP.
Doncic's red-hot play has coincided with Dallas' surge up the standings. The Mavericks were 17-18 heading into the new year and are now 42-26. For perspective, their .758 win percentage over the last two-and-a-half months is better than everyone in the NBA minus the league-best Phoenix Suns.
With new head coach Jason Kidd at the helm, Doncic is also improving as a defender. The 6-foot-7 star has a career-best 105.0 defensive rating for a Dallas squad that's fifth in D-rating overall.
Nick Wright could see Doncic carrying the Mavericks on a LeBron-like run to the NBA Finals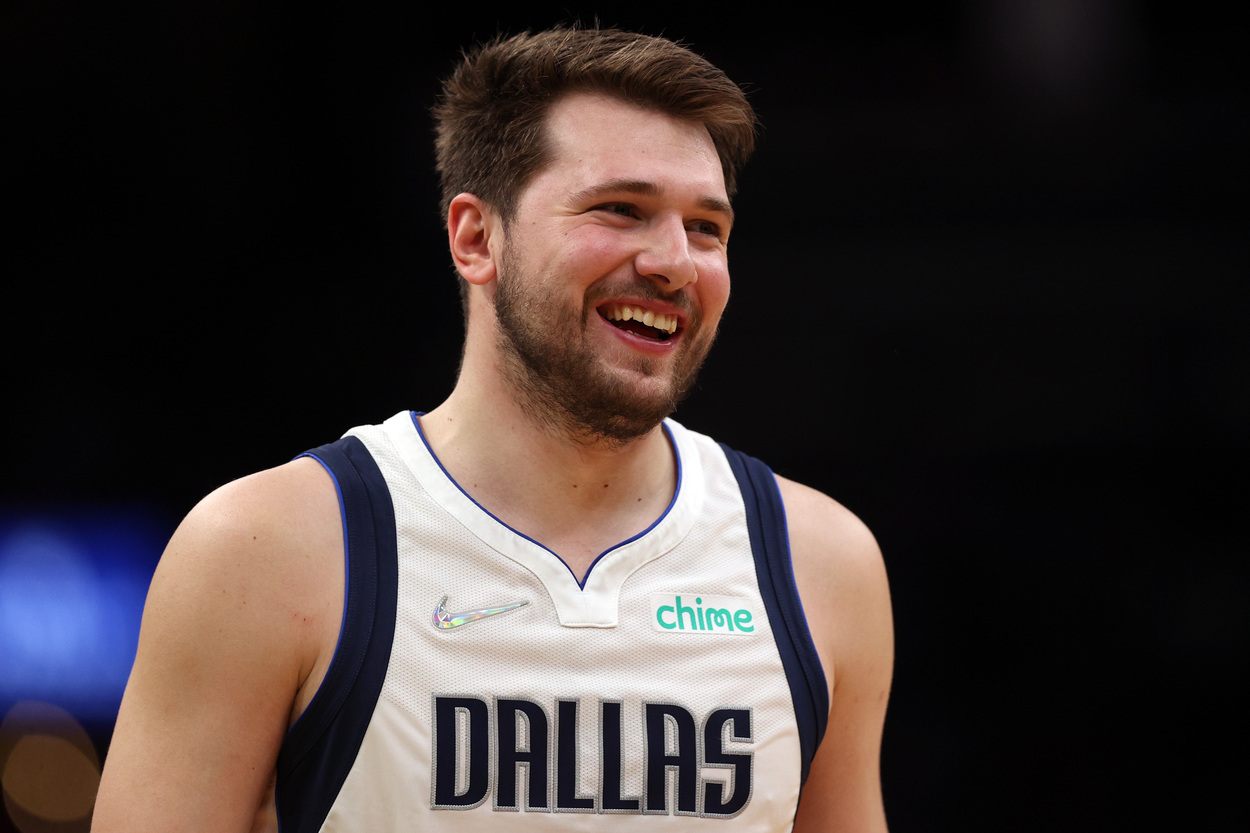 In 2006-07, a 22-year-old LeBron took a Cleveland Cavaliers team void of any postseason success and brought them to their first NBA Finals. While it was only his second postseason appearance, James averaged the following for the first three playoff series (Points/Rebounds/Assists):
1st Round vs. Washington Wizards: 27.8/8.5/7.5
2nd Round vs. New Jersey Nets: 24.7/7.3/8.5
3rd Round vs. Detroit Pistons: 25.7/9.2/8.5
In his fourth season, James and a supporting cast featuring the likes of Larry Hughes and Drew Gooden made the NBA Finals. Fifteen years later, FS1's Wright believes Doncic might be on the same path (h/t: The Colin Cowherd Podcast).
"I think this might be Luka's '07 LeBron year. Where it's way earlier than anyone thought. … We forget that Luka, who's played 13 career playoff games, is averaging 33, 9, and 8. And that was with all 13 coming against the Clippers. So every playoff game he's played in his life, Kawhi Leonard or Paul George has been guarding him for basically the entire time he's on the court. And he's [averaging] 33, 9, and 8."

Nick Wright
"I think the West is pretty wide open with the Lakers being bad [and] with the Clippers being hurt. I think we could wake up and say, 'Holy s***, the Mavs are in the NBA Finals,'" Wright added. "And it's because Luka averaged 35, 12, and 8 for two rounds."
LeBron James on Luka Doncic: 'Reminds me of the way I play'
Few players have ever begun their career with so much individual success. Through just under four seasons, Doncic already has three All-Star nods, two All-NBA recognitions, and a Rookie of the Year Award.
LeBron had a very similar start to his Hall of Fame career. The 37-year-old, now in the midst of his remarkable 19th season, sees a lot of himself in the young Maverick.
"The way he plays the game reminds me of the way I play the game," James told the Washington Post during this year's All-Star Weekend in Cleveland. "We're triple threats. We rebound, we pass, which is the number one thing on our mind. … And we'll put 40 on you too if you disrespect us."
Doncic and James already have similar playing styles. Now, all the fourth-year guard has to do is follow the King's fourth-year trajectory: Put the team on your back and get to the NBA Finals.
The way Luka and the Mavs look now, it's more than possible.
All statistics courtesy of Basketball Reference.
RELATED: Luka Doncic Targeted LeBron James and Officially Declared the League No Longer Belongs to the King