The Night John Madden's Not-So Super Take on Tom Brady Went Boom
The tributes, as one might expect, came from every corner of the football world this week upon learning of John Madden's death.
In New England, the sense of loss was particularly acute. It was 20 years ago this upcoming February that a Patriots' historic first became intertwined with an equally historic finale for Madden in his broadcasting career.
Super Bowl 36 in February 2002 was the last game in the brilliant broadcasting career of CBS and Fox legend Pat Summerall, and so, it was also the last time Summerall and Madden would call a game together after a 20-year run that began in the season that culminated with Super Bowl 16 in 1982.
That Super Bowl is famous for being the first championship in the Hall of Fame quarterback-coach collaboration of San Francisco 49ers Joe Montana and Bill Walsh.
Now, 20 years later, Madden and Summerall would bookend their partnership with an even greater duo embarking on a dynasty for the ages.
And because of that, Madden will forever be linked to Tom Brady and Bill Belichick in the memories of Patriots fans everywhere. But leading up to that February night at the Superdome, and especially during the historic final drive that produced the improbable Patriots win, those same Patriots fans viewed Madden with a jaundiced eye.
But the reason for their wariness actually produced one of the signature calls of Madden's entire broadcasting career and foretold the greatness that was to come from Brady for decades to come.
Before 2001, Patriots fans had Madden flagged as the enemy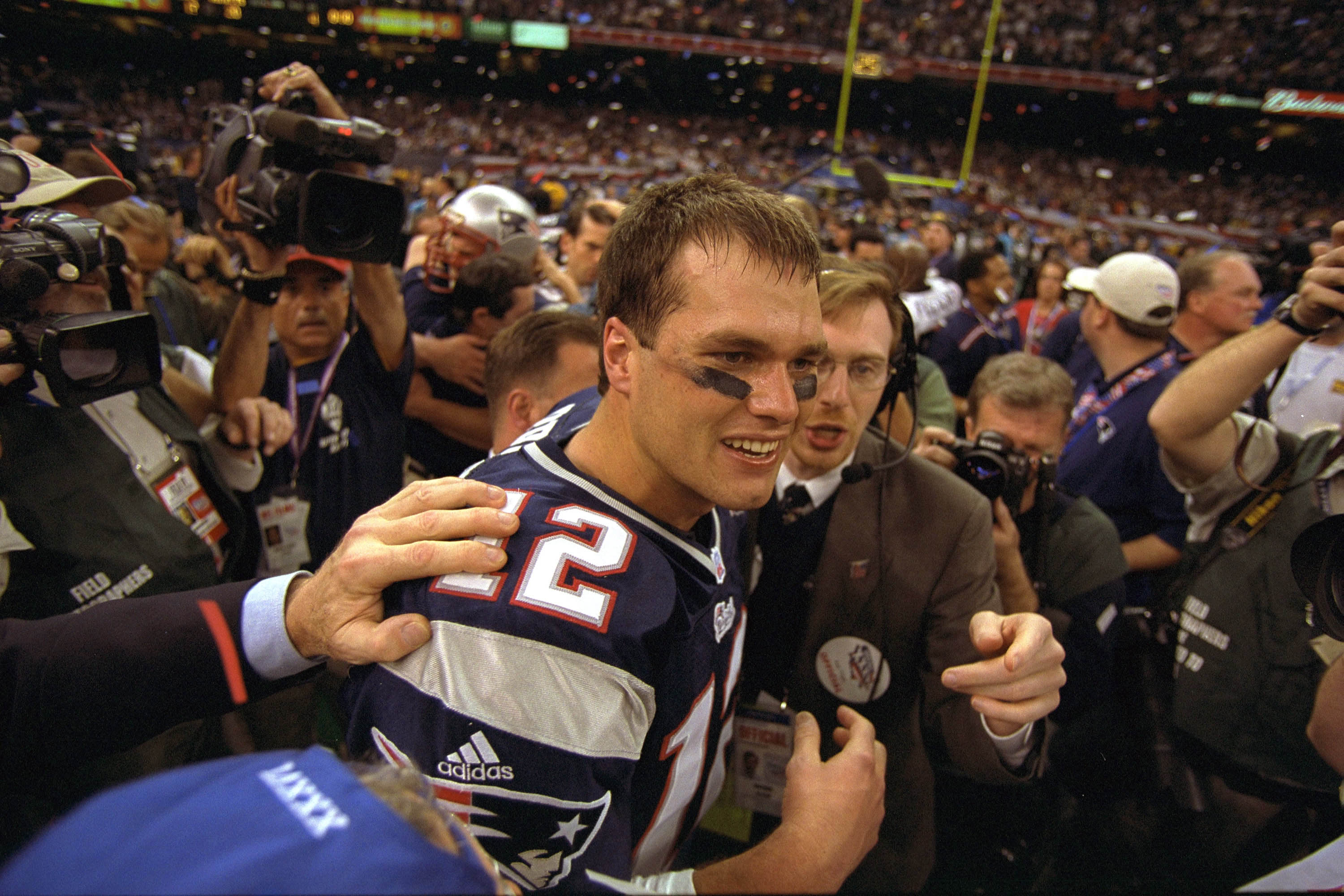 There are entire generations of NFL fans in 2021 that have no idea that for 40 years, between 1960 and the end of the 20th century, the New England Patriots were pretty much the laughingstock of the football world.
Poor ownership, terrible coaching, a lousy stadium, the Patriots had very little going for them, especially after the AFL-NFL merger in 1970. But in each decade, right at about the midpoint, the Patriots would come seemingly out of nowhere to produce a Super Bowl-caliber team. They reached the Super Bowl in 1985 and 1996, before losing both games.
But the season that, for the 25 years before Brady and Bill and Bob Kraft brought about their paradigm shift, the season that stuck in the craw of all Patriots fans was 1976.
Led by a young Steve Grogan, the Patriots stormed into the AFC playoffs with an 11-3 record and faced Madden's Raiders in Oakland in the Divisional Round. New England's signature regular-season win that year was a 48-17 pasting of the Raiders in Foxboro.
And the Patriots were on the verge of beating Oakland again for a ticket to their first-ever AFC Championship Game. That is when, with the Patriots leading 21-17 and Raiders quarterback Ken Stabler throwing an incomplete pass on 3rd-and-18 with the clock running out, Patriots defensive lineman Ray "Sugar Bear" Hamilton was called for roughing the passer (Narrator: It wasn't roughing the passer) and with a new life, the Raiders kept driving and Stabler scored on a 1-yard run to end the Patriots' dream season.
The grudge Patriots fans held against Madden's Raiders only deepened two years later when wide receiver Darryl Stingley was paralyzed after a hit from the Raiders' Jack Tatum in a preseason game in Oakland. And though behind the scenes Madden was Stingley's guardian angel for years, the bad feelings never went away.
In one drive, Madden learned an essential truth: Never count Brady out
Madden retired as Raiders head coach after that 1978 season that began with Stingley's injury, and he began his broadcasting career with CBS in the fall of 1979. It was in his 10th game as a broadcaster, in Week 2 of the 1980 season, that Madden called a game featuring the Patriots, against the Atlanta Falcons.
Amazingly, Madden would only call one more Patriots game over the course of the next 21 years: Super Bowl 31 between the Bill Parcells' Patriots and Brett Favre's Green Bay Packers on Fox in January 1997. Perhaps not amazingly, considering Madden worked for networks that covered the NFC, and the Patriots gave almost no reason during Madden's first 21 years to be showcased in a home game against an NFC team, which might have drawn a Madden-Summerall assignment.
But Super Bowl 36 between the Patriots and St. Louis Rams fit the bill, two weeks after the Patriots exorcised all their Raiders-based demons in the "Tuck Rule" game – the last game ever at old Foxboro Stadium – with a call even more upsetting to Raiders fans than Ben Dreith's demon flag had been to Patriots fans 25 years earlier.
And with 1:21 left in the game, Super Bowl 36 had become a classic. The Rams, the Greatest Show on Turf, had rallied from 14-points down to tie the score at 17-17. And now the Patriots had the ball on their own 17-yard-line, with Brady, in his first season as a starter and his underdog Patriots needing to march about 50 yards with no timeouts to set up an Adam Vinatieri field goal.
John Madden had an opinion about such an undertaking. It wasn't a popular one in New England.
"With no timeouts, I think that the Patriots — with this field position, you have to just run the clock out," Madden told Summerall and a worldwide audience. "You have to play for overtime now. I don't think you want to force anything here. You don't want to do anything stupid because you have no timeouts and you're backed up."
But the Patriots were going for it. And on first down, Brady completed a short pass to running back J.R. Redmond. Madden was unmoved.
"I don't agree with what the Patriots are doing right here," Madden repeated. "I would play for overtime. If I had good field position, I wouldn't, but in this field position, I would play for overtime."
As the drive evolved, so did Madden's thinking, and legend met legend
Tom Brady and Bill Belichick were not playing for overtime, whether John Madden liked it or not. And with each successive play, as Brady coolly marched his team up the field, Madden started liking it more and more.
After the first pass to Redmond, Brady hit him again for eight yards and a first down. And now Madden began to understand what was happening before him, and what young Tom Brady was capable of.
"This guy is really cool though," Madden said. "I mean, I've been impressed watching Tom Brady on film and you know television games and so on, but the way he has played in this game today, he has been very, very impressive with his calmness."
And then it happened. On first down from their own 30, Brady hit Redmond for a third straight time, this for 11 yards and out of bounds at their own 41 with :41 seconds left. On this play, the timber of Madden's voice rose dramatically. He grew louder, as he did when the game excited him. He saw the method of Brady's madness.
"And now I kind of like what the Patriots are doing," Madden gushed. "The Rams are getting a little too loose I think with their defense when they had him backed up, you think they would've pressured him a little more."
Finally, the play that made the Patriots champions. On 2nd-and-10, Brady hit always-reliable Troy Brown on a crossing route for 23 yards and out of bounds at the Rams' 36 with 21 seconds left. Madden was fully converted.
"This, this is amazing," Madden said. "This is something, and I'll admit that as a coach and as an analyst, I don't think they shouldn't have done. But they had the guts, they have a young quarterback and they did it. They were backed up. They were inside their own 20. They had no timeouts left. And they are calling these plays, and not only calling these plays, but making these plays. At some point when you're in the Super Bowl, you have to let it all hang out, and I'll say this, [offensive coordinator] Charlie Weis and this Patriots team, they are letting it all hang out."
Brady completed one final pass to the 31-yard line with seven seconds left and Vinatieri came out and won the game with a 47-yard field goal. As Vinatieri got himself lined up, Madden tossed a final bouquet down to the legend in the making.
"I'll tell you, what Tom Brady just did gives me goosebumps."
When Madden died on Tuesday night, pillars of the NFL were quick to offer their heartfelt condolences. Belichick held a special press conference just to address his thoughts on a man who had always been his friend, going back to Belichick's days with the New York Giants, when Madden and Summerall routinely did their games.
Owner Bob Kraft tweeted out his own testimonial.
"I can't think of a more iconic football personality over the past half-century than John Madden," Kraft wrote. "For generations of fans, he was known as a Hall of Fame football coach, a broadcaster who had a unique way of describing the game and as a namesake for one of the most popular video games ever.
"For Patriots fans, I think many of us will remember him best for his call of our first Super Bowl championship 20 years ago. His presence will be missed, but he will never be forgotten. My sincerest sympathies to the Madden family and all who are mourning his loss."
But the last word goes to Brady, who made a believer of John Madden, and then, us all.
"John called our first Super Bowl," Brady wrote on his Instagram page. "He was always so good to me. RIP to a legend of our game. My condolences and love to the Madden family."