Niki Lauda's Near-Death Grand Prix Crash Wasn't Even the Worst Moment of His Life
The late Niki Lauda is one of the biggest names in Formula One history. Not only was the flamboyant personality keen on trash-talking and making enemies, but he was one of the best drivers to ever get behind the wheel. A fiery crash at the 1976 Grand Prix is, in many ways, the defining moment of his career. However, Lauda's off-track tragedies were far more horrible.
Niki Lauda's legendary Formula 1 career
As a young child growing up in Vienna, Austria, Lauda got bit by the driving bug early, details Racing Reference. He spent his younger years racing as an amateur in Europe before getting on the big stage with Formula One. There, he learned the ropes. Lauda raced one time in 1971 and became a full-time driver the next year.
In 1974, Lauda won two races and started proving himself a worthy racer. In 1975 and 1976, Lauda won 10 races, made it to the podium 17 times, and reached the pole 12 more times. Furthermore, his crash at the 1976 Grand Prix made him seem indestructible. Lauda continued performing well afterward.
While he never regained his mid-'70s dominance, Lauda showed he still had it in 1984, winning five races. Then, after winning one race in 1985, he retired the next year with 25 wins on his career, 54 podium finishes, and 24 appearances in pole position. He died in 2019 as one of the best drivers ever. To many, his 1976 crash is still his defining moment.
Lauda's 1976 Grand Prix crash
Lauda was a world champion entering the 1976 German Grand Prix, reports the Belfast Telegraph. However, the dangerous course at Nurburgring proved to be too much. Already uneasy heading into the race, Lauda's life flashed before his eyes when he hit a barrier, bounced off, and crashed into British racer Guy Edwards. Lauda got the brunt of the trauma, and his car erupted into flames. 
Edwards and several other races got out of their cars and helped pull Lauda out of the burning vehicle. He was immediately sent to the hospital with burn wounds and lung damage that would plague him for the rest of his life. While this would be the low point for most people, however, the late racing legend had more tragedies to come. 
Niki Lauda faces another crash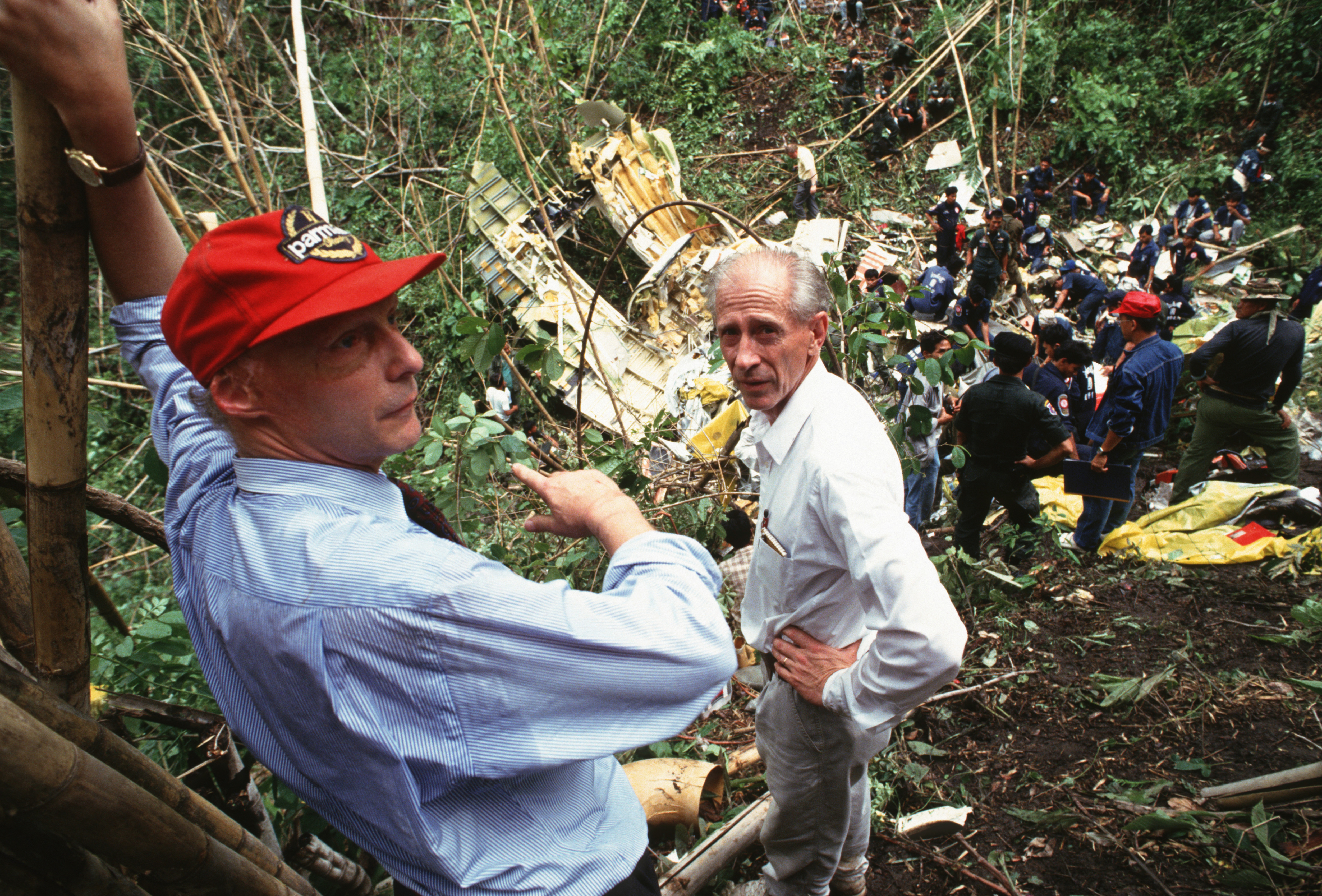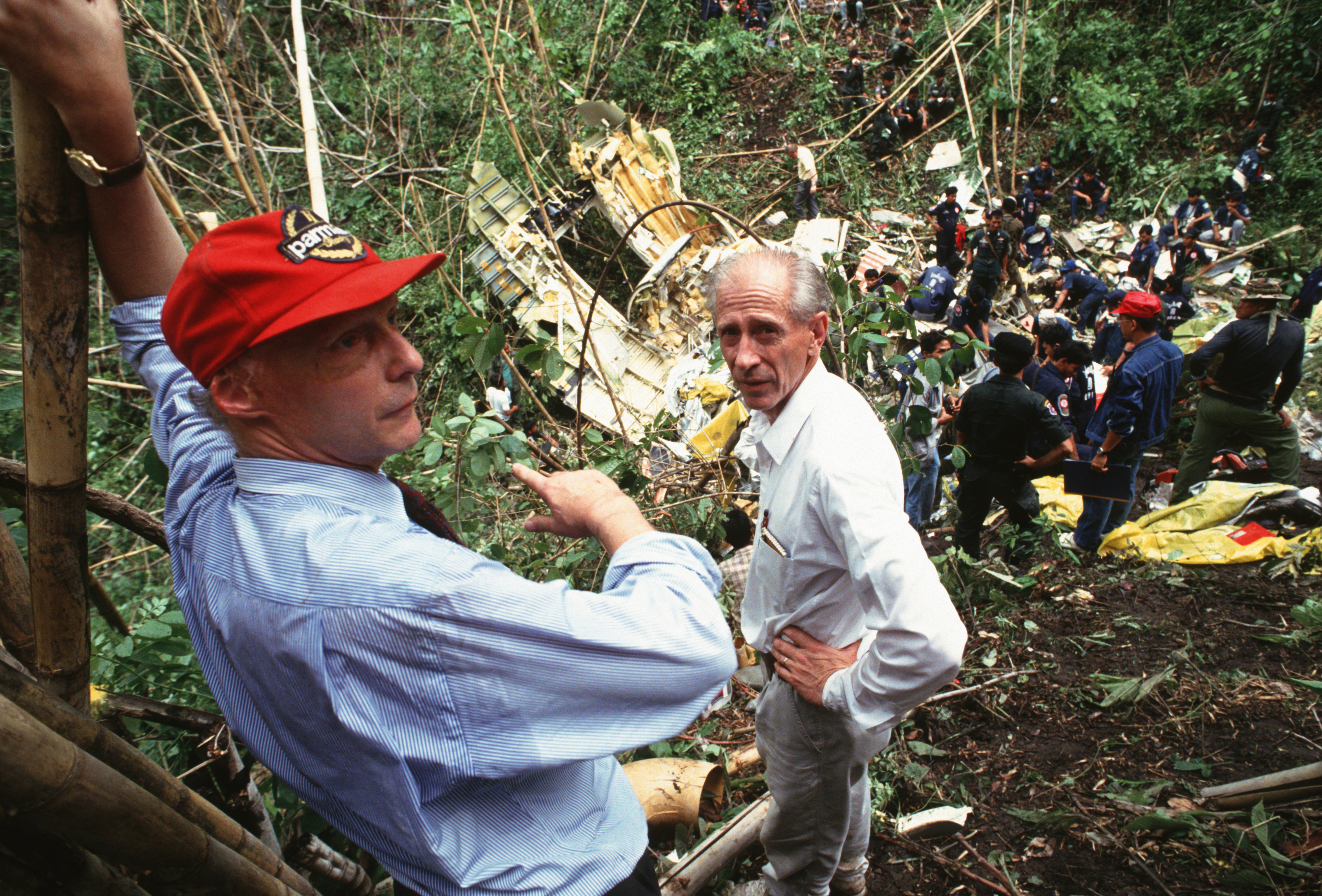 It's no surprise that Niki Lauda's life was the inspiration for a movie. It has action, intrigue, and a charismatic protagonist. However, the fiery crash and championships are only part of the story. The fiberglass he inhaled during his crash left him with debilitating lung problems. Lauda received multiple lung and kidney transplants during the rest of his life. 
The low point, however, did not come on the race track or during his recovery. In the early '80s, Lauda launched Lauda Air, an airline he helped promote. The retired driver was passionate about the airline, even appearing on flights to interact with fans.
In 1991, however, a Lauda Airlines plane crashed in Thailand, killing all 223 people aboard. The plane, made by Boeing, was believed to be at fault. This ate at Lauda for the rest of his life. He spoke about it with the Observer newspaper in 2006:
"People always think that the worst time of my life must have been after the German Grand Prix crash … But it wasn't. When you run an airline and more than 200 people want to go from A to B and they don't arrive — that's a different responsibility."
Lauda's life was filled with triumphs, but it came at a high cost. He never got over the plane crash that took so many lives, always feeling responsible. It goes to show that athletes, for all their glory, are not always defined by their achievements at their craft. Sometimes, there are darker stories that they have to live with for the rest of their lives.