Nikita Mazepin is Permitted, but will Haas Invite Russia's Lone Formula 1 Driver to Compete in 2022?
To continue his Formula 1 career, Nikita Mazepin must turn his back on his country and family.
The circuit's lone Russian driver appears willing to do so and has permission to return for a second full season with Haas.
If the Kannapolis, North Carolina-based organization wants him back – that is.
Nikita Mazepin earns FIA's blessing to race in 2022 but had to strip car 
Acting to condemn Russia's recent military invasion of Ukraine, FIA officials met on March 1. According to the Express, the officials levied sanctions on all levels of Russian and Belarusian drivers and events "until further notice."
In a prepared statement, the FIA said: "Russian/Belarusian drivers, individual competitors, and officials to participate in international/zone competitions only in their neutral capacity and under the 'FIA flag', subject to specific commitment and adherence to the FIA's principles of peace and political neutrality." 
In short, the 22-year-old Mazepin, who feared politics could jeopardize his F1 career, escaped such a fate – for now.
As the son of a billionaire Russian oligarch who maintains a close relationship with Russia's President Vladimir Putin, Mazepin potentially could have been a political pawn. 
The FIA resisted the temptation.
In retaliation for the sponsor's ties to Putin, however, Haas separated itself from Mazepin's family company, Uralkali. 
"We informed them about what we did and why we did it," Haas principal Guenther Steiner said. "For us, that was the best thing to do with the current situation in Ukraine." 
Mazepin is attempting to retain offseason focus during international and personal turmoil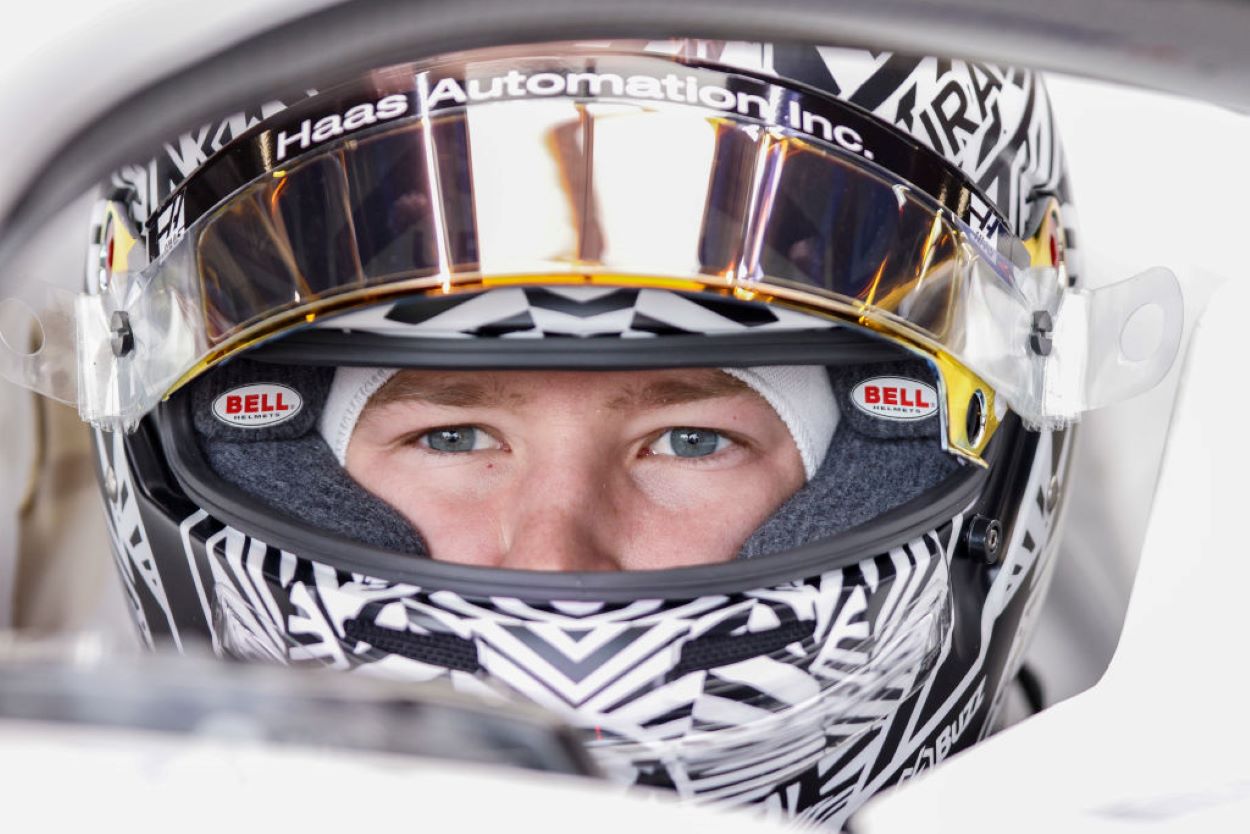 When Russian military units invaded Ukraine last week, Mazepin was ushered away from the media following an offseason F1 test session.
On social media, he posted: "To my fans and followers – it's a difficult time, and I am not in control over a lot of what is being said and done. I'm choosing to focus on what I CAN control by working hard and doing my best for my Haas. My deepest thanks for your understanding and support."
At the test session in Barcelona on Feb. 24, the team scrapped off the Mazepin family's brand from the racecar.
Haas principal Guenther Steiner said Haas is financially stable despite the sponsor setback and will field a car for the season-opening Bahrain Grand Prix on March 20.
"We have other resources …," Steiner said. "We took off some stickers; that's what we did here for these tests. Then this week the talks will go on, but at the moment for sure we will not put on the car our main sponsor in Bahrain."
Report: Haas team officials did not comment on FIA's ruling 
Now permitted to drive on the F1 circuit this season under a neutral flag, Mazepin needs public confirmation that he will be invited to return. The Express reported Haas did not comment on the FIA's ruling on March 1.  
Could Mazepin still lose his seat?
Here are some of the FIA's "until further notice" sanctions against Russia and Belarus:
No international/zone competition will be staged in Russia and Belarus 
No flag/symbol or anthem of Russia or Belarus will be used at competitions  
No Russian/Belarusian national teams can participate at competitions
Like Sportscasting on Facebook. Follow us on Twitter @sportscasting19.
RELATED: 'Maze-spin' Prank Spins Out of Control for Haas Rookie Nikita Mazepin, Develops into F1 Drinking Game