Nikola Jokic Is Finally Forcing Everyone to Recognize His Historic Start to the 2021-22 NBA Season
Perhaps the most entertaining occurrence to hit an NBA floor so far in the 2021-22 season came when the Denver Nuggets hosted the Miami Heat on Nov. 8. LA forward Markieff Morris decided he'd hip check reigning MVP Nikola Jokic on a half-court heave, something Jokic didn't appreciate.
Morris turned his back, and the Denver center unleashed a vicious forearm shiver, sending the Heat forward flying to the ground and nearly igniting an all-out brawl.
Jokic — who has been suspended for one game — is squarely in the NBA news cycle now, but he should have been all along as the Joker is off to an unprecedented start to the season.
Nikola Jokic has single-handedly kept the Nuggets afloat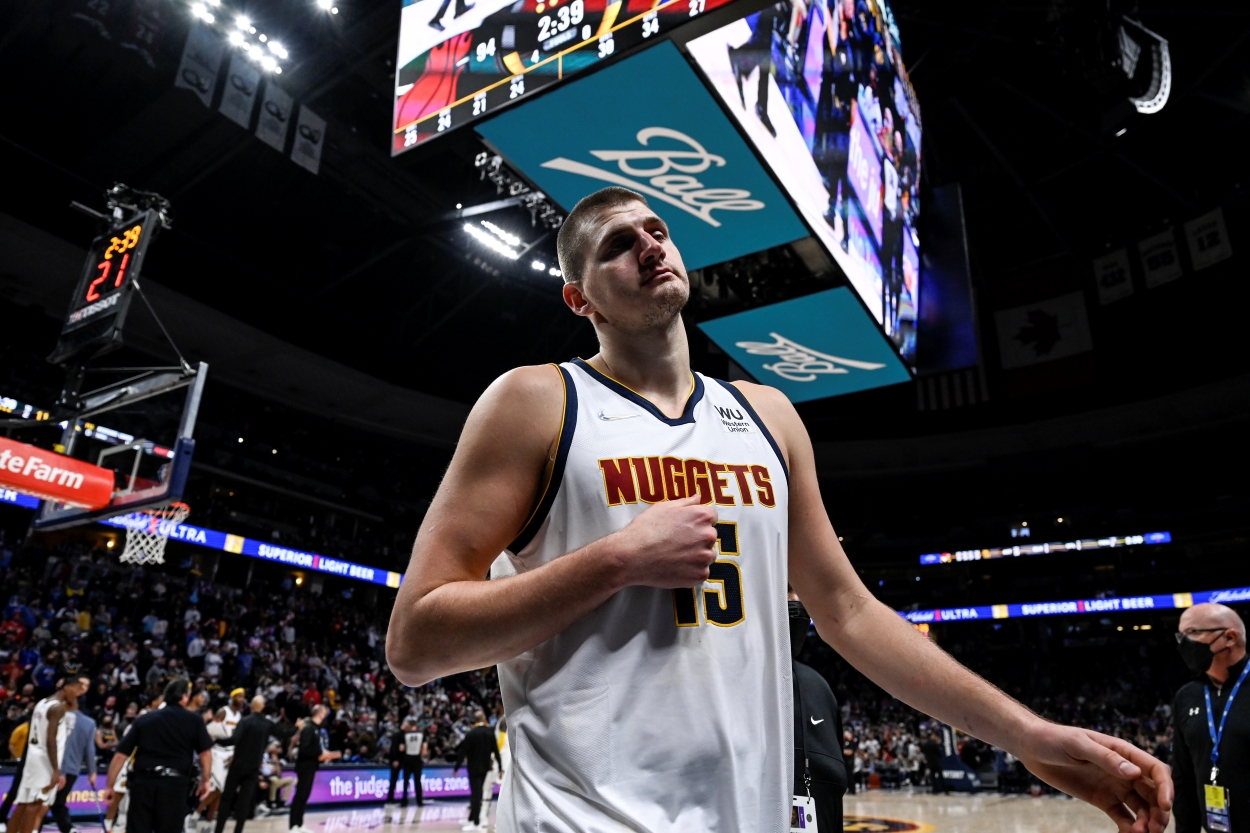 Denver is without lead guard Jamal Murray, who tore his ACL in April. At this point, there's no timetable for Murray's return.
In his stead, Jokic is leading Denver in points, field-goal percentage, 3-point percentage (minus Zeke Nnaji, who has barely played more than 10 total minutes this year), and assists.
The 26-year-old is also the Nuggets leader in free-throw attempts, rebounds, assists, and steals and is tied with Aaron Gordon for the team lead in blocks per game.
Denver head coach Michael Malone has been rolling with a fairly tight rotation so far this year. Only five Nuggets have played more than 265 minutes despite the team being healthier than a number of other NBA squads, even with Murray's absence.
Jokic is second on the team in minutes behind Will Barton but has a significantly higher usage rate. The Denver offense is clearly running through The Cookie Monster — his usage rate of 29.4 is nine points ahead of Barton and more than 10 points ahead of Michael Porter Jr and Gordon.
It's also good for 24th in the entire NBA, ahead of any member of the Lakers and ahead of franchise-carrying superstars like Damian Lillard and Jimmy Butler.
The Nuggets beat Miami to move to 6-4 through the first three weeks of the season. Unsurprisingly, that came behind a triple-double from Jokic — 25 points, 15 rebounds, and 10 assists.
That's the way the cookie's crumbled in Denver's six wins.
The Joker is following up his MVP campaign with a historic first few weeks
Jokic's stats don't just lie atop the Nuggets' leaderboard. They're also among the best in the entire NBA — and in some cases, are the best.
One number in particular, though, shows that The Joker is off to the best start to a season in NBA history.
Jokic's PER of 35.0, if he keeps up his pace, would pass Wilt Chamberlain (32.1 PER in the 1961-62 season) for the best all-time, according to StatMuse.
It's important to define exactly what PER is in order to fully comprehend what Jokic is accomplishing during the first few weeks of 2021-22.
PER is a stat created by John Hollinger in 2007. According to Hollinger, who at the time worked for ESPN, Player Efficiency Rating is "a rating of a player's per-minute productivity."
A player gets assigned different values for positive stats — adjusted for both pace and minutes played — like field goals, 3-pointers, assists, and rebounds.
The player is also docked for things like missed shots, turnovers, and personal fouls.
The goal is to try and summarize all of a player's statistical accomplishments with a single number. With the league average PER being 15, Jokic is more than twice as valuable as your run-of-the-mill role player.
Giannis Antetokounmpo landed at a PER of 31.9 during his 2019-20 MVP season when he averaged career highs in points (29.5), rebounds (13.6), and free-throw attempts (10.0). He shot better than 55% from the floor and 63.1% on two-point attempts that season.
Michael Jodan finished with a PER of 31.7 during the 1987-88 campaign, the first year he won NBA MVP. He was also named the Defensive Player of the Year that season, along with the Sporting News MVP, and he won the scoring title.
Still, Jokic has been better. Already with an MVP under his belt, the Serbian is off to the greatest start to a season in league history.
The Nuggets need Jokic in order to battle the top teams in the West
ACL injuries usually take a year or so to recover fully. That means Murray's return is butting right up against the start of the postseason, not accounting for any rust the 24-year-old needs to knock off.
As evidenced by his top-25 usage rate, Denver is leaning heavily on its MVP to move toward the top of the Western Conference standings.
The Nuggets have been flirting with the transition from good to great for the last three years. They made the conference finals in the bubble but lost in five games to the eventual champion Lakers. That was sandwiched between two conference semifinals appearances.
If the franchise is going to dive headfirst into the championship-contender pool this year, Jokic will have to make it happen. Any more suspensions would be detrimental to the cause, but The Joker will have to continue fighting to keep Denver moving forward.
All statistics courtesy of NBA.com.
RELATED: Nikola Jokic's Violent Cheap Shot Ignites a Feud Between His Intimidating Brothers and the Morris Twins: 'We Will Be Waiting for You'