Nikola Jokic Tasked With Playing More Historically Great Basketball Following the Latest Jamal Murray Update
Earlier this week, I staked Denver Nuggets star Nikola Jokic's claim as the early-season MVP. Aside from boasting tremendous individual numbers (26.3 pts/13.5 reb/7.5 ast), Jokic's on-off splits highlight the resounding impact he has on this Nuggets team.
Jokic is almost single-handedly helping the Nuggets claw back up the Western Conference standings. Given the latest news regarding star Nuggets guard Jamal Murray, however, Jokic will be tasked with maintaining his historically great pace.
The reigning NBA MVP could be in line to win the award again should he help the Nuggets navigate a path that's become all the more difficult.
Nikola Jokic is without co-star Jamal Murray for the foreseeable future
The Nuggets have been without point guard Jamal Murray as he recovers from a torn ACL suffered this past April, and his return is anything but imminent.
On Tuesday, Nuggets head coach Michael Malone said that Murray is "a ways away" from returning, adding it's unlikely the 24-year-old comes back within the next two months.
Although this timeline makes sense — it can take up to 12 months to recover from an ACL injury — there had previously been optimism about Murray possibly coming back sooner than expected. Instead, Nikola Jokic has to soldier on as the lone star on Denver's roster.
Murray and Jokic worked well in tandem together. Murray's ability to score off the dribble and move without the ball made lessened the burden on Jokic to serve as the playmaker for just about everyone on the roster. The two proved formidable in pick-and-roll sets.
Rookie guard Bones Hyland has impressed in the backcourt, but he's not quite as creative as Murray in manifesting space. Similarly, though Monte Morris is having an efficient season, he's not the same kind of bucket-getter as Murray.
Without its star point guard, Denver needs Jokic to string one remarkable performance after another.
The Nuggets are Jokic-dependent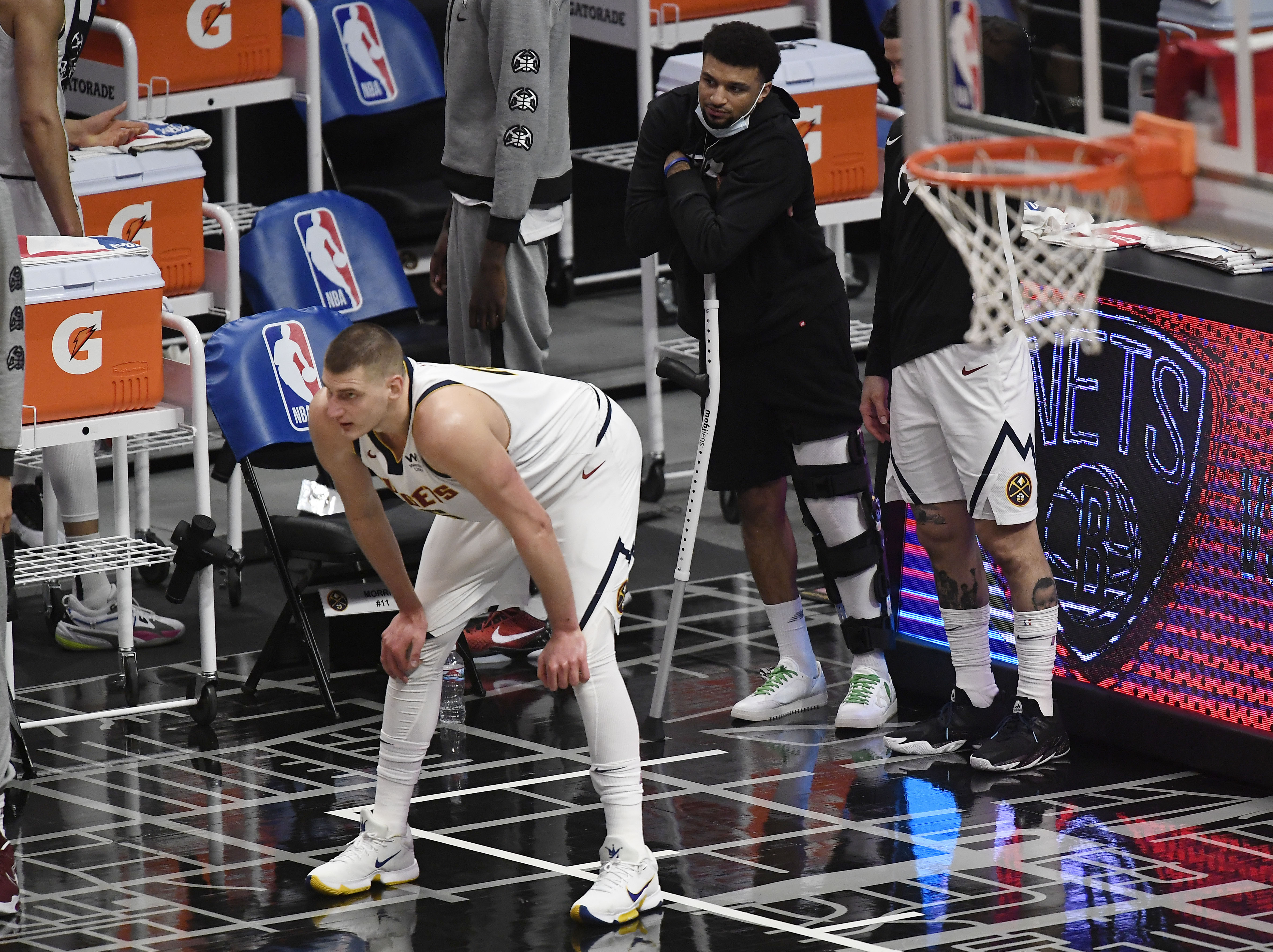 Stephen Curry is playing terrific basketball for an elite Golden State Warriors team. Kevin Durant has excelled for the Brooklyn Nets despite no Kyrie Irving and a somewhat underwhelming James Harden.
But, seriously. The Nuggets are 100% dependent on Nikola Jokic.
The Joker's on-off margin currently sits at +27.5. That is absurd. Denver scores 117.2 points per 100 possessions when he's on the floor. The Nuggets give up 118.4 points per possession when he sits. It's not even an exaggeration to say they are one of the more prolific teams in NBA history with Jokic in the game and, simultaneously, one of the most anemic squads ever when he takes a breather.
It's a lot to ask of Jokic to be so dominant on both ends on a nightly basis. Still, he's pulling Denver along.
The Nuggets are 6-4 in their last 10 games and, thanks to some good luck, find themselves as the No. 5 seed in the Western Conference. They've stayed the course despite missing Murray and Michael Porter Jr., who has been shut down after undergoing back surgery at the end of November.
However, while the Nuggets are squarely in the playoff picture, it's worth wondering whether Jokic can maintain this pace through April. He's actually averaging fewer minutes than last season (32.6, down from 34.6 last season), though Malone might have little choice but to give him more run if Denver's all-reserve lineups keep struggling.
Basically, The Joker has no choice. Aside from the possibility of winning another NBA MVP, the Nuggets' playoff hopes rest squarely on his broad shoulders, at least until Jamal Murray returns.
Can Murray come back in time to give the Nuggets a boost?
There is no timetable for Jamal Murray's return. A complete 12-month recovery puts him at around mid-April. By that time, though, Jokic and the Nuggets could be running on fumes.
Luckily, Denver might already be past its most significant hurdle. The Nuggets have one of the easiest remaining schedules in the NBA and play the majority of their remaining games at home, where they're 8-5 on the season. With The Joker leading the way, maybe Denver can tread water and maintain decent positioning until Murray is ready.
That said, a depleted Nuggets squad ultimately needs Jokic to keep putting up numbers worthy of a defending NBA MVP. It remains to be seen whether he's up for the challenge.
Stats courtesy of Basketball Reference.