Nikola Jokić Underwhelmed by Passing Larry Bird on All-Time Triple-Double List
For anyone old enough to remember the old American Express commercials from the 1980s, Denver Nuggets center Nikola Jokić seems a natural for one. He could enter the set and say something like, "Even though I'm the reigning NBA MVP, no one knows who I am." After recording his 60th career triple-double in a loss to the Chicago Bulls on Dec. 6, Jokić was philosophical about what the accomplishment means.
It's a tough time for the Nuggets. Ravaged by injuries and with three players in the NBA health and safety protocols, Denver has lost eight of its last 10 games to fall below the .500 mark after a 9–4 start. Jokić hasn't been immune from the injury bug; he missed four games with a wrist injury before returning on Nov. 29.
Since his return, the Denver Nuggets win when Nikola Jokić shoots well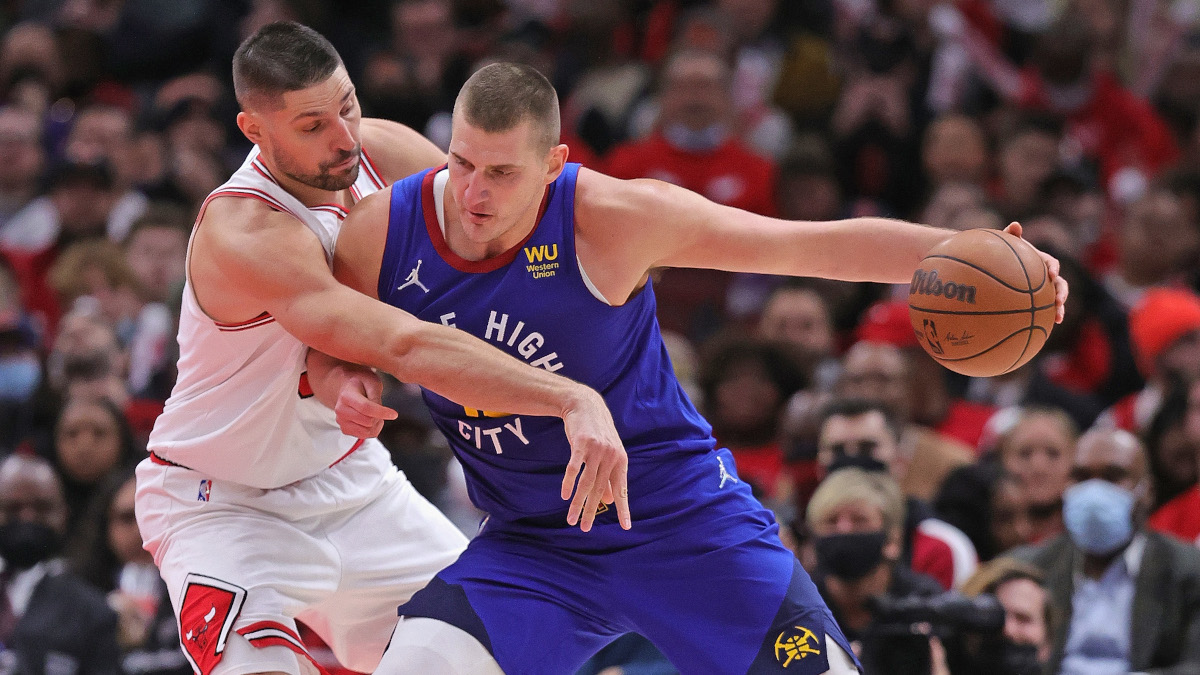 In four games since Nikola Jokić returned to the Denver Nuggets, the club is 2–2. Jokić's shooting has been the barometer. In the two victories, he shot a combined 23-of-33 and was 4-of-9 from 3-point range. He was as icy as a Rocky Mountain glacier in the losses, going 13-of-36 and knocking down only one of his 10 long bombs.
The Nuggets entered the season without Jamal Murray, who is still recovering from a torn ACL last season. Michael Porter Jr.'s back woes resurfaced, and he's done for the season after surgery. Reserve wing PJ Dozier tore an ACL and will not return this year.
The latest development was guards Austin Rivers and Bones Hyland entering the health and safety protocols on Dec. 1, with backup big man Bol Bol joining them the following day.
That's left Denver coach Mike Malone starting veteran Jeff Green while leaning on his first five for heavy minutes. In its 109–97 loss to Chicago, the Nuggets got only 10 bench points as the reserve were a combined 4-of-22. They shot only 39.2% as a team and wore down in the second half.
That could be why Jokić was in a less-than-festive mood about a significant individual milestone.
Nikola Jokić moves past Larry Bird with his 60th career triple-double
Despite not shooting well, Nikola Jokić finished with 17 points, 12 rebounds, and 15 assists at Chicago. His third triple-double of the season gave him 60 for his career, one more than Hall of Famer Larry Bird.
He's the eighth player in NBA history to record 60 triple-doubles. Brooklyn Nets guard James Harden is next on the list with 62. Los Angeles Lakers stars Russell Westbrook and LeBron James lead all active players; Westbrook is the all-time leader with 185, while James sits at 99.
Jokić responded to a question about the milestone's meaning with an answer that felt almost pessimistic, according to a tweet from Mike Singer of the Denver Post:
"Maybe some kind of legacy, they're going to remember me … which, they are not."
The Joker appears to be underselling himself. He's already got an MVP award and three All-NBA selections, and he's only in his seventh season. He won't turn 27 until Feb. 19. He's also got more triple-doubles than any international player in NBA history, though Dallas Mavericks standout Luka Dončić's face is getting more prominent in the rearview mirror. Dončić has 38 triple-doubles and is in his fourth NBA season.
Still, it's not hard to understand why Jokić would question the legacy he'll someday leave.
The Denver Nuggets aren't media darlings
With his NBA MVP Award in 2020–21, Nikola Jokić was the first player in Denver Nuggets history so honored. Last season was Denver's 45th NBA season, so it took a while. Spencer Haywood won an ABA MVP for the franchise in 1969–70. That's it; that's the entire list for the franchise.
The Nuggets' problem with brand recognition is the team's lack of playoff success. Since Denver came to the NBA in 1976, they've never won an NBA title. They haven't even reached the NBA Finals. The high-water mark for the Nuggets is conference finals losses in 1978, 1985, 2009, and 2020.
Denver is 11–12, good for eighth in the Western Conference.
Jokić is doing his share, averaging 25.6 points, 13.5 rebounds (a career-high), and 6.8 assists. His defensive work has improved.
But the Nuggets are in a precarious spot. Injuries and protocols have stripped the roster of most of its depth. They're 2–2 on their current road trip, with a game at New Orleans on Dec. 8 before a two-game set against the San Antonio Spurs on Dec. 9 and 11. Denver plays eight of its remaining 12 December games on the road and closes the 2021 portion of the schedule with a tough home-and-home against the Golden State Warriors.
Maybe that grim reality tempered some of Nikola Jokić's excitement over a significant individual accomplishment. The good news for the Denver Nuggets is that the West isn't its usual juggernaut. Despite a sub-.500 record, they're only a half-game out of sixth place, and only five teams in the conference have winning records. Still, it feels like their season is in danger of sliding out of control. For a team hoping to contend for a title, that's a tough pill to swallow.
Statistics courtesy of Basketball Reference.