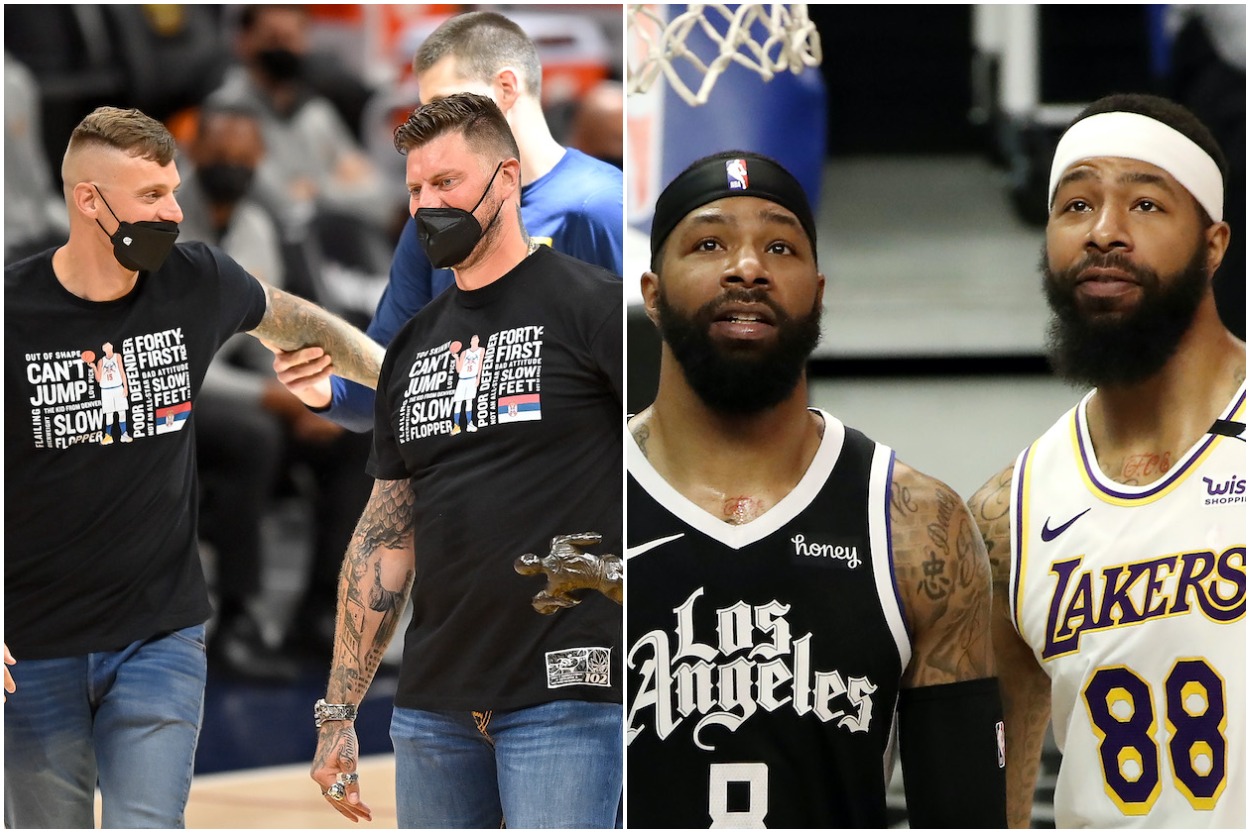 Nikola Jokic's Violent Cheap Shot Ignites a Feud Between His Intimidating Brothers and the Morris Twins: 'We Will Be Waiting for You'
The Morris twins may have finally met their match, as Nikola Jokic's brothers just called them out on Twitter after the violent incident between the Nuggets and Heat.
Pandemonium broke out late Monday night between the Denver Nuggets and the Miami Heat when Nikola Jokic decked Markieff Morris to the ground after a hard foul. Marcus Morris Sr., Markieff's twin brother who plays for the Los Angeles Clippers, sent a message to Jokic on Twitter after the cheap shot, and now Jokic's intimidating brothers have joined the fold with a cryptic threat of their own.
Nikola Jokic executes linebacker-esque hit on Markieff Morris
With time winding down in Monday night's game between the Nuggets and Heat, Morris fouled Jokic near half-court to stop a fastbreak. Jokic didn't appreciate the hard foul, so he retaliated with a linebacker-esque hit that sent Morris to the ground in pain.
Both players were ejected after the incident.
Jimmy Butler stuck up for his teammate by yelling at the Nuggets bench to meet him in the hallway, but the referees were able to control the situation and finish out the game without any more violence.
After the game, Jokic expressed remorse for his actions.
"It's a stupid play," Jokic told reporters after the game, per ESPN. "I feel bad. I am not supposed to react that way. … I thought it was going to be a take foul. … I think it was a dirty play. And I just needed to protect myself.
"I don't know who showed me the clip, and actually his head snapped back [after the shove], so I feel really bad. … It's a bad move."
Heat head coach Eric Spoelstra called the hit a "very dangerous and dirty play" after the game. He added that Morris was OK and moving around in the locker room.
But the story didn't stop there.
Jokic's brothers threaten Marcus Morris Sr.
Shortly after the game concluded, Marcus Morris Sr. sent a stern message to Jokic with a short tweet.
The "taking notes" emoji might suggest Marcus has some revenge lined up for Jokic the next time Los Angeles plays against Denver. As most NBA fans know, the Morris twins never back down from anyone.
But they have a new enemy to worry about after Monday night. Well, enemies, that is.
Following Marcus' tweet, a Twitter account with the handle @JokicBrothers responded with a threat of its own.
"You should leave this the way it is instead of publicly threatening our brother!Your brother made a dirty play first . If you want to make a step further be sure we will be waiting for you !! Jokic Brothers," the tweet read.
Mike Singer of the Denver Post later confirmed that the account did in fact belong to Jokic's brothers, Nemanja and Strahinja. Remember the two muscle-bound, heavily tattooed Europeans who wanted to fight the entire Phoenix Suns roster after Jokic got into it with Devin Booker in last year's playoff series? Yeah, those guys.
Nemanja and Strahinja were in attendance for Monday night's game against the Heat, and you can bet they would've been fighting to get on the court if a brawl broke out.
Jokic brothers vs. Morris twins: Who ya got?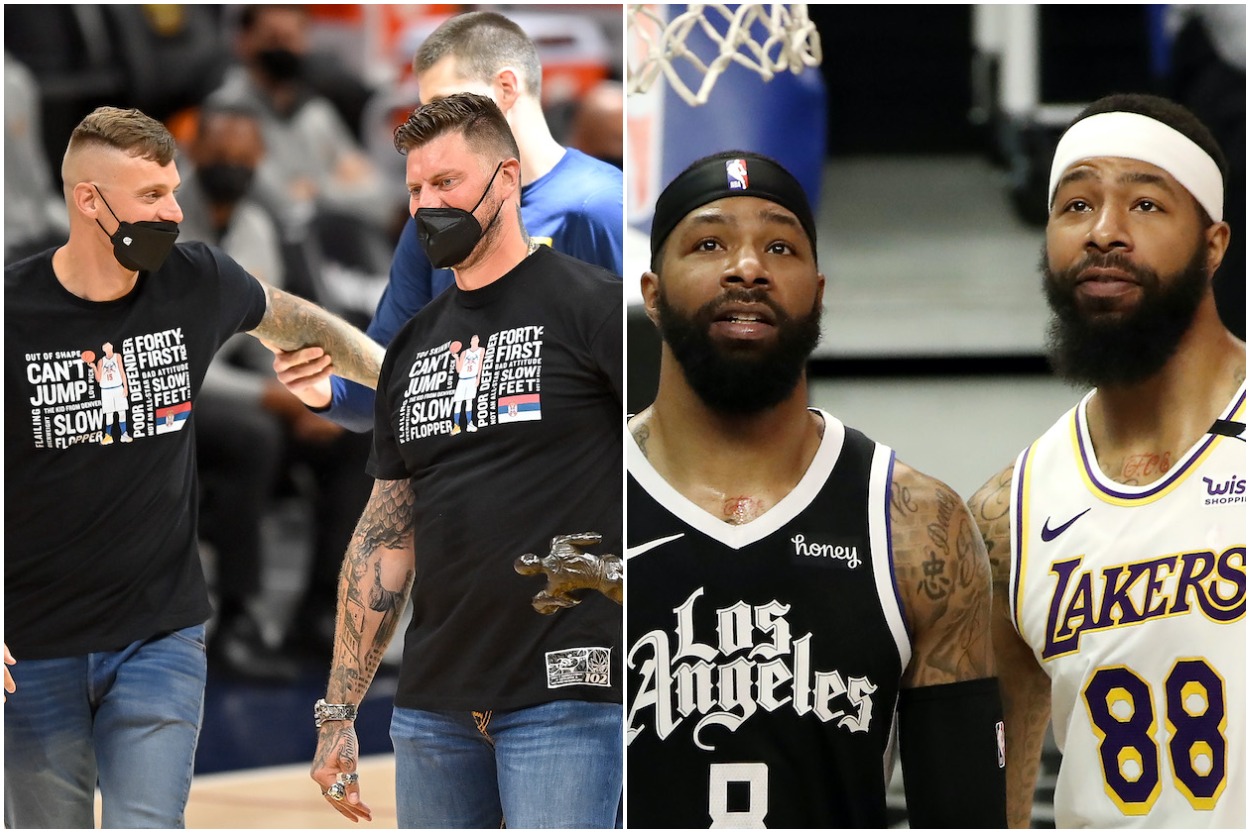 Nikola Jokic vs. Markieff Morris is one thing, but now that the brothers are involved on both sides, this could get ugly.
The Morris twins have been around for a long time, and they're no strangers to nasty NBA beefs. As for the Jokic brothers, there's no telling how many arguments or fights they've been involved with living in Serbia for most of their lives.
The Nuggets visit the Heat later this month on November 29, so go ahead and set a reminder for that showdown right now.
Like Sportscasting on Facebook. Follow us on Twitter @sportscasting19.